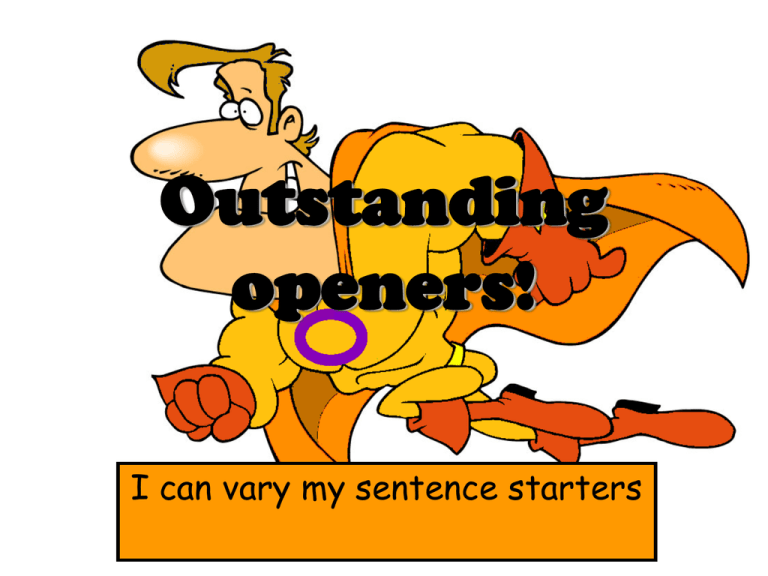 Outstanding
openers!
I can vary my sentence starters
Use a connective
While Tom waited, the bus came.
After they had their dinner, they ate desert.
Although your menu has some healthy items,
many are not good for you.
Despite, When, Even though, Because,
However, So,
Use an adverb – an 'ed' or 'ly'
Astonishingly, the bus arrived on time.
Unfortunately, I cannot make it to your party.
Cautiously, she removed the bandage.
Sadly, Crazily, Disappointingly,
Regretfully, Steadily, Happily,
Slowly, Mournfully, Graciously
Use a simile or metaphor
Like a mouse, he tiptoed through the house.
Brave lions, they stepped into battle
As swift as a bird, she glided through the air.
Use a noun or adjective
Cobwebs spanned the
corridor.
Leaves fell as the wind
blew.
Beautiful stars filled
the sky.
Use a feeling
Lonely, she walked the corridor.
Elated, he jumped for joy.
Jealous, she tore up his clothes.
Angry, they fought for hours
Devastated,
Unhappy,
Delighted,
Melancholy,
Excited,
Sad,
Ambivalent
Use a verb – an 'ing' clause
Giggling and laughing, they ran to school.
Waiting for the others, Jade stared up at
the sky.