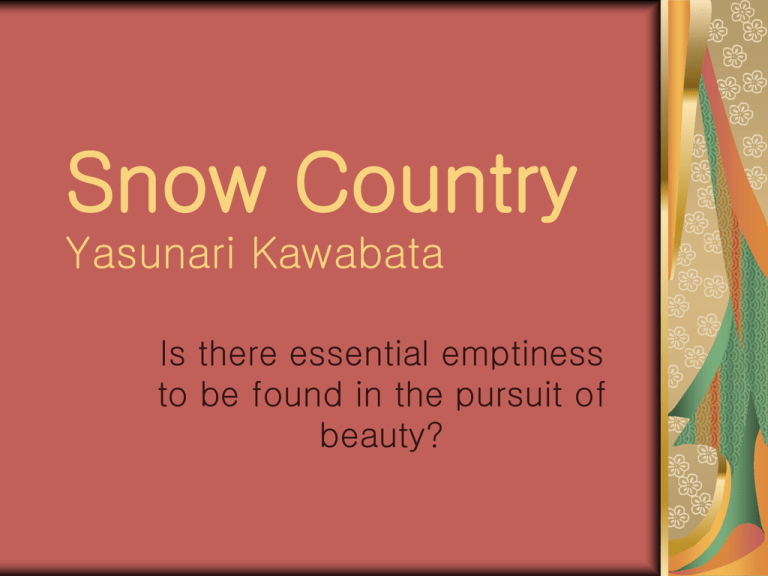 Snow Country
Yasunari Kawabata
Is there essential emptiness
to be found in the pursuit of
beauty?
Fusing a world of opposites
Kawabata's lyrical prose is based
on the elements of haiku:
Seventeen syllables poems
Seek to convey a sudden awareness
of beauty by mating incongruous
terms
Characteristically fuses motion and
stillness
The collision of opposites within
the novel
Man and Nature
Reality and Illusion
Beauty and Waste
Lightness and Darkness
Innocence and Loss of purity
Warmth and Cold
Sadness and Happiness
Stagnation of Time and Timelessness
Acceptance and Denial of Love
Modernity and Antiquity
Can you think of any others?
Important Motifs
Wasted Effort
Honesty
Mirrors and dreams
The tyranny of beauty
Friendship and romance
Purity (woman and girl)
Can you think of any others?
Important Symbols
Heat and Cold
The Occidental Ballet and Shimamura's involvement in it
Mirrors and their reflections
Death of the insects
Chijimi
Spatial Distance of characters
Movement to and from the inn and mountains
Kikuyu
Colors
Seasons (when Shimamura visits: Spring/Winter/Autumn)
Architecture
Can you think of any others?
Let's talk about the characters
Shimamura
Komako
Yoko
Can you think of any others?