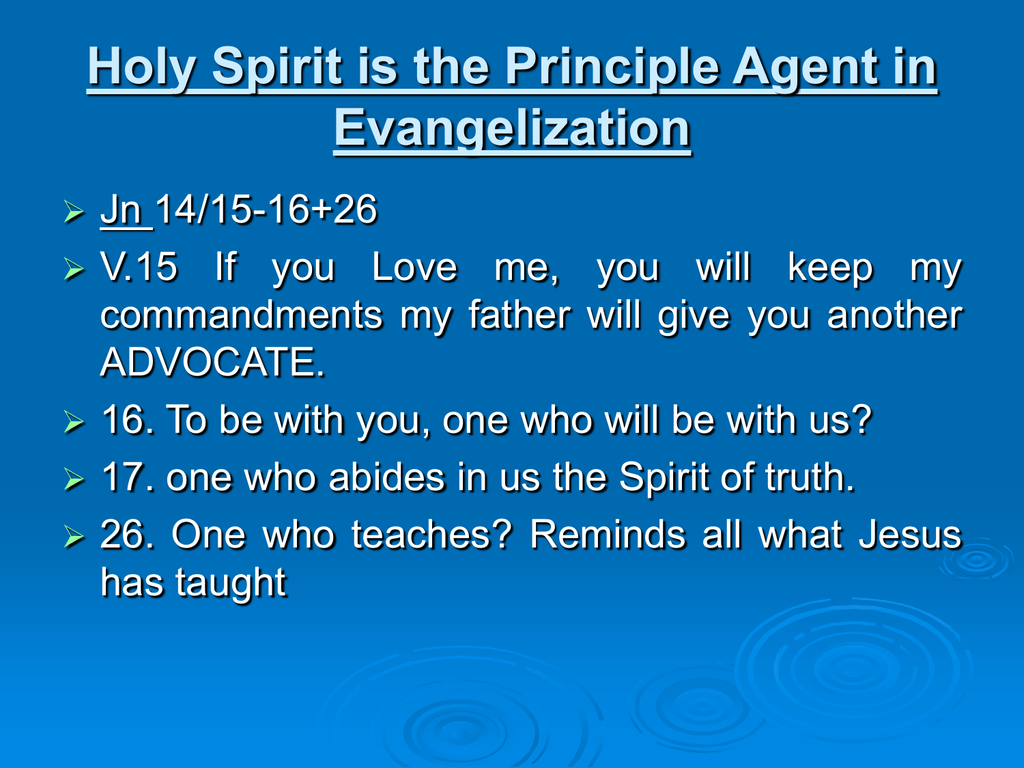 Holy Spirit is the Principle Agent in
Evangelization





Jn 14/15-16+26
V.15 If you Love me, you will keep my
commandments my father will give you another
ADVOCATE.
16. To be with you, one who will be with us?
17. one who abides in us the Spirit of truth.
26. One who teaches? Reminds all what Jesus
has taught
 Jn15/26
He will testify on my behalf. Jn
16/7-15(8) he will prove convince World
about

Sin
 Justice
& Righteousness
 Judgment

V. lead you to the fullness of Truth.
 Rom
 All
8/14-14
those who are lead by the Spirit
 Are
children of God - heirs in Christ
and his glorification
 Cry Abba
Father.
 Received
the Spirit of Adoption.
We need Holy Spirit For
cor 12/36 "No One Say JESUS is Lord
Except -by the Holy Spirit.
 2) Rom 8/26 "Teaches us to PRAY
 The Spirit helps us in one WEAKNESS we
do not know how of pray as we ought. The
Spirit Intercedes with Signs to deep for
Word.
1
 Eg
Acts 8/26-40 PhilipEthiopian
Enoch
Council
official of the CANDACE
Queen of the Ethopian.

Acts 10/19-20
Peter and
Cornelius at Cesaria Philippie.
1) Acts 15/28-29 Do a thing or not to Do
some thing.
2) Acts 20/22-23 Compels to go to
Jerusalem-make things clearpersecution, imprisonment
3) Acts 21/4 "Thru the Holy Spirit they
told Paul not to go to Jerusalem.
4) Acts 1/8 gives Power.
Relationship with Holy Spirit
1) INDWELLING RELATIONSHIP (inside)
 (a
Rom 8/16,26-27)
 (b,Jn
14/23-Abides in us
2) Over Shadowing Relationship:
4/1 – Jesus is lead to the
Desert
 Mary ran to Elizabeth
 A-Mt
3) Covenental Relationship
 Acts
 IV
-15/28
Spousal Bride Bridgoorm .