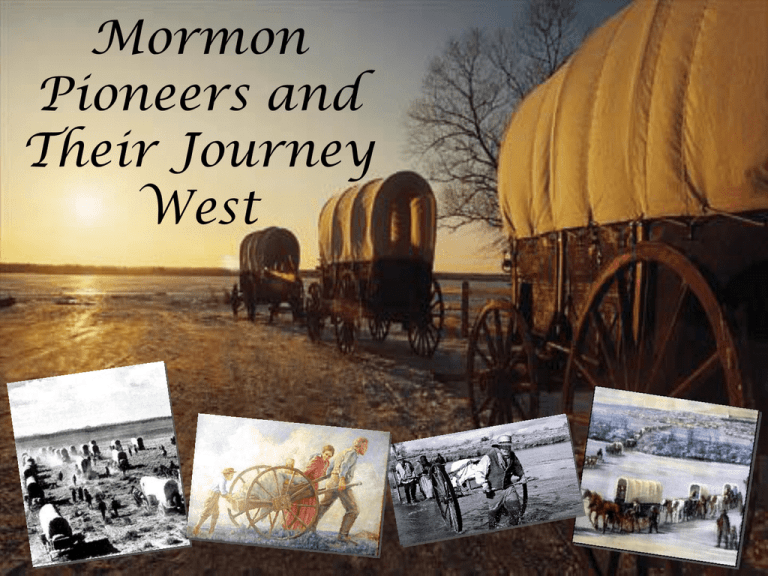 Mormon
Pioneers and
Their Journey
West
Packet Work
• The Mormon Migration: Fill in this page of your packet
using the map at the end of this PowerPoint.
• Who were the Mormon Pioneers?: Using this
PowerPoint take notes using an alphabet to start off each
sentence you write down. It doesn't have to be in a
particular order.
– Example: Using E: Extermination Order was issued by
Governor Boggs in Missouri to kill all the saints if they
did not leave.
– Example: Using M: Mississippi River froze solid so
that they could cross over it and leave Nauvoo quickly.
• Mormon Pioneers: Take additional notes that cannot be
written on the 'Who were the Mormon Pioneers' page.
• Pioneer Journal Entry: Follow the directions and fill in a
journal entry as if you were a Mormon Pioneer.
• Religion
– Christianity-Christians
– Buddhism-Buddhist
– Judaism--Jews
– Hinduism--Hindu
– Islam--Muslims
• Christianity
–
–
–
–
LDS, Mormons
Catholics
Protestants
Seventh-Day
Adventists
– Baptists
– Methodist
Searching for Religious Freedom
• This isn't something new, the Pilgrims
and the Puritans came to America to
practice their religion freely, without
persecution.
– PERSECUTION: HARASSING OR
CAUSING PEOPLE TO SUFFER
BECAUSE OF THEIR BELIEFS.
Who were the Mormons?
• During a time called the Great
Awakening (1820-1840) thousands of
people were involved in a religious
revival.
• Joseph Smith was a 14 year old boy
who was searching for the correct
church. He lived in the state of New
York. One day he had a vision and
declared that he was to start a church,
The Church of Jesus Christ of Latterday Saints, LDS.
• Smith translated The Book of Mormon.
• Mormons = Followers of Joseph Smith
Zion
• Smith wanted all his followers to join
together in "a gathering place," or
"Zion".
– A place where people would live together
in peace and purity.
• Many joined the Church, but were
persecuted for it. It was clear, they
needed to leave New York.
Moving From Place to Place
• From New York --> Kirtland, Ohio
– Despite being poor, the Mormons built a Temple in Ohio.
• Kirtland, Ohio --> Independence, Missouri
– Really disliked because they were a "strange new
religion" who did not believe in slavery.
– Governor Boggs issued the Extermination Order--All
Mormons must leave or be killed.
• EXTERMINATE: TO GET RID OF COMPLETELY
– Mobs began attacking Mormons, beating, killing and
burning homes.
– Finally, the Mormons left in the winter.
Moving From Place to Place
• Independence, Missouri -->Nauvoo, Illinois
– Arrived in Quincy, Illinois, and the people of this
town felt bad for the Mormons. They took them in
and helped them.
– Eventually, they moved to a new area and named
it Nauvoo. They lived in peace for several years.
– Then persecution towards the Mormons.
• Angry mobs of men burned homes, and tarred and
feathered Mormons
• Joseph Smith was arrested and taken to Carthage Jail.
The next evening, a mob of angry men attacked the
prison and shot and killed Joseph and his brother,
Hyrum. They were considered martyrs.
• MARTYR: A PERSON WHO IS KILLED FOR THEIR
BELIEFS.
MOVING FROM PLACE
TO PLACE
• Nauvoo, Illinois
– Brigham Young was chosen as the new leader of the
Mormons.
– Once again, because of persecution the people were
forced to leave their homes. Waiting till the Spring was
not an option because the mobs had become very
violent.
– They read Fremont's Reports and decided moving west
was the best idea. But when? The winter was incredibly
cold and would make the trip difficult.
– Then a miracle occurred and the Mississippi River froze
solid allowing the Mormons to walk across it--oxen,
wagons and all
Moving West
• Nauvoo, Illinois ->Winter Quarters,
Nebraska
– A large community of
log cabins as a short
stop before moving
into Utah.
– There was much
disease and cold and
not enough food and
warm clothes.
•Winter Quarters,
Nebraska -->Salt Lake
Valley
–July 24, 1847: Brigham
Young arrived with the
Advanced Pioneer
Company
Why Did People
Not Like the
Mormons?
Think About it…
• Freedom of religion is guaranteed in the Bill of Rights-- the first
ten amendments to the United States Constitution. Do you think
the Mormon people should have been allowed this freedom?
• "Congress shall make no law respecting an establishment of
religion, or prohibiting the free exercise thereof; or abridging the
freedom of speech, or of the press; or the right of the people
peaceably to assemble, and to petition the Government for a
redress of grievances. "
Trials and Concerns of the Trek
• Utah was owned by Mexico and the Mormons
were worried about leaving the United States.
But, they knew it was their only hope at
religious freedom.
• Heat, cold, dust, bad water, unusual food,
accidents, insects and snakebites.
• Cholera was very common.
– Cholera is an diarrheal disease caused by an
infection in the intestines that can kill even a
healthy adult in a matter of hours.
– Symptoms, including severe watery diarrhea, can
then trigger extreme dehydration and kidney
failure.
The Mormon
Battalion and
the Mexican
War
• In 1846, U.S. goes to war against
Mexico for land (California,
Arizona, Nevada, New Mexico
and Utah)--Still owned by Mexico
• Over 500 men volunteered to join.
• The soldiers never fought in any
battles because the war ended
before they could arrive in Mexico.
• When the war ended in 1848 the
men returned to their families.
Some stayed on and joined
• Soldiers were paid, which allowed
their families to buy wagons,
oxen, food and other supplies.
What Helped the Pioneers?
• Perpetual Emigration Fund: Formed in 1849 to
help bring LDS members across the Atlantic
Ocean and the Great Plains.
– People donated money, oxen, wagons, and food from
Utah.
– Immigrants later repaid their loans with money, farm
products or goods.
• Covered wagons to Handcarts
– Members used all their money to come across the
Atlantic Ocean, they didn't have wagons, animals or
supplies for the next part of their journey.
– Handcarts were cheaper.
– Required immigrants to build the handcarts, then use
muscle power to push and pull the carts across the
plains.
Ephraim Hanks
November 1856
•
•
•
"I have but a very little to say about the sufferings of Captain Martin's company before I
joined it; but it had passed through terrible ordeals. Women and the larger children
helped the men to pull the hand-carts, and in crossing the frozen streams, they had to
break the ice with their feet. In fording the Platte River, the largest stream they had to
cross after the cold weather set in, the clothes of the immigrants were frozen stiff
around their bodies before they could exchange them for others. This is supposed to
have been the cause of the many deaths which occurred soon afterwards. It has been
stated on good authority that nineteen immigrants died one night.
"The survivors who performed the last acts of kindness to those who perished, were not
strong enough to dig the graves of sufficient depth to preserve the bodies from the wild
beasts, and wolves were actually seen tearing open the graves before the company was
out of sight.
"Many of the survivors, in witnessing the terrible afflictions and losses, became at last
almost stupefied or mentally dazed, and did not seem to realize the terrible condition
they were in. The suffering from the lack of sufficient food also told on the people.
When the first relief teams met the immigrants, there was only one day's quarter
rations left in camp" quoted in Andrew Jenson, "Church Emigration," The Contributor,
Feb. 1893, 202-5; paragraphing altered.
Immigrants Come to Utah…
England Germany
Sweden
Den France
mark
Italy
China
Japan Mexico
1890
20,905
2,121
5,986
9,023
205
347
808
5
19
1900
18,879
2,365
7,025
9,132
220
1,062
544
410
41
1910
18,083
3,063
7,227
8,300
303
3,117
311
2,050
166
What trends do you see? Which countries had the
most people moving to Utah? Which ones had the
least?