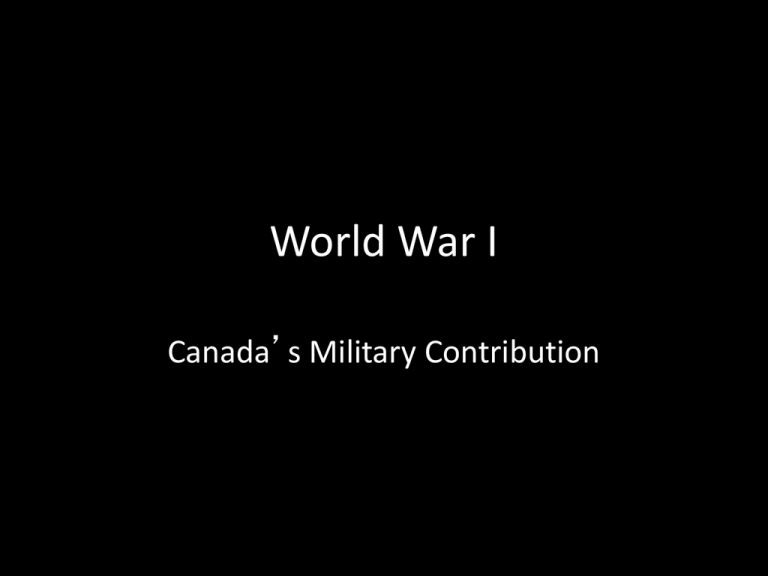 World War I
Canada's Military Contribution
Significant Battles
• Canadians fought as part of the Canadian
Expeditionary Force (CEF) (aka Canadian Corps)
• Efforts in battle enhanced Canada's reputation,
contributed to increased autonomy
Second Battle of Ypres
• Fought near Ypres, Belgium (Flanders region)
• April 22-24, 1915
• First major gas attack in history (chlorine)
– Gas warfare outlawed
• French and Canadian troops blinded, burned,
or killed by drifting gas clouds
• Attack stopped, Allies hung on to Ypres
• Approx. 2000 Canadians died in the battle
Second Battle of Ypres
Battle of the Somme
• Fought near the Somme River, France
• July – November 1915
• British (including Canadian) and French forces led to
slaughter by General Douglas Haig in repeated charges
across no man's land
– Haig – in charge of all British forces 1916-1918
• Old fashioned strategies led to huge numbers of casualties
• Royal Newfoundland Regiment – 85% casualty rate in
first half-hour
• Tank used for the first time in history (British)
• Result: 1.25 million casualties (24,000 Canadians)
– 11 km won by Allies (Pyrrhic victory)
– British: 420,000 casualties, < 3 km won (2 soldiers per cm.)
Battle of the Somme
Battle of the Somme
Battle of the Somme
Battle of the Somme
Battle of the Somme
Battle of Vimy Ridge
• Fought over Vimy Ridge, France
• April 9-12, 1917
• British and French had repeatedly failed to
capture the ridge from the Germans
• Canadian Corp trained extensively for the attack
– Led by British General Byng (meticulous planning)
• Captured ridge in four days – greatest British
victory so far, although 3500 killed/7000 wounded
• Canada's greatest WWI victory – international
recognition, source of national pride
Battle of Vimy Ridge
Battle of Vimy Ridge
Battle of Vimy Ridge
Battle of Vimy Ridge
Battle of Vimy Ridge
Battle of Vimy Ridge
Battle of Vimy Ridge
Passchendaele
• A ridge near Ypres, Belgium
• July – November 1917
• Canadians led by Canadian General Arthur Currie, who
took orders from Field Marshall Haig
• Haig ordered Currie to retake Passchendaele ridge
– Little strategic value; location a treacherous quagmire
– Currie warned Haig about dangers; Haig stubborn
• Result: Allies regained Passchendaele ridge; 15,000
Canadians dead; 500,000 Allied casualties / 8 km = 2
soldiers for 3 cm
Passchendaele
Passchendaele
Passchendaele
Passchendaele
Women in WWI
• Approx. 2500 Canadian women joined the
medical and field ambulance corps
• Many served as nurses in military hospitals
– At the front near the battles
– In Britain
• Dangerous – artillery, bombs, gas
Women in WWI
Canadian WWI Legacy
• Although Canada contributed to the Allied
success in many battles in WWI, it is hard to
call anything a "success" in a war that claimed
approximately 16 million lives, including over
60,000 Canadians.