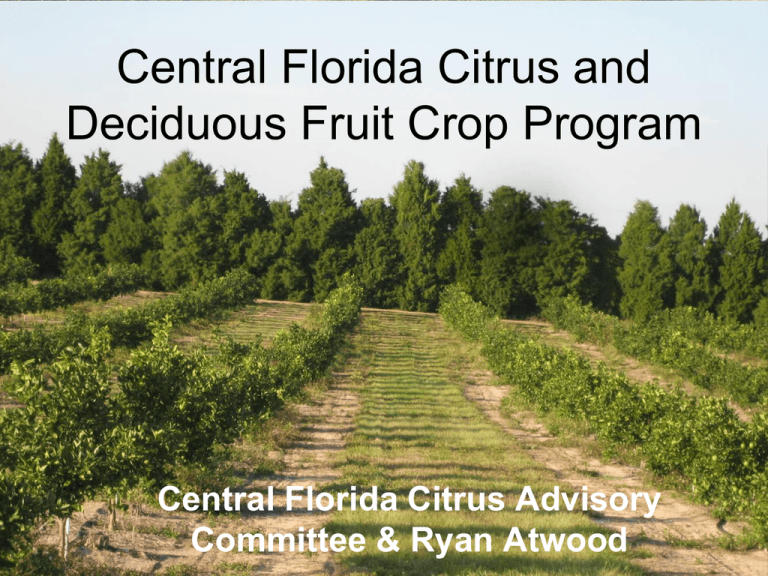 Central Florida Citrus and
Deciduous Fruit Crop Program
Central Florida Citrus Advisory
Committee & Ryan Atwood
Central Florida Citrus and
Deciduous Fruit Crop Program
• Serves seven counties in Central Florida:
Marion, Lake, Volusia, Brevard, Seminole,
Orange, and Osceola Counties.
• Primarily focused on citrus production
(~37,500 acres in Cent. Fl), although
blueberries growing in acreage.
• Evaluation and promotion of alternative
fruit crops for commercial production (i.e.
peaches, nectarines, grapes).
Citrus Extension Activities
•
•
•
•
•
•
Grower Field Visits
Grower Educational Programs
Citruslines newsletter and webpage
Statewide Citrus Extension Team member
4-H Citrus Tree Project
Mid Florida Citrus Foundation and A.H.
Krezdorn research grove
• Applied Research Projects
Related Programs
• Pesticide Applicator Training
Team
• Certified Pile Burning
Statewide Coordinator
• Weather Watch
• Alternative fruit crops
• Misc. –historical societies,
tropical fruit club, hort. camp,
international travel, F.A.W.N
Grower field visits
• Consultations
• Relationship
building
• Educational
Opportunities
Grower Educational Programs
• Field Trips
• OJ Meetings
• Citrus Production
managers meetings
• Statewide eventsCitrus Expo, Indian
River Seminar, etc.
Newsletter & Webpage
http://cfextension.ifas.ufl.edu/
Statewide Citrus Extension Team
• Multi county agents website
http://citrusagents.ifas.ufl.edu/
• Statewide programs –
Greening identification and
scouting, Greening Summit
• Citrus Extension Grant –
Posters, greening symptom
pictures, educational events.
4-H Citrus Tree Project
• Website
http://cfextension.ifas.ufl.edu/4h/4h_tree.shtml
• 200 children participate.
• Over $4500.00 donated annually by local citrus
growers
Mid Florida Citrus Foundation
(MFCF)
• Coordinator for the
MFCF.
• 100+ acre active
research facility.
• USDA, UF IFAS, and
private researchers.
• Field days and
demonstration areas.
Applied Research Projects
• Ultra Low Volume
pesticide application
for psyllid control.
• Leaf freezing points
data and model for
F.A.W.N.
• Greening-Salicylic
Acid Trial.
Pesticide Applicator Training
Team
• Provides private applicator
agricultural licenses
training opportunities
throughout Central Florida.
• Provides needed CORE
continuing educational
units to growers.
Certified Pile Burner Program
• Requested by Advisory
Board to pursue.
• Collaboration between the
Florida Division of Forestry
and IFAS.
• Has become a statewide
program.
Weather Watch
• Agricultural weather
information for cold
protection decisions
• Seventy-one subscribers
Alternative Fruit Crops
• Evaluation & Demonstration
• Keep up to date with
industry developments
Miscellaneous
• Master Gardener
Training -Ag Awareness
Grant and Materials.
• Trade magazine articles.
• International travel.
Questions?