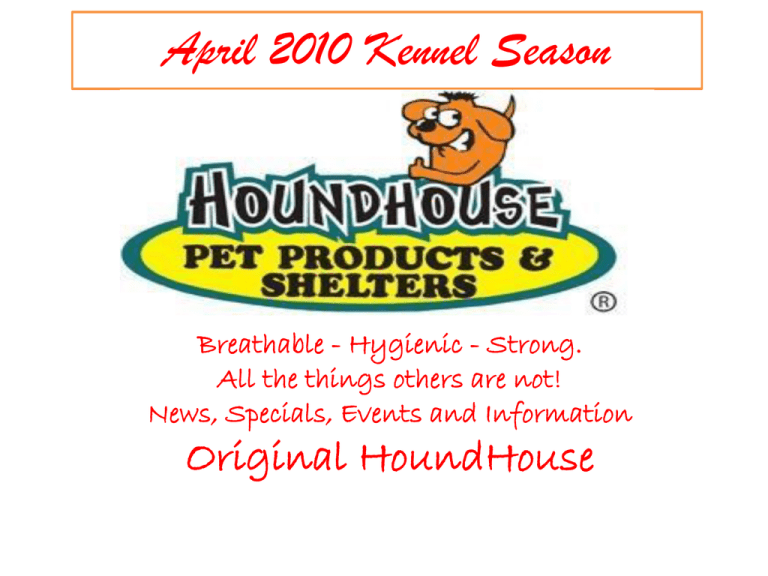 April 2010 Kennel Season
Breathable - Hygienic - Strong.
All the things others are not!
News, Specials, Events and Information
Original HoundHouse
HoundHouse Support
At HoundHouse.com.au you can check out the HoundHouse
range and see our Instruction Video on how to assemble
HoundHouse Kennels easily. All Customers experiencing
difficulties should be referred to this site or
HoundHouse direct.
Please make sure your shop is on the suppliers list.
If & when you need to see a rep just ask. We will try to
call on you as much as possible.
"Please be aware"
Only HoundHouse Canvas has quality breathable, waterproof
material. HoundHouse mesh floor is coated fibreglass
polyester, no sag and no fleas, with an anodised steel
frame. Plus the canvas mat.
There is no substitute for a HoundHouse.
As a tradesman I designed it & built it for my dog!
Proud to be an Aussie & produce quality!
Heat Mats & clear flaps available for HoundHouse kennels
Warranty's & Guarantees
HoundHouse offers a replacement hood if damaged within 3
months . Conditions apply.
I am that confident HoundHouse stands the test.
Please consider carefully the quality and support offered to you & your
customers.
Cheap is not good & good is not cheap!
HoundHouse offers 6 months manufacturers warranty
on all its goods.
We rely on you to tell us what's needed
Specials!! & Clearance Items
Run out on our Tiny HH Kennels for cats or
miniatures. Only a few left. Out they go!
$25 each +
Till stocks run out
Medium & Small set up kennels
ready for your display
$50 & $40 each +
(kennels that have been pre assembled
to check quality)
Moving Forward
Since employing our sales team to improve service it has increased
retail sales for all. We would like to thank you for helping make
Houndhouse the No 1 Portable Dog Kennel.
HoundHouse has the only heavy canvas that breathes & a strong
anodised frame.
As we are a small Family business, our resources for major advertising
campaigns are minimal, however " word of mouth ", service &
careful advertising with great displays from you the retailer, have
been very successful.
I Have just returned from a very successful
Global Pet Show in Orlando. USA is finally happening.
Best regards
Mark Wood.
HH, Designer, Manufacturer, Distributor, Director.
New Items
HoundHouse Bird Hutches.
One size $7.50ea
HoundHouse Heat Mats 4 sizes
12 volt water proof
Now available & selling fast
HoundHouse Canvas Coats
waterproof , flannelette inner,
diagonal securing straps, 6 sizes,
lightweight.
Available June 2010,
pre orders taken
Much interest
Rat & Hamster Houses available May.
Last word
Well, can't believe kennel season is here again. The year is
moving very quickly & the colder months are upon us all.
We have noticed a large spike in sales over the past 2
weeks so I hope you are all stocked & ready to sell. Retail
interest in HoundHouse will be large due to advertising.
You can't sell what you don't have.
Cheers
Mark, Karen, Danny & Tyler.
Live well & prosper
HoundHouse has created a mailing list to keep you informed of all news, specials, events and
general information bi-monthly.
If you no longer require our email updates, please reply and request to be taken of the mailing list.