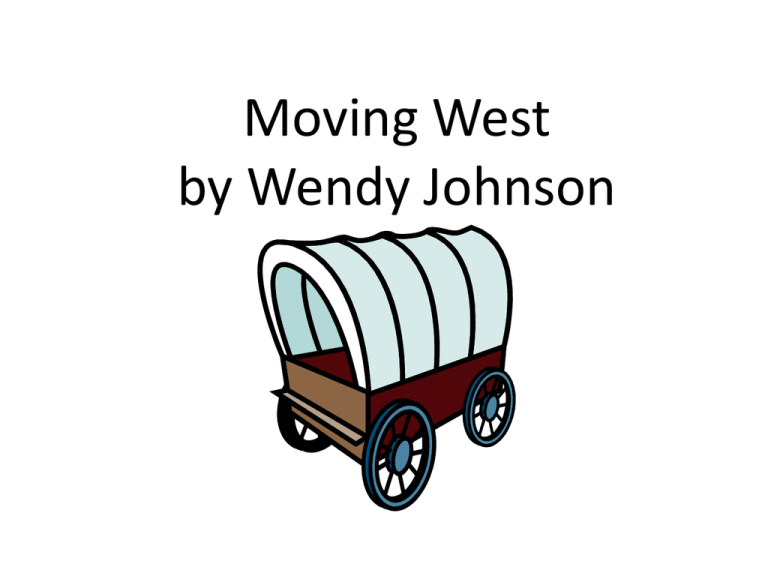 Moving West
by Wendy Johnson
Why did people move west?
People moved west for many reasons
including:
1.
2.
3.
4.
5.
6.
7.
Searching for Gold
Wanting more land
Overcrowding in the cities
Looking for jobs
Wanting a fresh start
Seeking to leave areas of discrimination
Religious persecution
After the Emancipation, former
slaves were free to find other
employment. Because of
racial oppression
(discrimination) and the
shortage of jobs among black
men back East, many who
had cared for cattle began to
move westward.
They Became the Black
Cowboys . . .
• Some found work as ranch hands. As demand
for beef grew, so did the demand for cowboys
to drive Texas cattle north to the nearest train
depot. Cowboys drove more than five million
head of cattle north and east from Texas
between 1866 and 1885,
• Between 5,000 and 8,000 black cowboys,
mostly ex-slaves, are believed to have ridden
the cattle trails between 1866-1896, about a
fourth of the total number of cowboys.
•
Cite: Garcia, Socorro, Ramon Gomez and Desiree Crawford."
•
Black Cowboys Rode the Trails Too." Borderlands 21 (2002-2003): 5. Borderlands. EPCC Libraries.
De Angelis, Gina. "Black Cowboys"1998.
• Once people arrived and
settled they began jobs such as
ranching and farming.
• Many people had cattle on
ranches and soon made a lot of
money selling the beef.
• Cattle trails became necessary
to get the cows from one place
to another to sell them.
The Chisholm Trail
The Chisholm Trail was a dirt
trail used in the later 19th
century to drive cattle
overland from ranches in
Texas to Kansas railheads. The
trail stretched from southern
Texas across the Red River,
and on to Abilene, Kansas,
where the cattle would be
sold and shipped eastward.
The trail is named for Jesse
Chisholm who had built
several trading posts in what
is now western Oklahoma. He
died in 1868, too soon to ever
drive cattle on the trail.
The Great Western Trail
Following the Civil War, Texas
found itself with many long
horned cattle, but no markets. The
demand for beef in the Northeast
was high. The Great Western
entered Oklahoma at Doan's
Crossing south of Altus and exited
Oklahoma at the Kansas border
northwest of Buffalo, going on to
Dodge City, Kansas. It ended in
the heart of Texas.
As the railroad developed through
Texas and Oklahoma these cattle
trails soon became unnecessary.