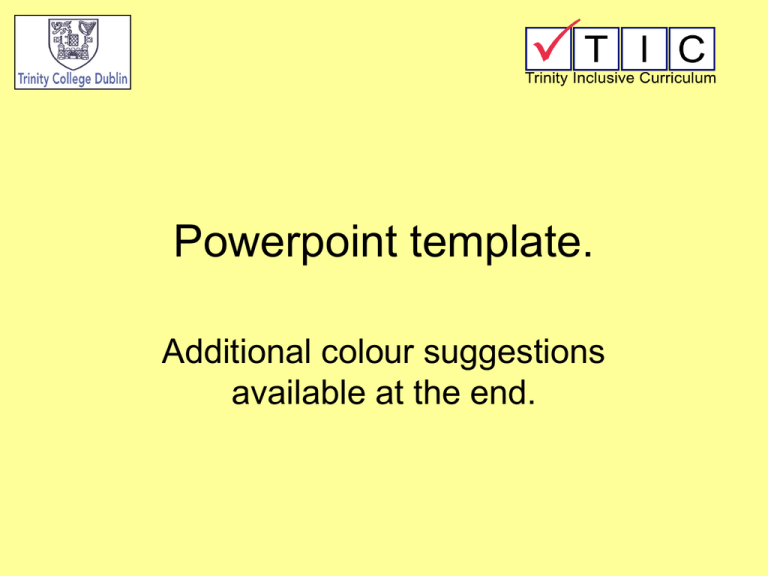 Powerpoint template.
Additional colour suggestions
available at the end.
Font: Arial.
Used at least font size 24 on
slides.
This is 24.
This is 16. It is difficult to read in a lecture theatre.
Font colour.
Use a clear contrast, usually in the
same colour spectrum.
Copying slide format.
Right click on a slide, drag and release,
select 'copy'.
Copying slide format.
Do not add your own
text boxes to slides as
the text within these
will not be visible to
screen readers.
To confirm whether
text is visible, check
whether you can view
it in 'Outline'.
Animation.
Do not animate text.
Do not add patterned or picture
backgrounds unless
this is integral to your subject matter.
See next slide for rationale.
ART!
100
50
0
1st
Qtr
3rd
Qtr
East
West
North
Even with well chosen colours, overcrowding
can distort the message!
And word art can be difficult to read (see
below)
Punctuation.
As you can see from this template:
Headings and bullet points require a full
stop at the end.
This is to ensure that screen reading
software can make a distinction between
headings and body text.
Slide content.
No more than 6 bullet points per slide.
See next slide for rationale.
Bullet Points.
• It is good practice to have six bullet points maximum per slide.
•If you attempt to use more than this your page will become
clustered.
•It will no longer be well spaced out, and this will mean:
•It will be difficult to read and its accessibility and inclusivity will
suffer.
•It will look wordy, and the font size will shrink so that it will be
hard to read for some people.
•Furthermore, it will be off putting to most of your students, who
will groan when they see it.
•Consider that this page is clustered with only seven bullet points!
Alternative Colour.
Any high contrast colour that does
not cause glare is accessible.
Another Colour.
This uses a white background but
avoids black font.
Another Colour.
Black and White cause glare. This
uses black font but a non-white
background.
Glare!
Black on White: Do not use.