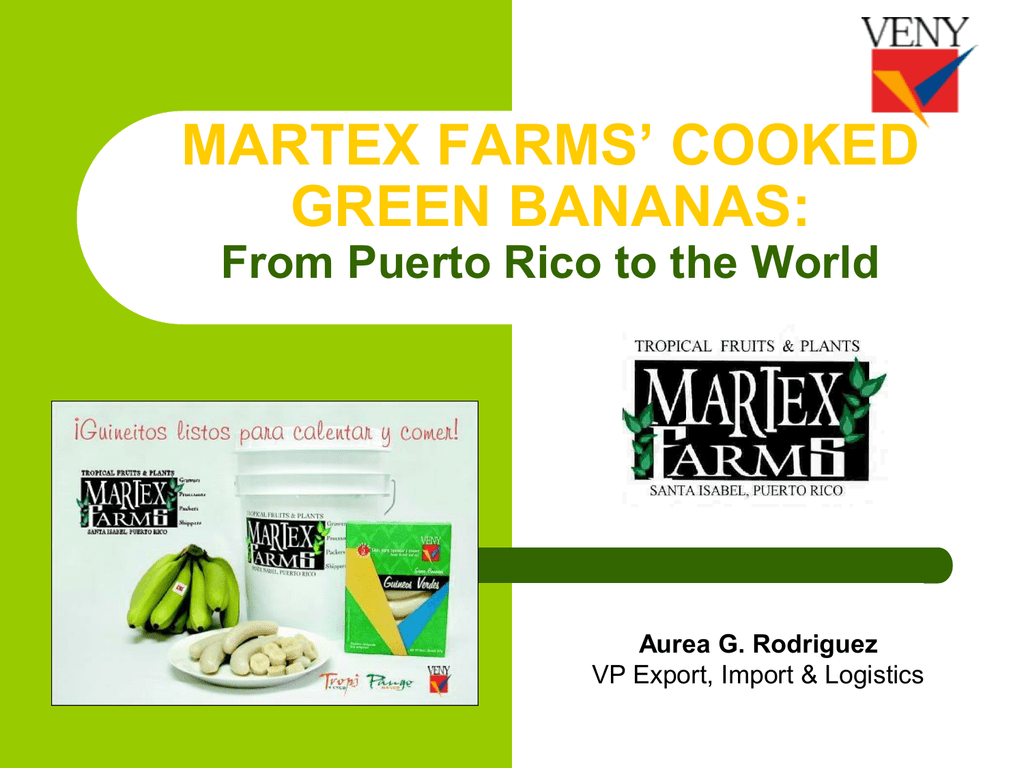 MARTEX FARMS' COOKED
GREEN BANANAS:
From Puerto Rico to the World
Aurea G. Rodriguez
VP Export, Import & Logistics
MARTEX FARMS

Martex Farms is a family owned
business established since 1989
dedicated to the growing,
processing, packing and shipping
of TROPICAL FRUITS and
PLANTS.
MARTEX FARMS







2,500-acre operation located in
the Santa Isabel and Juana Diaz
valleys in the Southern coast of
Puerto Rico.
4 Farms
350 Direct Jobs (high-season)
85,000/sq Pack House
Forced Air Pre-Cooling Storage
12 Banana Ripening Rooms
Processing Plant
MARTEX FARMS




Weekend Farm to Major Agri-Business
World Class Team – Not your typical farmer
Highly mechanized agriculture
State of the art Agro-Technology
– Advances in floral induction allow
competitive advantage.
– In-Vitro plant reproduction provides
higher yields.
– Varietal Research for tomorrow's
products.
OUR PRODUCTS





71% MANGO
18% BANANA
7% ORNAMENTAL
PLANTS
2% AVOCADO/OTHERS
2% PROCESSING PLANT
Product: EXOTIC FRUITS


Over 100 acres of land
dedicated to growing exotic
tropical fruits in Puerto
Rico.
Crops growing exotic
tropical fruits such as:
Mamey Colorado, Zapote,
Zapodilla, Key Lime,
Tahiti Limes,Sugar
Apples, Avocados,
Starfruit, and Quenepas
for commercial distribution.
Product: AVOCADOS & BANANAS




350 acres dedicated to
bananas and150 to avocado.
Leading local banana industry
and avocados largest
operation in the Island
Vertically integrated operation.
Martex produces, and markets
the banana ripens in its
facilities, 7 days a week.
Products: PROCESSED

ADDED VALUE PRODUCTS:
- COOKED GREEN BANANAS Peeled, pre-cooked and ready to eat.
All you need is to pre heat:
2 min. microwave
5 min. stovetop.
Packaged for Institutional Market.
LOGISTICS
European port in 9-10 days (Port-to-Port)
 High-cube 40ft reefer (20 pallets)
 Weekly to: Antwerp (Belgium)
 Bi-monthly: Valencia (Spain), Livorno (Italy)
USA port in 3-5 days (Door-to-Door)
 High-cube 40ft reefer (20 pallets)
 Weekly Schedule to: Port Elizabeth (NJ),
Jacksonville (FL), Port Everglade (FL), Houston (TX)
Transportation was once a strength that recently
has become one of our biggest challenges.
MANGOS – Export Markets


Under the Pango Mango and
Tropi Mango brands Martex
exports 93% of its mango
production to:
- United States
- United Kingdom
- France
- Spain
- Belgium
- Holland
- Japan
- Canada
Martex caters to the retail,
processing and ethnic
markets.
Exports: MANGOS


Perishable requires:
- Refrigeration
- Short transit time by sea or air.
Martex annually ships:
- Sea – approx. 300 reefers
- Air - approx. 1,000 LD3
Exports: QUENEPA


Exports by air northeast of the
United States 95% of our
Quenepas production.
Hispanic and Asian Markets
Exports: ORNAMENTAL PLANTS

Our ornamental plants export to our
neighboring Islands could expand if
an adequate transportation existed.
OUR STRENGTHS!
Keitt Premium Variety
We grow mostly KEITT (80%) with
complementing orchards of PARVIN and
PALMER. We are purposely committed to the
KEITT variety, with their evergreen color skin
and reddish blush because it offers:





Fibrous less Taste – Inside, a beautiful lemon yellow,
non-fibrous flesh
High Brix Content – Excellent mild sweet taste
Long Shelf Life – Upward to 21 days
Higher Net Yield to the Consumer – More fruit with its
small seed
Large Sizes – Ranging from 5 to 12
OUR STRENGTHS!
Long Season

Probably the only farm in the world with a
12 month mango production.
PRODUCT
MONTH
BOX
Mango
Jan
Feb
Mar
Apr
May
Jun
Jul
Aug
Sep
Oct
Nov
4 Kg
Green Cooking
Mango
NONE
50 Lb
LOW
MEDIUM
HIGH
Dec
OUR STRENGTHS!
Turning Regulation into a
Competitive Advantage



Martex is located in Puerto Rico
and as a USA territory it fully
complies with all USDA, EPA,
OSHA, Labor Department and
Federal regulations.
Martex is also, Global GAP
(EurepGAP), TESCO Nature's
Choice and M&S Field to Fork
certify since 2001.
First mango farm in the world to
be EurepGAP certified.
OUR STRENGTHS!
Control of Fruit from Tree to Market
 We sell only what we grow
 Being growers/exporters allows us to control growing cycle
 Process the fruit from tree to container in under 12 hours
 Pre-cooling system to keep cool chain from packing to
destination
 Have reliable information as to supplies
 Full traceability of each box
LETS EAT HEALTHY
PUERTO RICAN CUISINE
HERE IN PUERTO RICO AND
WHEREVER WE GO.
Population Change in Puerto Rico
Reasons Why Puerto Ricans
Are Migrating to the States

Main reason
–
–
–

High unemployment rate in Puerto Rico
Men between ages 20 – 40 yrs
Men and women with a higher education.
The majority of the people that migrating to
the States have a Degree and already have
a job waiting for them on the mainland.
These are professional jobs: doctors, nurses
etc.
Five States Preferred by Puerto Ricans
(US Census 2000 & 2010)
State
Population 2000
Population 2010
Difference
New York
1,050,293
1,070,558
+ 20,265
Florida
482,030
847,550
+ 365,520
New Jersey
366,790
434,090
+ 67,300
Pennsylvania
228,560
366,080
+ 137,520
Massachusetts
199,210
266,130
+ 66,920
Total
2,326,883
2,984,408
+ 657,525
Puerto Rico: Cuisine and Recipes
Puerto Rico is a lush, tropical jewel set in the middle
of the sun-drenched Caribbean. This island nation,
actually a self-governing territory of the United
States, is home to a rich culinary tradition known to
natives as cocina criolla.
The popularity of Puerto Rican cooking reaches
beyond the island's shores to a large Boricua
immigrant population in New York and other
American cities.
CARIBBEAN CUISINE

Boiled green bananas are a popular side
dish in Jamaica and many other Caribbean
islands where they are used much like
potatoes or other root vegetables. Unripe
bananas are starchier and much less sweet
than the ripe version and make a good side
dish for fish or chicken.
Green Bananas in
Escabeche Sauce
Preparation Time: 50 minutes
Servings:
24
Ingredientes
24 peeled and cooked green bananas
½ cup red peppercorns
Escabeche Sauce:
2 cups of extra virgen olive oil
½ cup of white vinegar
12 black pepper corns
4 bay leaves
3 cups of onions, cut in circles or diced in small pieces
12 cloves of garlic, sliced
Preparation
Fill a large pot with 2 quarts of water and salt to taste. Heat till broiling. Add the peeled green bananas and broil for
about 20 minutes.
Strain, let cool and then sliced in rounds.
In a medium size pot, mix all the ingredientes for the escabeche sauce and cook at medium temperature for 10 to
12 minutes or until the oniones are sauteed. Do not brown the oniones. Let cool.
In a large glass bowl or glass casserole dish pour the sauce, add the rest of the ingredientes and salt to taste.
Flyer
Nutritional Information
Easiest Recipe








Use the greenest bananas you can find. Latin, Asian and Caribbean markets
often sell bunches of green bananas specifically to be used as a vegetable.
Yield 4 to 6 servings
Ingredients
Green bananas -- 5 or 6
Method
Wash the bananas well to remove any dirt and pesticides. Bring a large pot of
salted water to a boil. Add the bananas, reduce heat to medium and cook over
a low boil until the bananas are cooked through and can be easily pierced with
a fork, about 20 minutes.
Remove the bananas to a cutting board. Cut off the ends of the peel and
remove the peel from the bananas.
Serve whole or cut into chunks. Toss with some melted butter if you like.
CUSTOMER PROFILE




Green bananas can also be cooked with the
peel off. Removing the peel from green
bananas can be difficult.
Working mom may not have the time to peel.
Single professional may have hectic time
schedule.
Any person or family that wants to eat
healthy island vegetables.
Background information




Servings per pail: 124
Freight costs
Current prices: $30 in Puerto Rico
Volume targets
–
–
One container
36 per pallet with 20 pallets
The Challenge

Propose a marketing strategy for our cooked
green bananas in the US market (specifically
NY and FL)
Marketing Plan
I. Situation analysis
Company Analysis
–
–
–
–
–
–
Goals
Focus
Culture
Strengths
Weaknesses
Market Share
Marketing Plan
I. Situation analysis
Customer Analysis
–
–
–
–
–
–
Who
Number
Type
Value drivers
Decision process
Concentration of customer base for the
cooked green bananas product
Marketing Plan
I. Situation analysis
Competitor Analysis
–
–
–
–
Market position
Strengths
Weaknesses
Market shares
Marketing Plan
I. Situation analysis
Collaborators
–
Joint ventures, and distributors, etc.
Climate
–
Macro-environmental PEST Analysis:
 Political and legal environment
 Economic environment
 Social and cultural environment
 Technological environment
Marketing Plan
I. Situation analysis
SWOT analysis
–
A SWOT Analysis of the business
environment can be performed by organizing
the environmental factors as follows:
 The firm's internal attributes can be
classed as strengths and weaknesses.
 The external environment presents
opportunities and threats.
Marketing Plan
II. Market Segmentation
–
Present a description of the market segmentation as
follows:

Segment 1
–
–
–
–
–
–
–
Description
Percent of sales
What they want
How they use product
Support requirements
How to reach them
Price sensitivity
Marketing Plan
III. Alternative Marketing Strategies
–
–
–
List and discuss the alternatives that were
considered before arriving at the recommended
strategy.
Alternatives might include discontinuing a product,
re-packaging, positioning as a premium or value
product, etc.
How were the alternatives evaluated?
Marketing Plan
IV. Selected Marketing Strategy
–
Discuss why the strategy was selected, then the
marketing mix decisions (4 P's) of product, price,
place (distribution), and promotion.
Product

Product decisions should consider the
product's advantages and how they will be
leveraged. Product decisions should include:
–
–
–
–
–
Brand name
Quality
Scope of product line
Warranty
Packaging
Price




Discuss pricing strategy, expected volume,
and decisions for the following pricing
variables:
List price
Discounts
Bundling
Place (Distribution)






Decision variables include:
Distribution channels, such as direct, retail,
distributors & intermediates
Motivating the channel - for example,
distributor margins
Criteria for evaluating distributors
Locations
Logistics, including transportation,
warehousing, and order fulfillment
Promotion





Advertising, including how much and which
media.
Public relations
Promotional programs
Budget; determine break-even point for any
additional spending
Projected results of the promotional
programs
Marketing Plan
IV. Short and Long-Term Projections
–
The selected strategy's immediate effects, expected
long-term results, and any special actions required
to achieve them. This section may include forecasts
of revenues and expenses as well as the results of
a break-even analysis.
Marketing Plan
V. Conclusion
–
Summarize all the sections of your Marketing Plan.
Appendix

Exhibits
Calculations of market size, commissions,
profit margins, break-even analyses, etc.
References
Sources
 Databases
 Statistical Sources
 Journals
 Other sources that can sustain your
Marketing Plan
Good Luck!!!
See you tomorrow!!!
Healthy Trees…
Premium Fruit…
Passionate Customers!