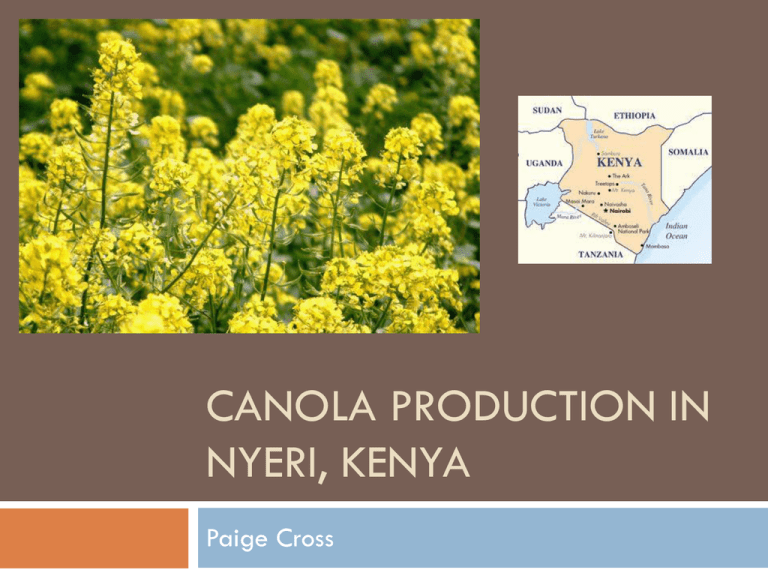 CANOLA PRODUCTION IN
NYERI, KENYA
Paige Cross
Canola -- Brassica napus






Edible rapeseed developed in Canada in 1970s
Two main varieties: Argentine (napus) and Polish
(rapa)
Low saturated fat
40% oil
High meal protein
Cooking oils, pressed cakes for animal feed, &
biodiesel
Cultivation
Brassica napus




Higher yield potential
Taller
Higher oil content
95 days to reach
maturity
Agroclimatic Needs






Best suited to clay-loam soils
Not very drought tolerant
High heat can reduce yields
Doesn't tolerate standing
water
pH of 5.8-7.5
Elevation of 1800 and
2700m

Nyeri is 1750m
Cultivation
Rotation

Best results if following cereal grain or
fallow in rotation







2 years between plantings
In Kenya can be grown in
relay/intercrops/cover crops, rotational
crops, trap crops and for fodder.
In Nyeri, intercropped with wheat and
castor
Possible rotation crops – flax, soybean,
and lentil
Successive plantings increase disease risk
Susceptible to herbicide residues
In Kenya can be grown in
relay/intercrops/cover crops, rotational
crops, trap crops and for fodder.
Planting


Seedbed free of weeds,
heavy crop residues, large
clods
Cool season annual






Plant prior to short rains?
Moist, firm seed bed
Seed depth of 3/8-1/2 in (no
more than 1 in)
6-7 inch rows
5 – 8 lbs of seed per acre
Strait combined using
adjusted wheat combines
Cultivation
Nutrients & Protection

Nitrogen & Sulfer are key nutrients


Weed control program should include
cultural, mechanical and chemical
methods




Sclerotinia white mold, club root, blackleg,
and stem rot




Price and Input Needs
Biodiversity & Environmental Impacts (both
of canola and of nontarget species)
Herbicides can be used to control weeds,
helps reduce tillage, prevents soil erosion
and preserves soil moisture for plant
production.
Harvest when 1/3 are brown
Swathing to prevent shatter losses



Pods mature from bottom of plant up
Once at full sides pods will dry o light
brown in 3-4 weeks

Herbicide Resistant (GMO) Canola

95 days to maturity
Indeterminate

Trifluralin and Sonalan Herbicides
Diseases


Apply in band at least 2in. from seeds
Harvesting
10-12 in above soil protects from rain loss
CAN ALSO BE CUT AND HARVESTED
DIRECTLY
In Nyeri District, 1 acre can yield up to
1000 kg

Can be reduced by up to half if rainfall is
low
Marketing
Storage Issues


Must be stored tightly
Can sweat for 6 weeks
after harvest



Cooking oils are popular in Kenya



110* F
Only producing 1/3 of demand
Second highest valued import after
petrolium
Home/Community Production

Heating and spoilage
Can also dry naturally in
air or artificially

Edible Oil Production




Approtech Oil Press
1 ton of canola yields 250 – 300 liters
of oil
Can press 150kgs/hr ($3700)
Manual can yield 20L a day (300)
Sell of Canola Seed to processors

Aberdare Oil Millers in Nyeri is one
local miller of edible oils and fats
Marketing
Press Cakes

High Protein Animal
Feed
52% protein
 Byproduct of oil
production
 Works well when
complemented with soy
meal cakes


More complete Amino
Acid Profile
Biofuel

Community Energy Independence


Biodiesel to fuel local
Sell to local producers/NGOs



1 acre producing 1000kg can
earn 15,000 KsH annually
Sell through farmers group for
18 KSh/kg
Help Self Help Center



Nyeri, Kieni East Division
Eco-Energy Programme
Offers Technical Advice
Limitations & Unanswered Questions

Is Canola agroclimatically suited for production in
Nyeri?
 Would


a different oil seed plant perform better?
Would canola production at the CYEC make sense
due to the technological needs and scale required?
There is little available technical information on
canola production in east Africa.
 Most
information here is adapted from technical guides
for Nebraska and south Texas.
 Contact Help Self Help Center for access to some of
their resources?