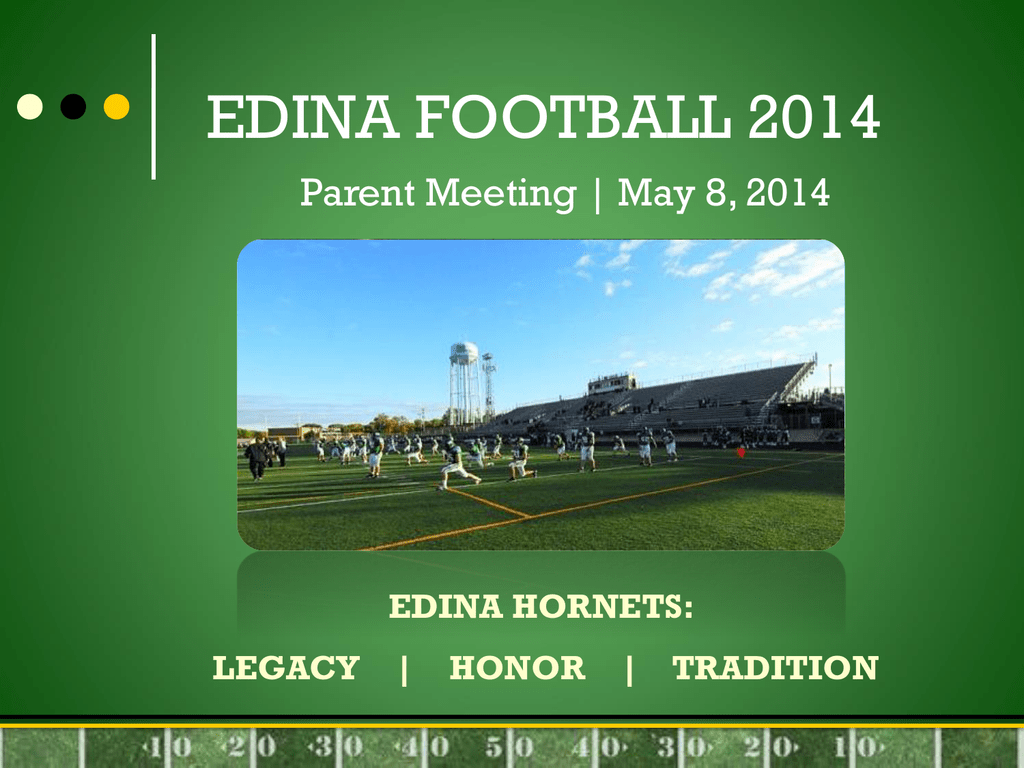 EDINA FOOTBALL 2014
Parent Meeting | May 8, 2014
EDINA HORNETS:
LEGACY
|
HONOR | TRADITION
EDINA HORNET FOOTBALL
Mission Statement:
Build a team of young men with
character, class and humility.
Bolster an atmosphere of hard work,
effort and discipline. Respect our
traditions and create an environment
conducive to making positive life
choices. Strive to win conference
and State Championships.
2014 PROGRAM GOALS:







Have Fun!
Achieve the team's fullest potential
Develop strong physical and mental skills
Participate in other sports
Create new or stronger friendships
Be great representatives of Edina
Win the Lake Conference and
compete for a Section and State
Championship!
PROGRAM STANDARDS

Player Policy Manual
o General Principles
o Standards Of Conduct
o Compliance
o Policy
Locker Room, Training Room, Etc.
o Player Evaluation
o Grading System
2014 VARSITY COACHING STAFF
Head Coach…………………Reed Boltmann
Offensive Line……………… Brad Dahlman
Wide Receivers…………..... Don Edam
Offensive Coordinator…….. Brad/Don
Defensive Line……………...Jason Van Houten
Linebackers…………………Brandon Rudenick
Defensive Backs……………Darrick Cornelius
Offensive Backs…………….Chad Dixon
Equipment Coordinator…….Earl Hylock
Film/Scouting………………..Jim Hawthorne
Dave Bush
2014 COACHING STAFF
Varsity Team
Patrick Cantwell
Collin Bender
Sophomore Team
Colin Rooney
Eric Dahlman
Dan Glass
Mike Bush
Erik Vetsch
Don Hasbargen
Freshman Team
Josh Bettes
Josh Jansen
Mark Peterson
Zach Mackray
Phil Finanger
Jeff Thomas
Josh Burhans
COACHING PHILOSOPHY





Be organized
o Logical progressions / give them a chance to
win
Make it important
o Tie it to on the field performance & highlight
successes
Take advantage of every coaching opportunity
Coach attitude & effort & enthusiasm
End the session on a positive note
COACHING DEVELOPMENT




Multiple offensive formations
Aggressive, risk-taking defense
Sound special teams
Keys to long-term success:
o Perform in the classroom
o Regular and supervised strength
training
o
Development of multi-sport athletes
2014 CAPTAIN'S PARENTS







Lisa Boone & Mark Boone (Ben)
Paula & Pat Foley (Ben)
Kari & Jay Carroll (Preston)
Julie & Tim James (Dan)
Molly & Brian Smith (Charlie)
Duties:
o Communications
o Team Activities
o Fund-Raising Organizers
o Volunteer Coordination Sign up on web site
In addition, we need 2- 4 parents per team to
serve as Team Coordinators for JV,
Sophomore and Freshman teams
EHS FOOTBALL BUDGET

2014 EHS Football Operational Budget:
o
o
$105,000
Covers 12 coaches salaries, camps, team
meals & beverages, apparel, transportation,
photography, trainers, filming, awards,
recognition, videos, year end banquet, etc.

2014 EHS Football Needs/Wants Budget:

$40,000
o 2014 "wish list" includes: 110 new helmets,
camera, trailer, projector, computer, locker
room signage, clean water + miscellaneous.
$145,000 TOTAL; WE NEED YOUR HELP!!!
o
EHS FOOTBALL FUNDRAISING

Game Night Program Ads/Sponsorships
o
o

EHS Football Auction – NEW!
o
o

$30,000 - $35,000
Business driven
$20,000 - $25,000
Parent driven
MVP Cards
o
o
$55,000 - $60,000
Player driven
2014 GAME NIGHT PROGRAMS
ADVERTISING OPPORTUNITIES

Game Title Sponsor (5 home games)
o
o
o
o

Front & back cover of one Hornet Home Game Program
A quarter page ad in each of the home game programs
Multiple custom public address announcements during the
home game you sponsor.
Cost $1,500 ($2,000 for Homecoming Game).
Pre-game Plaza/Halftime Sponsor (5 home games)





A chance to exhibit your company's product/service for one
hour prior to one home game (on new plaza at Kuhlman)
A quarter page ad in each of the home game programs
Multiple custom public address announcements during the
home game you sponsor.
Sole Game Night Halftime sponsor
Cost $1,250 ($1,500 for Homecoming Game).
ADVERTISING OPPORTUNITIES

Program Advertising Options
NOTE: All ads will appear in each home game program
1.
2.
3.
4.
5.
Business card ad:
Quarter page ad:
Senior trading cards:
Half page ad:
Full page ad:
$300
$500
$750
$800
$1,250
Follow Hornet Football on Twitter:
@EHSHornetsFB
EHS FOOTBALL AUCTION








Friday, 8/15/14, 7:00PM
Interlachen Country Club
Purpose: To raise $25,000+ for
110 new Hornet Helmets.
Dinner, Silent & Live Auction
Entertainment: Bill Arnold,
Hilarious Comic-Magician from
Triple Espresso & EHS Grad!
Sponsor a table - $500/10 tickets
Buy tickets - $40.00
Donate an auction item.
VOLUNTEERS NEEDED!!

EHS Football Auction
o
o
o

Looking for volunteers to secure auction items
Looking for volunteers to help sell tickets and table
sponsors
Email Julie James – [email protected]
Game Night Program
o
o
o
Looking for Advertisers & Sponsors from the
Football community.
Looking for volunteers to sell sponsorships and
advertising space.
Email Jay Carroll – [email protected]
MVP CARD PROGRAM







MVP Card Program will generate 50%+ of the annual
revenue needed to run EHS football program.
Supports 32 local merchants / 80% return to Edina
Football.
Each player Grades 9-12 is required to sell 15 MVP
cards.
Cards distributed on Wednesday, July 16 & 23 at
Hornet Camp.
Bring $375 payable to EHS Football - Once player has
sold his 15 cards, the $375 check is returned.
MVP Card Sales Blitz August 15th.
$300.00 "Opt Out" option. Checks delivered to
Boltmann prior to June 1st.
DIBS VOLUNTEERING







There are over 350 volunteer spots to fill!!!!
Each EHS Football family is asked to fill AT LEAST 3
spots PER player (9th – 12 grade).
We ask that 9th and 10th grade families fill the First Half
Concession spots so 11th and 12th grade parents can
watch their player(s).
Volunteer spots are claimed via DIBS on the EFA web
site www.edinasports.org
Instructions can be found on the EHS Football
site…www.edinaschools.org/domain/306
o Click on the DIBS logo
Volunteer spots can be claimed NOW!!!
Questions? Contact us at [email protected]
PLAYER DEVELOPMENT:
PHASES [1]
Lifting / Mon – Weds – Fri
o Get them back in a routine
o Team Runs / Tue - Thursday
o Interval runs / variety of cardio and sprint runs
o Start speed & agility work
o Technique work to improve testing
PLAYER DEVELOPMENT:
PHASES [2]
 Increase
Max Strength
 Speed
& Agility Work
oIncrease Volume From January
 Begin
Performance Testing
PLAYER DEVELOPMENT:
PHASES [3]
 Game
 Rep
Day In The Weight Room!
Max Strength
 Lower
Body Power
 Speed
& Agility
PLAYER DEVELOPMENT:
SUMMER PROGRAM
June
/ Mon – Wed- Fri
oIncrease max strength
 Lifting
practice / –Tue–Thur
oSpeed & agility work / Tue–Thur
oInterval runs
 Football
 Intro
new players to Hornet program
PLAYER DEVELOPMENT:
SUMMER PROGRAM
July
 Lifting / Mon – Wed- Fri
o Focus on peak power
o Volume decreases

Football training / Tue–Thur

Speed & agility work / Tue–Thur

Team intervals / Tue–Thur

Game day in weight room
GENERAL PROGRAM

Discipline Policies
o Academic
o Non-academic
"No Organization Or Team Can Have
Continued Success Without Discipline!"
PLAYER DEVELOPMENT:
GOALS

Develop Physical And Mental Confidence

Create Leadership Opportunities

Develop Character Of Individual And The
Culture Of The Edina Hornet Football
Program
PLAYER DEVELOPMENT:
GOALS
 Injury prevention
o Can't help the club sitting in the tub
 Improve sport performance
 Increase total body strength & power
 Improve speed & acceleration
 Improve agility & ability to react
 Increase lean mass / minimize body fat
 Improve overall flexibility
REGISTRATION




When: mid- May for summer helmet/ shoulder pads
Mid-July to mid -August for the regular season
How:
o Onlinehttp://www.edinaschools.org/domain/57
o In person at EHS Athletic Office
Eligibility:
o --After registration, need proof of fitness to
participate before first two-a-day practice in
August
o --Results of physical exam by a doctor within
past 3 years
PRE-SEASON CALENDAR
EVENT
DATES
TEAMS
Equipment Check-out
Spring Practice
Morning Practice
Spring Meetings
Gopher 7 on 7
NFL Pass Tourney
May 28th/29th– 3:30-6:00
June 3rd – 5th – 3:45-5:30 PM
June 10- July 10 9-11 AM
May 13,15,20,22,27,29
June 11 5-10 PM
June 22 – 8:30- 3:30
9th - 12th
Jefferson Scrimmage
June 19 – 9:00 – 11:00
Varsity/JV
Osseo Passing
League
June 10-July 8 (every Tuesday
except July 1st) 5:45-8PM
Varsity/JV/10/9
Pass Scrimmage EHS
June 26 – 9:00 - Noon
Varsity/JV
Pass Scrimmage EHS
July 10 – 9:00 - Noon
Varsity/JV
Hornet Football Camp
July 14-17 – 7 – 9 PM
July 21-24 – 7 – 9 PM
All
9th-12th
Varsity/JV
Varsity/JV
PRE-SEASON
CONDITIONING
Program
Strength
Training*
F.A.S.T.**
Grades
Days
Place
10-12
7-9
7-12
M,W,F @ 7 -2 PM
T & R @ 7-2 PM
M,T,W,R,F 7Noon
EHS
9-12
6-8
M& W @ 8-10:45
AM
M&M @ 11-Noon
EHS
ECC
* Program conducted from June 11 to August 3- register online
through ECC – www.edinacommunityed.org
** Functional Athletic Speed Training- runs from June 10 to July 31
–register by completing form – call Chad Schwartz 612-269-5135
PRE-SEASON ACTIVITIES
Event
Grades
Date(s)
Place
Gold Card
Sales
All
July 14thAug.31st
ECC
Picture Day
All
August 15
(tentative)
ECC
MVP Card Blitz
All
August 23
(tentative) 2-5
PM
ECC
Team Dinner
ALL
August 28
TBD
SEASON START
Event
Grades
Date(s)
Place
Equipment
Check-Out
All
August 6th/ 7th
Seniors
3:00 PM
Juniors
3:30
Soph.
4:00
Freshmen
4:45
ECC
Two-A-Day
Practices
All
August 11-15
ECC
Scrimmage
V, JV,
10th
9th
August 23 9AM
ECC
EHS
SLP
9:00am
VARSITY GAME SCHEDULE
Date/ Time
Opponent
Location
Aug 29
7:00 pm
Maple Grove
Home
Sept 5
7:00 p.m.
De LaSalle
Away
Sept 12
7:00 p.m.
Rosemount
Homecoming
Sept 19
7:00 p.m.
Eden Prairie
Home
Sept.26
8:00 p.m.
Tonka
Away
Oct. 2
7:00 p.m.
Wayzata
Home
Oct 10
7:00 p.m.
Hopkins
Away
Oct 15
7:00 p.m.
Roseville
Home
EXPECTATIONS OF PLAYERS
1.
2.
3.
4.
5.
6.
Attend every practice unless excused per the
attendance policy.
Listen carefully to your coaches and show them
respect. Inappropriate behavior and language
will not be tolerated.
Know where you need to improve your skills
and actively work on these areas each week.
Keep up your strength by lifting, maintaining a
healthy diet, and getting adequate daily rest.
Give your best effort at practices and games!
Help your team succeed by knowing and
executing your assignment every play.
EXPECTATIONS OF PARENTS
1.
2.
3.
4.
5.
6.
7.
8.
9.
10.
Be positive and proud of your son.
Encourage him to follow team and MSHSL rules.
Watch over your son's academic life.
Do not live vicariously though your son.
Instill the importance of sportsmanship.
Encourage a healthy diet and adequate sleep.
Do not criticize coaches in front of your son.
Foster in your son a positive self – image.
Be an appropriate fan in the stands.
Keep positive and ask questions if you have
them!
HEALTH AND NUTRITION TIPS

Pre-Game: Take plenty of carbohydrates
(pancakes, pasta, breads) 3-4 hours
before game time. Avoid proteins and
sugars, as they are hard to digest.

Game Week: A good diet and plenty of
rest are essential. Have a high carb, wellbalanced meal the night before the game
and drink plenty of fluids throughout the
week.
EDINA BOOSTERS

Membership Benefits

Types Of Memberships

Booster Supported Needs
WELCOME TO THE HORNET FAMILY!