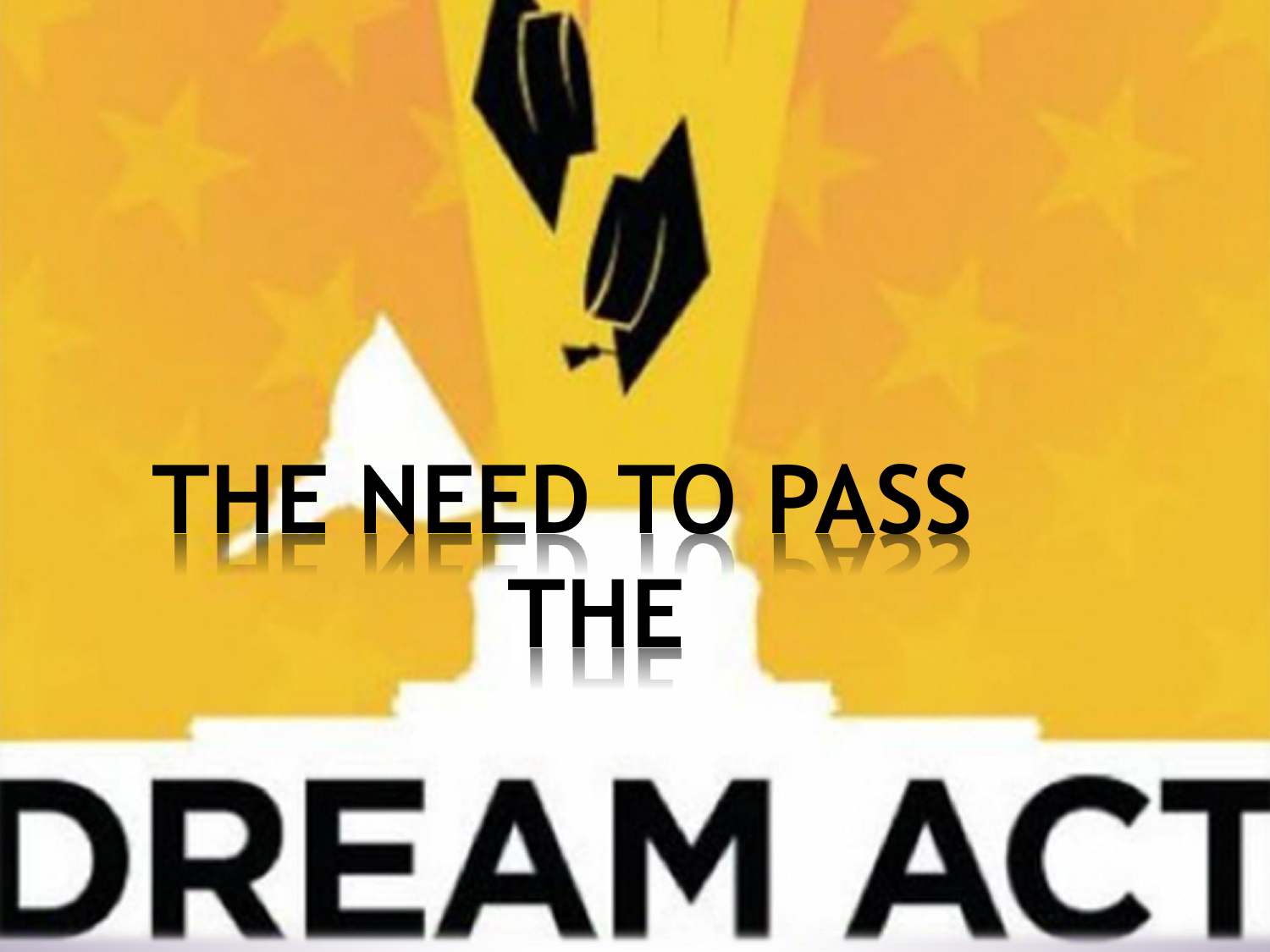 THE NEED TO PASS THE
* http://www.youtube.com/watch?v=MXnqhG2h 9QA
WHAT IS THE DREAM ACT?
WILL GIVE A SELECT GROUP OF UNDOCUMENTED IMMIGRANTS WHO CAME AS CHILDREN, A PATHWAY TO CIZTENSHIP.
INTRODUCED IN 2001 - BY SEN.ORIN HATCH (R) AND SEN.DICK DURBIN(D) REQUIREMNETS CAME BEFORE THE AGE OF 16 - GRADUATE FROM A U.S. HIGH SCHOOL - ATTEND COLLEGE OR ENLIST IN THE MILARTY
42%
GALLUP POLL 2010
54% Support Against
* SEN. MARCO RUBIO (R) IS PROPOSING HIS OWN VERSION * ONLY A CONCEPT, HE DOES NOT HAVE HIS BILL OUT YET.
* - NON-IMMIGRANT VISAS INSTEAD OF CONDTIONAL RESIDENCY STATUS * THE PATHWAY TO CITZENSHIP WILL BE THE DIFFERENCE COMPARED TO THE ORIGINAL.
-WON'T CREATE A NEW PATHWAY TO CITZENSHIP
A SLIM OF REPUBLICANS SUPPORTED THE DREAM ACT IN THE PAST, BUT ARE BACKING AWAY FROM IT FOR POLITICAL REASONS.
ON 2007 12 REPUBLICANS SENATORS VOTED FOR IT ON 2010 ONLY 3 REPUBLICANS SENATORS VOTED FOR IT THE ORIGINAL CO-WRITER ORRIN HATCH (R )HAS EVEN DENOUNCED IT TO KEEP HIS SEAT ON CONGRESS. HE'S UP FOR RELECTION THIS YEAR.