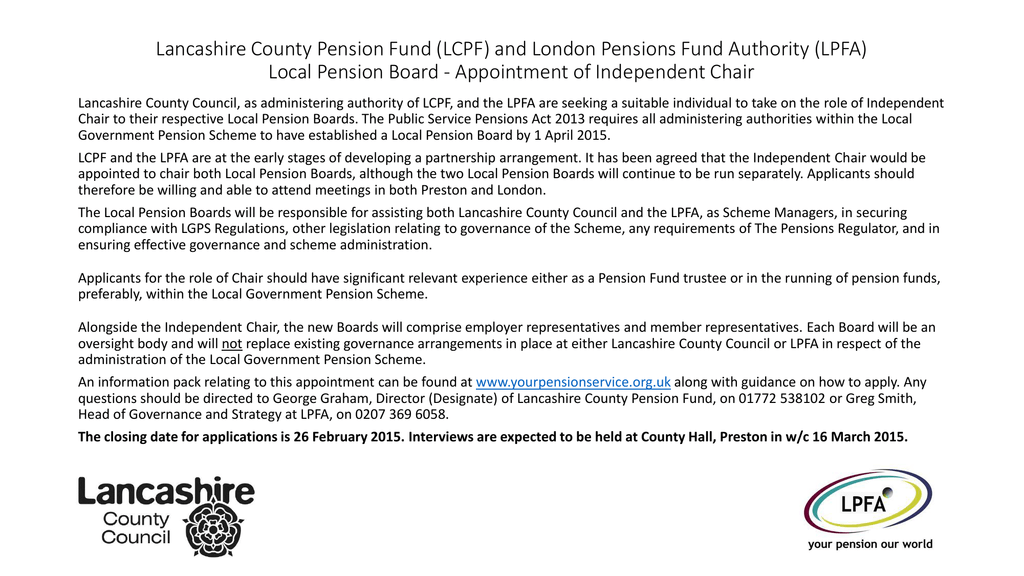 Lancashire County Pension Fund (LCPF) and London Pensions Fund Authority (LPFA)
Local Pension Board - Appointment of Independent Chair
Lancashire County Council, as administering authority of LCPF, and the LPFA are seeking a suitable individual to take on the role of Independent
Chair to their respective Local Pension Boards. The Public Service Pensions Act 2013 requires all administering authorities within the Local
Government Pension Scheme to have established a Local Pension Board by 1 April 2015.
LCPF and the LPFA are at the early stages of developing a partnership arrangement. It has been agreed that the Independent Chair would be
appointed to chair both Local Pension Boards, although the two Local Pension Boards will continue to be run separately. Applicants should
therefore be willing and able to attend meetings in both Preston and London.
The Local Pension Boards will be responsible for assisting both Lancashire County Council and the LPFA, as Scheme Managers, in securing
compliance with LGPS Regulations, other legislation relating to governance of the Scheme, any requirements of The Pensions Regulator, and in
ensuring effective governance and scheme administration.
Applicants for the role of Chair should have significant relevant experience either as a Pension Fund trustee or in the running of pension funds,
preferably, within the Local Government Pension Scheme.
Alongside the Independent Chair, the new Boards will comprise employer representatives and member representatives. Each Board will be an
oversight body and will not replace existing governance arrangements in place at either Lancashire County Council or LPFA in respect of the
administration of the Local Government Pension Scheme.
An information pack relating to this appointment can be found at www.yourpensionservice.org.uk along with guidance on how to apply. Any
questions should be directed to George Graham, Director (Designate) of Lancashire County Pension Fund, on 01772 538102 or Greg Smith,
Head of Governance and Strategy at LPFA, on 0207 369 6058.
The closing date for applications is 26 February 2015. Interviews are expected to be held at County Hall, Preston in w/c 16 March 2015.