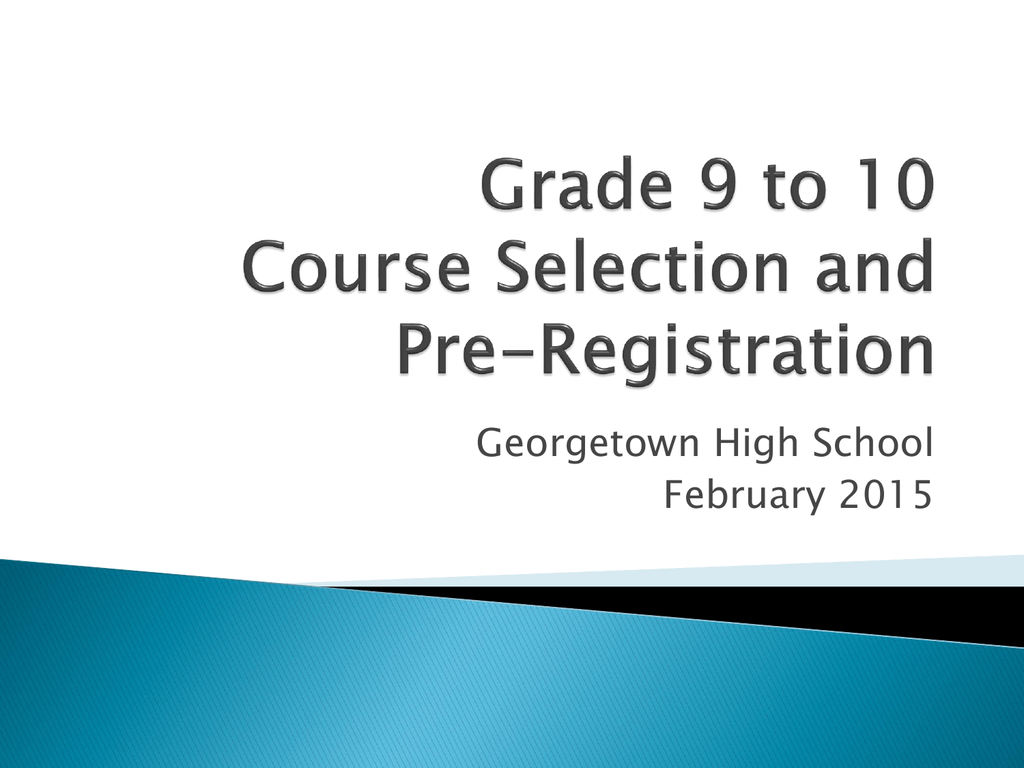 Georgetown High School
February 2015
The courses you take, the activities you
participate in, and the way you choose to
conduct yourself have a huge impact on the
options you will have available to you upon
graduation.
Take advantage of the many opportunities
afforded to you in high school to ensure that
you have the best chance possible of achieving
your personal goals.
Counselor
Students
Phone
E-mail
(512) 943-5100
Steve Schoelman
A - Ga
ext 7198
[email protected]
Shannon Henson
Gb - I
ext 7111
[email protected]
Christine Campbell
J-Q
ext 7044
[email protected]
Laura Ottun
R-Z
ext 7508
[email protected]
Scott Conrad
College and
Career Center
ext 7250
[email protected]
 Graduation
Requirements
 Endorsement Pathways
 Pre-Registration 2015-16
 CareerCruising.com
Students must successfully
earn at least 26 credits in a
plan of study that includes
specific courses in English,
math, science, social studies,
and other required courses and
electives. Students must also
select and complete an
endorsement as mandated
under HB5.
IMPORTANT:
The Distinguished
Level of Achievement
is required for
automatic admission
to state 4 year
universities.
Endorsement pathways are
intended to give students
opportunity to take a
concentration of related courses
in high school to help them be
better prepared for postsecondary education and careers.
 Arts
and Humanities
 Business and Industry
 Public Service
 STEM
 Multidisciplinary
REMEMBER: Endorsements can be changed if
you change your mind anytime during high
school.



In general, students must earn 4 credits from a
sequence of related courses designated for a
particular endorsement pathway.
While it is possible for students to meet the
requirements for more than one endorsement,
"collecting" endorsements is not really the intent of
the mandate.
Scheduling conflicts may require students to set
priorities regarding the endorsement completion
requirement.
Recognition for outstanding achievement
in the following areas:

Dual Credit Courses
◦ Early College Start
◦ Co-Enrollment
◦ Articulated Courses




Languages (LOTE)
AP Testing
PSAT/SAT/ACT Testing
Certification/Licensure
Students are expected to
complete a pre-registration
worksheet with parents. They will
use this plan to enter course
choices on CareerCruising.com.
There will be opportunity to
make adjustments at a later date.
February 2-3:
9th Grade Students receive registration
information
February 5:
9th Grade Parent Night
February 12-13:
9th Grade Students will submit course
choices through world geography classes
Mid-May:
Students will receive course verification
sheets to review choices
9
BUSINESS & INDUSTRY
Ag Animal Science
Principles of
Agriculture
Equine Science/
Livestock Product
Veterinary Med
Applications
Advanced
Animal Science
English 2 Pre-AP
Geometry
Remember, you have
the next 4 years to set
up the rest of your life.
Make them count!
Chemistry
World History AP
Spanish 2 Pre-AP
1
Equine Sci/Livestock .5/.5
Choir 2
Wildlife & Fisheries
1
1
Photojournalism
1
CareerCruising.com is a webbased program that can assist
students and families with career
exploration, college research, and
employment skills throughout
high school and beyond. It also
has a course planning tool.
Access CareerCruising.com
directly or with the link on the
GHS homepage under "For
Students". Remember to type
GT- before your case-sensitive
username.
1. Select core or Pre-AP for basic subjects.
2. Read the notes behind the blue dots.
3. Check for other required courses.
4. Continue courses in areas of priority.
5. Check for endorsement requirements.
6. Delete any courses with red dots.
7. Check for 8 total credits.
8. Choose at least one alternate course (1cr).
9. SUBMIT
10.You will receive a printout of your course
choices later in the spring.