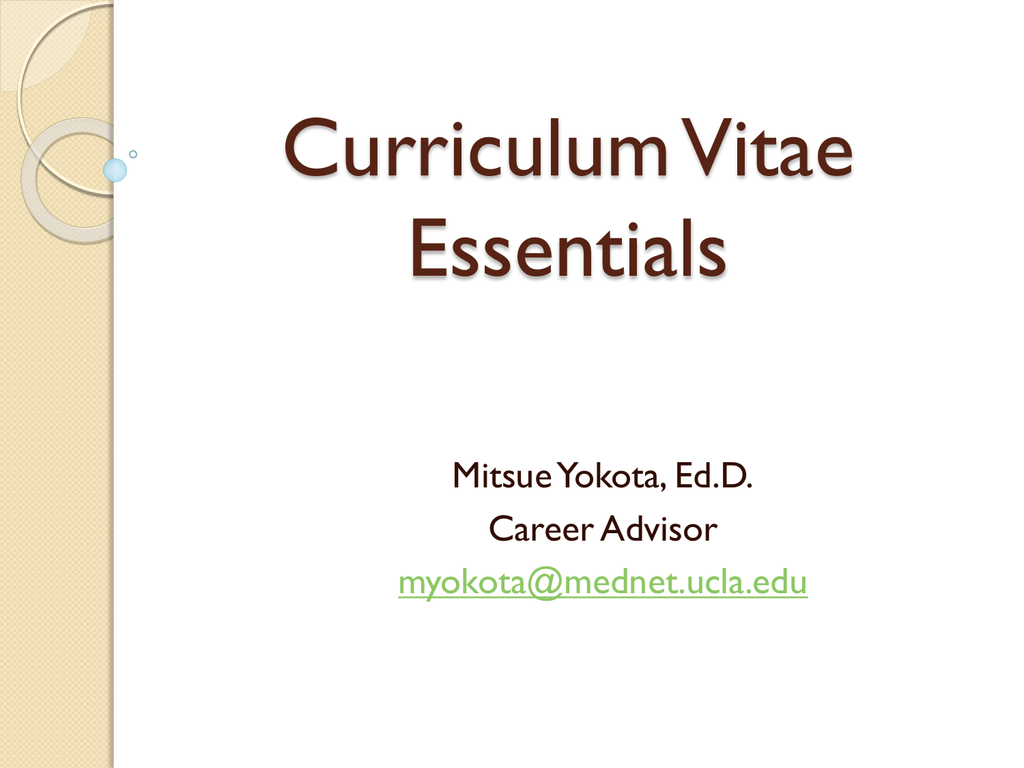 Curriculum Vitae
Essentials
Mitsue Yokota, Ed.D.
Career Advisor
[email protected]
CV vs. Resume




CV
Scholarly identity
Academic Settings
Can be 20+ pages
Educational /academic
background
◦ Research, publication,
presentations, awards,
affiliations





Resume
Professional identity
Non-academic
2 pages or shorter
Skills, experience,
education
Can be chronological
or skill based
General Guidelines
Formatting Consistency
 Readability
 Word Choice
 Order
 What to include?
 What to exclude
 Work Experience

Sections of a CV - Academic








Personal Information
Education
Licensure/Certification
Research Interests
Research Experience
Teaching Experience
Clinical Experience
Professional
Experience









Publications
Presentations and
Posters
Invited Talks
Honors/Awards
Grants/Fellowships
Academic Service
Professional
Affiliation
Language
Skills
Sections of a CV – Medical Students
Personal Information
 Education
 Honors and Award
 Research
 Publications and Presentations
 Activities
 Certifications/Languages

Personal Information
Name
 Current Address
 City, State, Zip
 Current Phone
 Email Address

Personal Information
~Mitsue Yokota ~
?????
12-159 CHS
Los Angeles, CA 90095
310-267-1104
[email protected]
Personal Information
Mitsue Yokota
12-159 CHS
Los Angeles, CA 90095
Home 310-267-1104
Fax 310-794-9574
Cell 310-206-3434
USMLE ID: 52431463
AAMC ID:12558028
[email protected]
Personal Information
Mitsue Yokota
12-159 CHS
Los Angeles, CA 90095
310-267-1104
[email protected]
Personal Information
Mitsue Yokota
12-159 CHS
Los Angeles, CA
90095
310-267-1104
310-206-0434
[email protected]
Personal Information
Mitsue Yokota
12-159 CHS
Los Angeles, CA 90095
310-267-1104
[email protected]
Personal Information
Things to exclude:
Age
Date of Birth
Marital Status
Social Security #
Education

Include only programs that led to a
terminal degree in reverse chronological
order
◦ Medical School
◦ Post Baccalaureate Programs
◦ Undergraduate Institution (Majors and
Minors)
◦ EXCLUDE high school
Education
Things to exclude:
Anything before undergraduate
 GPA
 MCAT scores
 Test scores
 Dissertation advisors
 Mentors


Honors lists (save for Awards section)
EDUCATION
David Geffen School of Medicine at UCLA
2010 - present
M.D.
Current Specialty Interests: Oncology, Radiology, Dermatology
University of California, Los Angeles
2007 – 2011
B.S., Magna Cum Laude, Biology
Dean's Honor List (Spring 2009), graduated with "Honors" and
"Highest Distinction"
Cumulative GPA: 3.96
University High School
Major GPA: 3.95
2004 – 2007
Education
David Geffen School of Medicine at UCLA
M.D. Anticipated in 2015
2011 - present
University of California, Los Angeles
B.S., Biology, magna cum laude
2007 – 2011
Education
Other items you may include:
Latin/Departmental Honors
 Board Scores (can be in Licensure
section)

Honors and Awards
Name of award or distinction
 Time earned/achieved
 Short description if necessary


While it's appropriate to list items from
undergrad now, by this time in 3rd year,
they should be eliminated unless TRULY
exceptional
Honors and Awards
UCLA Class of 2014 Geffen Scholar
2011 – present
Annual merit scholarship awarded based on outstanding admissions
application
UCLA Regents Scholar
2010 – present
Annual merit scholarship awarded to students demonstrating
academic excellence, leadership, and exceptional promise
Letters of Distinction: Surgery, Internal Medicine
2012 – 2013
Awarded to students who perform in an outstanding fashion on
required clinical clerkships
Research
Name of institution
 Name of mentor

◦ Include full name and title
◦ Include degree
Name of Project
 Brief Description of Work

◦ Maximum 2 lines
Research
David Geffen School of Medicine at UCLA
Division of Head and Neck Surgery
Principle Investigator: John Smith, M.D.
 Studied the effectiveness of injections with
botulinium toxin to the cricopharyngeus
muscle
Publications & Presentations
Use same format throughout
 Written drafts of manuscripts are
"submitted" or "in preparation"
 Accepted manuscripts not yet published
are "in press"
 For presentations, include the institution
or meeting where presented

Publications & Presentations

As postbac students
◦ Can include undergraduate research
◦ Can include any undergraduate fellowship
programs
◦ Can include any summer research
experiences
American Medical Association
(AMA) Style Guide
Used by:
 Authors in compiling lists
of references for their
publications
 Editors in revising such
lists
 Publishers in setting
reference standards for
their authors and editors
 Librarians and others in
formatting bibliographic
citations
Journal Articles
Books
Papers Presented at Meetings
Posters Presented at Meetings
Activities

Can be lumped into generic experience
section or divided into multiple sections
◦
◦
◦
◦
◦
Clinical Experience
Global Health Experience
Leadership Experience
Teaching Experience
Volunteer Experience
Activities Section

Include:
◦
◦
◦
◦
◦
Title/Role
Organization
Location/Institution
Duration of Involvement
Brief Description of your
contributions/accomplishments
Sample Activities Section
INSTITUTIONAL SERVICE
Professionalism Council Representative, Medical Student Council
2010 – present

Elected to a select joint student-faculty council that provides recommendations for the overall
improvement of the teaching and practice of professionalism at the David Geffen School of Medicine,
while also serving as a consulting body to the Dean of Student Affairs for disciplinary issues

Planned and implemented student-driven initiatives such as the Clerkship Professionalism and Abuse
Survey for upper-level students and assisted in the development of an Ethics Symposium
Student Co-Coordinator, Women in Surgery Student Interest Group
2011 – 2012

Helped to revitalize a student, resident, and faculty interest group committed to supporting aspiring and
established female surgeons

Organized group meetings and lectures, set up roundtable discussions with prestigious visiting female
surgeons, and created a surgical specialty shadowing program for medical students

Currently serving as senior student advisor to the group
Student Co-Coordinator, Geriatric Medicine Student Interest Group
2011 – 2012

Created opportunities for medical students to explore the field of geriatrics through multi-disciplinary
lectures as well as shadowing programs and community outreach projects at local nursing homes
Verb Choice
If you are currently participating - use
present tense
 If it is from the past - use past tense
 Use a variety of verbs

Research
Collected
Clarified
Solved
Gathered
Extracted
Inspected
Reviewed
Measured
Formulated
Organized
Catalogued
Arranged
Categorized
Charted
Classified
Routed
Inspected
Logged
Supplied
Screened
Systematized
Helped
Volunteered
Supported
Clarified
Gathered
Coached
Inspected
Aided
Arranged
Adapted
Communicated
Resolved
Persuaded
Referred
Explained
Elicited
Gathered
Defined
Conveyed
Consulted
clarified
authored
Work Experience?
List if they had a meaningful impact on
current career choice
 Usually for employment between
undergrad and med school
 Paid research should be listed under
research

Certifications and Languages

Include depending on what you are using
your CV for
◦ Scholarships or Fellowships?
◦ Global Health Opportunities?
◦ Residency?
Other important tips
5 minute rule
 Update regularly
 Customize
 Proof read!

Questions?