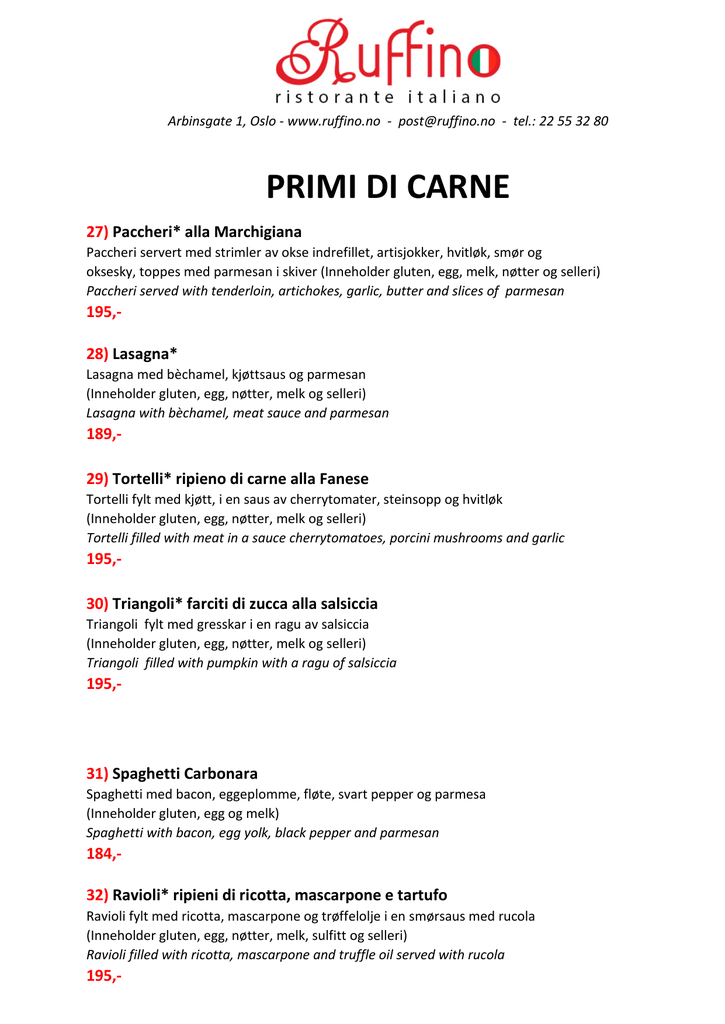 Arbinsgate 1, Oslo - www.ruffino.no - [email protected] - tel.: 22 55 32 80
PRIMI DI CARNE
27) Paccheri* alla Marchigiana
Paccheri servert med strimler av okse indrefillet, artisjokker, hvitløk, smør og
oksesky, toppes med parmesan i skiver (Inneholder gluten, egg, melk, nøtter og selleri)
Paccheri served with tenderloin, artichokes, garlic, butter and slices of parmesan
195,-
28) Lasagna*
Lasagna med bèchamel, kjøttsaus og parmesan
(Inneholder gluten, egg, nøtter, melk og selleri)
Lasagna with bèchamel, meat sauce and parmesan
189,-
29) Tortelli* ripieno di carne alla Fanese
Tortelli fylt med kjøtt, i en saus av cherrytomater, steinsopp og hvitløk
(Inneholder gluten, egg, nøtter, melk og selleri)
Tortelli filled with meat in a sauce cherrytomatoes, porcini mushrooms and garlic
195,-
30) Triangoli* farciti di zucca alla salsiccia
Triangoli fylt med gresskar i en ragu av salsiccia
(Inneholder gluten, egg, nøtter, melk og selleri)
Triangoli filled with pumpkin with a ragu of salsiccia
195,-
31) Spaghetti Carbonara
Spaghetti med bacon, eggeplomme, fløte, svart pepper og parmesa
(Inneholder gluten, egg og melk)
Spaghetti with bacon, egg yolk, black pepper and parmesan
184,-
32) Ravioli* ripieni di ricotta, mascarpone e tartufo
Ravioli fylt med ricotta, mascarpone og trøffelolje i en smørsaus med rucola
(Inneholder gluten, egg, nøtter, melk, sulfitt og selleri)
Ravioli filled with ricotta, mascarpone and truffle oil served with rucola
195,-
34) Risotto del giorno
Dagens risotto (Inneholder allergiske produkter spør håvmester)
Risotto of the day
189,-
NB: Alle våre retter kan innholde allergiske produkter. Kontakt håvmester ved allergier
eller inntoleranser.
NB: All our dishes may contain allergic products. Contact the head waiter for allergies
or intolerance.
Vi har GLUTENFRI PASTA (spaghetti). Sauser kan velges fra vår pastameny.
We have GLUTEN FREE PASTA (spaghetti). Choose sauces from our pasta menu.