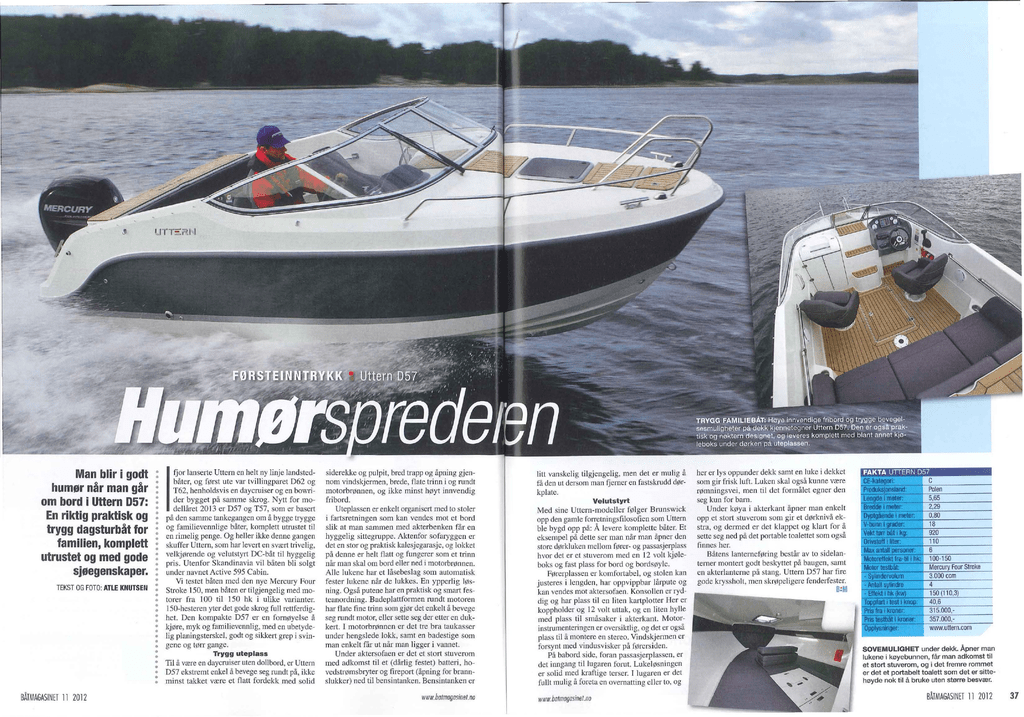 Man blir i godt :
o
humor nar man gar
om bord i Uttern 057:
En riktig praktisk og
trygg dagsturbat for
familien, komplett
utrustet og med gode
sjoegenskaper.
•
:
:
•
:
:
:
:
•
:
:
•
TEKST OG FOTO: ATLE KNUTSEN
:
:
:
••
het. Den kompakte D57 er en forn¢yel se li
kj¢re, myk og famjIjevennlig, med en ubeLydeJi g pJaningsterskel, godt og sikkert grep i svingene og t¢rr gange.
:
Trygg uteplass
:
:
•
:
•
:
BATMAGASINET 11 2012
fjor lan serte Uuern en helt ny linje landstedbAter, og f¢fst ute val' tvillingparet D62 og
T62, henholdsvi s en daycruiser og en bOWI;der bygget pa samme skrog. Nyu for modemret 20 13 er D57 og T57 , som er bascrt
pa den sanune tankegangen om a bygge trygge
og famiJievennlige biiter, komplett ulruste t til
en rimelig penge. Og heller ikke denne gangen
skuffer Utlern, som har levert en svrert triveJig,
velkj 0rende og velutsty rt DC-bat til hyggelig
pris. Utenfor Skandinavia vi! baten bli solgt
under navnet Active 595 Cabin.
Vi tf;stet bat.en med den nyc Mercury Four
Stroke 150, men baten er tilgjengeJig med mo(orcr rra 100 til 150 hk i ulike va rianter.
150-hcsteren ytcr del gode skrog full reltferdig-
a
Til vrere en daycfui ser utcn dollbord, cr Uttem
057 ekSlremt cnkel Abevegc seg fun dt pa, ikke
min st lakket vrere et fiatt fordekk med solid
siderekke og pulpit, bred trapp og apning gjellnom vindskjermen, brede, flate trinn i og rundt
motorbr0nnen , og ikke minst hj2jyt innvendig
fribord.
Uteplassen cr enkelt organisert med to stoler
i fartsretningen som kan vendes mot ct bard
sIlk at man sam men med aktcrbenken f~r en
hyggelig sittegruppe. Aktenfor s06uyggcn er
del en stor og praktisk kalesjegarasje, og lokket
pa dcnne er helt naLt og fungerer som et trinn
nar man skal om bord eller ned i motorbr!3nnen.
Aile luke ne hal' et Hlsebeslag som alltomatisk
fesler lukcne mi l' de lukkes. En ypperlig 10Sning . Ogs,i putcnc hal' en praktisk og smart festeallordning. Badeplattfonnen rundt motoren
hal' flate fine trinn som gj0r det cnkelt it bevege
seg fundt motor, cUer sette seg der eUer en dukkert. ] motorbr¢nncn er det tre bra laukasscr
und er hengslede lokk, sa mt en badestige som
man enkelt far ut nar man ligger i vannet.
Under aktersofaen er det et stort stuverom
Illed adkornst til e t (darlig festet) batteri , hovedSlr¢J11sbryter og fireport (apn ing for brannslu kke r) ned til ben sintanken. Bensilltanken er
www.bofmogosinef.no
lin vanske lig tilgjengelig, men det er mulig a
at den ut dersom man fjemer en fastskrlldd d¢rkplatc .
Velutstyrt
Med sine Uttern-modeller f01ger Brunswick
opp den gamle forretningsfilosofien som Uttem
ble bygd opp pi\: A levere komplette biller. Et
cksempel pA delle ser man Ilar man apner den
store d0rkluken melJom f¢rer- og passasjerplass
hvor del er et sluverom med en 12 yoll kj!3 leboks og fast plass for bord og bords0y le.
Fji)rerplassen er komfortabel, og stolen kan
justeres i !cngdcn, har oppvippbar larputc og
kan vendes mot aktersofaen. Kon so ll en er ryddig og hal" plass til en liten kartplouer Her er
koppholder og 12 vo lt ultak, og e n liten hyll e
med plass til smasaker i akterkant. MotorinslrLll11enleringen er ovcrsiktlig, og det er ogsa
plass til a montere e n stereo. Vindskjennen er
forsynt med vindusvisker pa f0rersid en.
Pa babord side, roran passasjerp lassen, er
det inngang tillugaren fomt. Lu kel~sningen
er solid med kraftige terser. I lugaren er det
fullt muJig foreta en overnatting cUer to, og
a
www.bofmogosinet.no
her er Iys oppunder dekk samt en luke i dekket
sam gir frisk luft. Luken skal ogsA kunne vrere
r¢mningsvei, men til det formaJet egner den
seg kun for barn.
Under k¢ya i akterka ll l apner ma n enkcl t
opp e l start stuYerom som gir et d¢rkniva ekstra, og denned er del klappet og klart for A
sette seg ned pa det portable toalettet som ogsa
finnes her.
B ~ t e n s lanternef0ring bestar av 10 sidelante11ler montert godt beskyttet pa haugen, saml
en akterlantcrne pa stang. Uttern 057 har fire
gode kryssholt, men skr¢pel igere fenderfester.
8:M
SOVEMULIGHET under dekk. Apner man
lukene i k0yebunnen, fAr man adkomst til
et stort stuverom, 09 i det fremre rommet
er det et portabelt toalett som det er sitteh0yde nok til A bruke uten sterre besvrer.
BATMAGASINET 11 2012
37
BY GOOGLE TRANSLATE Humorsprederen ‐ Uttern D57 ‐ Båt Magasinet– November 2012 Mood spreader One is in a good mood when boarding Uttern D57: An appropriate functional and safe day for the family, full equipped and with excellent performance. Last year Uttern launched a new line of utility boats, and first out was twins D62 and T62, respectively, a day cruiser and a bowrider built on the same hull. New for model year 2013 one D57 or T57, which is based on the same philosophy of building safe and family‐friendly craft, complete equipped at a reasonable price. And not this time buckets Uttern, which has delivered a very nice, well equipped and velkjørende DC‐boat nice price. Outside Scandinavia, the boat will be sold under the name Activ 595 Cabin. We tested the boat with the new Mercury Four Stroke 150, but the boat is available with engines from 100 to 150 hp in different varieties. 150‐PS version delivers the good hull full justice. The compact D57 is a running theme, soft and familiar, with a negligible planing threshold, and good grip in the turns and dry walk. Safe patio For a day cruiser with walkway, is Uttern D57 Extreme simple to move around, not least thanks to a flat front tire with solid side rail and pulpit, wide staircase and opening through the windshield, wide, flat steps in and around the engine bay, and not at least high internal freeboard. Patios are easily organized with two chairs in the direction that can be turned against a table so that together with the aft bench gets a nice seating area. Aft sofa back is a great and practical canopy garage, and the lid on this is totally flat and serves as a stage when you are on board or in the engine bay. All doors have a lock fittings which automatically attaches the doors when they are closed. An excellent solution. Also pads are a convenient and smart fixture. Bathing platform around the engine have flat fine step that makes a move around the engine, or sit there for a dip. In the engine bay there are three good taukasser under hinged lid, and a ladder that one can easily get out when you are in the water. Under the aft couch is a large storage room with access to an (inadequate) battery, main switch and four port (opening fire extinguisher) down to gasoline taken. The fuel tank is a bit difficult, but it is possible to get it out if you remove a fastkrudd checker plate. Well equipped With Uttern models follows Brunswick up the old business philosophy Uttern was built in: A supply complete boats. An example of this can be seen when you open the big door compartment between the driver and passenger seat where and permanent space for table and table column. The cockpit is comfortable and the seat is adjustable in length, has folding thigh support and can be turned against the aft couch. The console is neat and has space for a small chartplotter. Here a cup holder and 12‐volt outlets, and a little shelf space for small items in the rear end. Engine instrumentation is clear and there is also room to mount a stereo. The windshield is supplied with window wiper on the driver's side. On the port side, the front passenger seat, the entrance to the cabin forward. Closing the solution is solid with powerful thirds. In the cabin, it is possible to make a night or two, and is light under the deck and a hatch in the deck that gives fristk air. The hatch will also be an escape route, but for that purpose, it is suitable only for children. Under bunk in the aft open easily up a large storage room that provides a floor level extra, and thus it is all set to sit down on the portable toilet that is also found here. Boat navigation lights comprises two sidelights fitted well protected at the bow and a stern lantern on the rod. Uttern D57 four good cleat but frailer fender mounts.