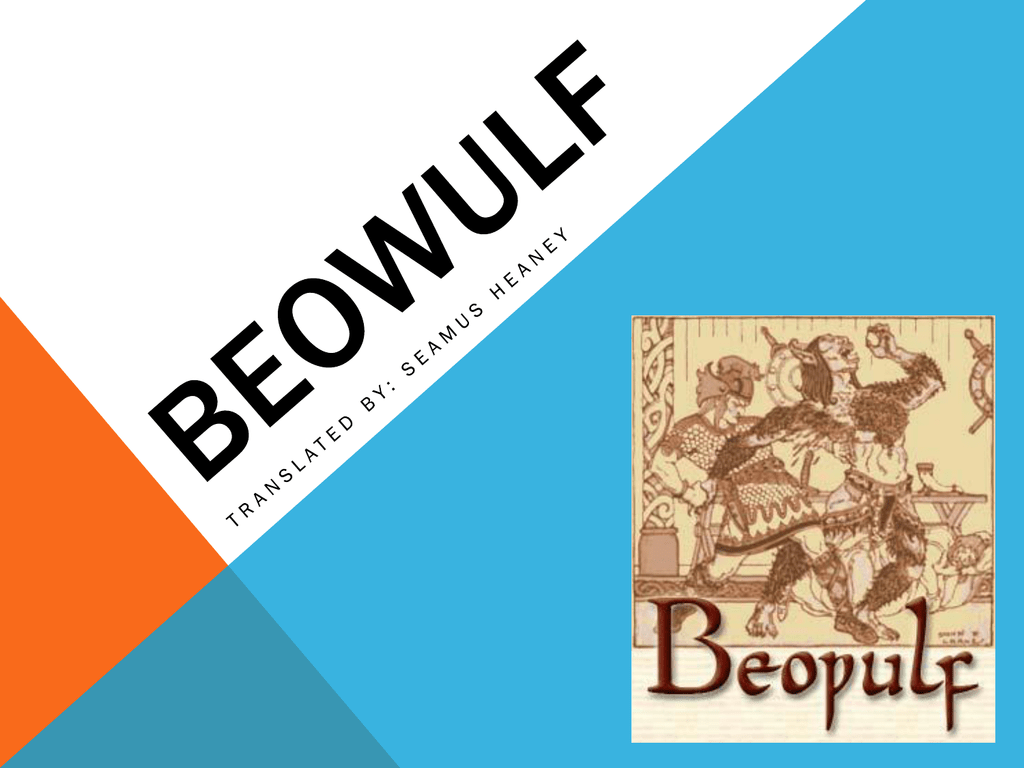 INTRODUCTION
 Beowulf is the first
English literature
masterpiece.
 Beowulf is an AngloSaxon epic poem
that approximately
dates to the year
700.
 Beowulf is written in
an Anglo-Saxon
language (also known
as Old English).
THE LANGUAGE
 The English language is divided in 3 periods:
 Old English (449-1100)
 Middle English (1100-1500)
 Modern English (1500-present)
 Beowulf is an example of Old English
 The Canterbury Tales is an example of Middle
English
 Shakespeare's works are an early form of
Modern English.
EPIC POETRY
 Epic poems
are told in an
elevated style
and deal with
deeds of a
great hero.
AND
A HERO
 Courage and
loyalty are key
aspects of the
hero.
 Warriors could
be counted on to
avenge the
deaths of their
lords, fathers,
brothers and
sons.
THE SETTING
 Although the story is written in England,
it tells the tale of the Geats and the
Danes.
 The Geat kingdom is in present day
Sweden, and the Dane kingdom present
day Denmark.
THE STORY
 Beowulf tells the story of the epic hero for
whom it is named; he eventually becomes
King of the Geats.
 Beowulf battles three figures throughout the
story:
 The monster Grendel
 Grendel's mother
 The dragon
THE STORY CONTINUED
 The epic is divided into
two sections
 Beowulf as a young
warrior fighting
Grendel and
Grendel's mother.
 50 years later,
Beowulf as the King
fighting the dragon.
THE MANUSCRIPT
 The only surviving
manuscript is
housed at the
British Library in
London.
 The original
manuscript is over
3000 lines long and
written in
unrhymed,
alliterative verse.
OUR TRANSLATION
 Seamus Heaney is the
Nobel Laureate author
of our version of the
text.
 Heaney focuses on
lyrical phrasing rather
than direct translation
for a more easily
spoken text.
 Features of the text
include alliteration and
poetic attention to
phrasing.