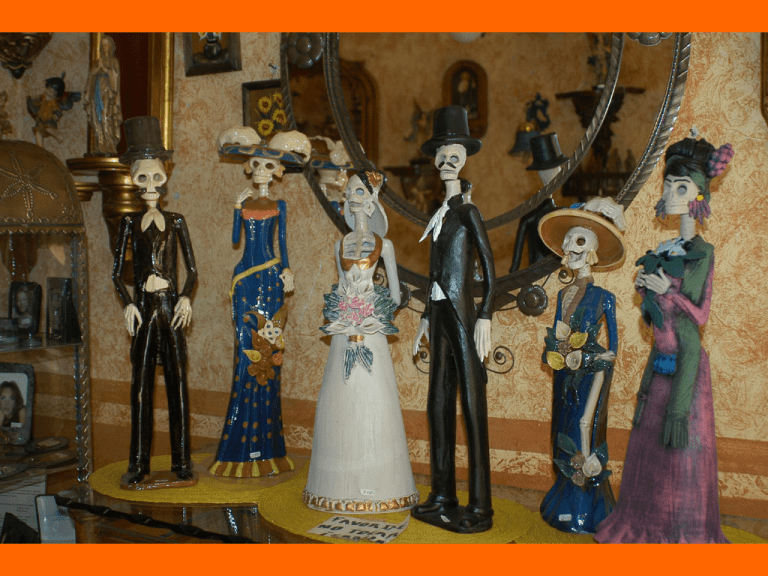 Common Misconceptions
about
The Day of the Dead
El día de los muertos
by May Herz
http://www.inside-mexico.com/noes.htm
• It is not the
Mexican version
of Halloween.
• Mexicans have
celebrated the
Day of the Dead
since the year
1800 B.C.
• It is not scary or
morbid.
• There are no images
of dead people,
ghosts, witches, or
the devil.
• Calaveras, or
skeletons, are a
modern artistic
representation of the
of the annual event
Posada, Jose Guadalupe
Calavera depicting contemporary newspapers as skeleton cyclists
c. 1889-1895
Type metal engraving
• It is not a cult.
• This ritual has nothing
to do with cults.
• It is a Catholic
Christian ritual
intermixed with
indigenous culture.
• For many, going to
mass is an essential
aspect of this
celebration.
• It doesn't honor death or
dying, but remembers the
life and love of dead
relatives.
• If offers the opportunity to
reflect upon life, heritage,
ancestors, and the
meaning and purpose of
human existence.
• Altars or ofrendas
are not worshipped.
• Ofrendas offer love
and remember
departed family
members as they
were in life and family.
• Memory and life
comingle.
• It is not a sad ritual.
• It's a day of
happiness and
remembering loved
ones.
• It is not a party.
• When in the
graveyard, people
assume an
introspective attitude.
• There is love without
grief.
It is about Love not Fear
• It is not a
careless or
fearless
confrontation
of death.
• It is a moment
to reflect upon
one's life and
the cycle of life
and death.
• It is not a "strange"
ritual.
• It is very similar to
going to a grave and
leaving flowers,
stuffed animals, flags,
or lighting a candle.