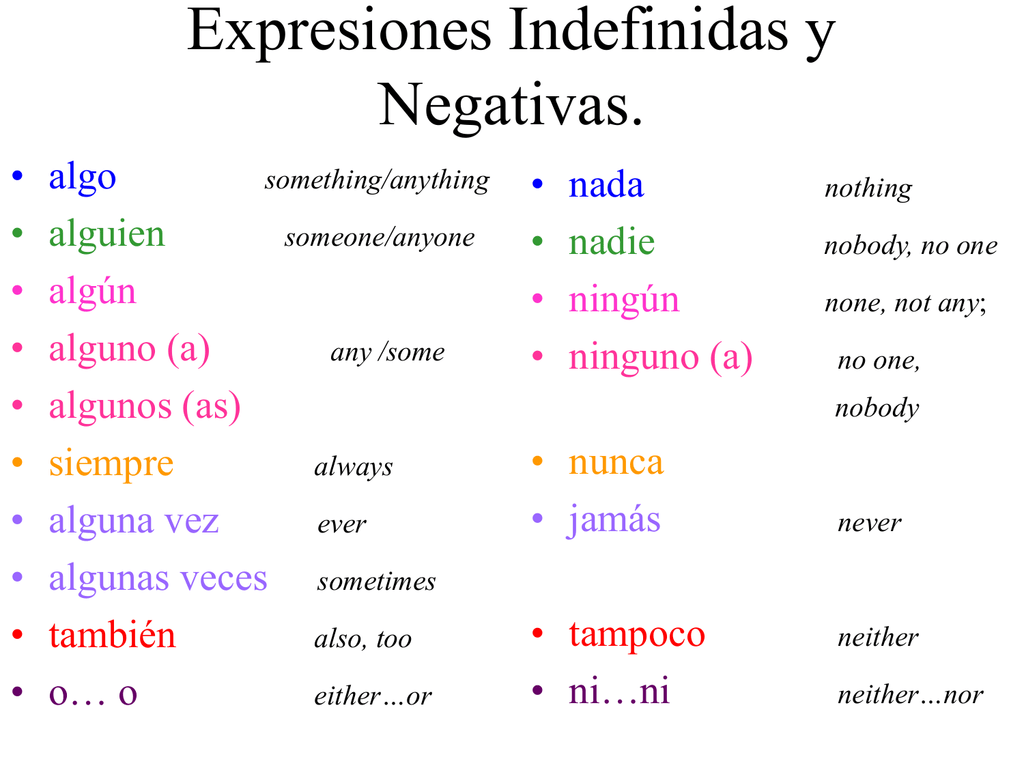 Expresiones Indefinidas y
Negativas.
•
•
•
•
•
•
•
•
•
•
algo
something/anything
alguien
someone/anyone
algún
alguno (a)
any /some
algunos (as)
siempre
always
alguna vez
ever
algunas veces sometimes
también
also, too
o… o
either…or
•
•
•
•
nada
nadie
ningún
ninguno (a)
nothing
nobody, no one
none, not any;
no one,
nobody
• nunca
• jamás
• tampoco
• ni…ni
never
neither
neither…nor
• Alguno / ninguno drop the final -o before a
masculine singular noun.
• Alguno (a) can be used in the plural form, algunos
(as) but ninguno (a) is used only in the singular.
• Spanish sentences frequently use a double negative.
In this construction, the adverb no is placed before
the verb. The second negative word either follows
the verb or appears at the end of the sentence. No is
never used, however, if the negative word precedes
the verb.
• Spanish often uses several negatives in one
sentence.
Yo nunca le doy nada a nadie tampoco.
• (Yo) no como nunca carne.
• Nunca como carne.
• No viene ningún estudiante a la
fiesta.
• Ningún estudiante viene a la
fiesta.