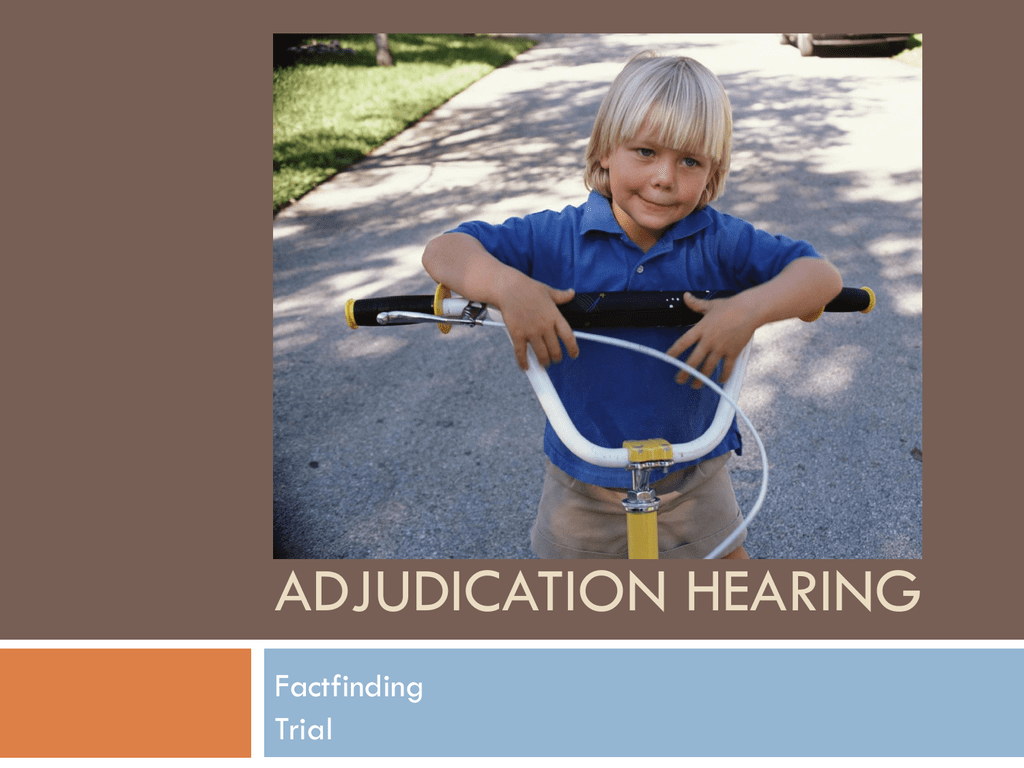 ADJUDICATION HEARING
Factfinding
Trial
Before the Adjudicatory Hearing

Advisement hearing





Formal advisement
Some jurisdictions require a written advisement be initialed and signed by
the client. Others use a video advisement.
Opportunity to make an admission


Often the parent's chance to either enter a denial or an admission to the petition
Sometimes advisement hearings, or 1st hearings, are used as control dates for
return of service for noncustodial parents.
Respondent parent counsel should very carefully weigh the advantages and
disadvantages for the client to making an admission at the first hearing.
Advantages include proceeding more quickly to the treatment plan and
receiving services and perhaps reunifying the family faster. On the other hand,
the risks are great. There is no time for an investigation, no time to obtain
records and discovery, and no time to create any possible defenses.
Admissions at the advisement hearing are not made in all jurisdictions
Admissions Generally


Admission includes waiver of factual basis
Request C.R.S. § 19-3-207 orders to protect client's
statements


A C.R.S. §19-3-207 (2) order is a protective order that
says no professional can be called to testify about
anything the respondent said during treatment in a
subsequent criminal proceeding.
Consider seeking an interim treatment plan to obtain
services as quickly as possible

Note whether your client is already engaged in services,
perhaps through probation or some other involvement.
Informal Adjustment



When parties are before the court,
But before a D & N petition is filed,
Court may authorize an informal adjustment
 Parents
must be advised and are entitled to counsel
 Parents admit facts necessary to establish prima facie
jurisdiction: the admission, however, may not be used
later if a petition is filed.
 Informal adjustment may not last longer than 6 months.
 C.R.S.§ 19-3-501
Deferred Adjudication
(delayed dismissal or continued adjudication)




When parties are before the court
And a D & N petition has been filed
Court may authorize deferred adjudication
(delayed dismissal)
Requires:
 Admission
by parent
 Consent of all parties
 Conditions – similar to treatment plan
 6 months plus 6 months
 Governed by C.R.S. §19-3-505(5)
Admissions


No fault. C.R.S. §19-3-102 (1) (e):
 Some jurisdictions routinely use "no-fault" admissions, as
a way for the court to gain jurisdiction over the parties
and enable the court to order a treatment plan.
 One parent's no-fault admission cannot be used against
the other parent.
Impact:


Court has jurisdiction over parties and the subject matter
and can enter orders against all parties.
Homelessness:
 Homelessness should not be used as the sole basis to
sustain a petition of dependency.
Admissions





Injurious environment C.R.S. §19-3-102 (1) (c)
Waive or stipulate to a factual basis: agree to address
all issues in treatment
Lacks proper care through acts or omissions C.R.S. §193-102 (1) (b)
Beyond control of parent C.R.S. §19-3-102 (1) (f)
Admission by one parent not enough to adjudicate
against the other parent. Other parent still has a right
to a trial.

People in the Interest of A.M., 786 P.2d 476 (Colo. App
1989).
Settlement Conference


Not used in all jurisdictions
Who runs it


Family court facilitator
or magistrate
Issues
Negotiated settlement
 Possible treatment plan
 Fathers


Agreements

Some jurisdictions allow these
to be immediately entered
on the record.
Pretrial Conference

Pretrial issues
 Witness
lists
 Jury instructions

Not always a hearing:
 Some
jurisdictions use case management/trial
management orders
Local Practice

District Plan
 Required
 Details
how to handle dependency and neglect cases,
including procedures for jury trials
 Where to find it
 http://www.courts.state.co.us/Courts/Supreme_Court/Comm
ittees/Committee.cfm/Committee_ID/8
Pretrial Motions

Motions for summary judgment
 Purpose:
Moving party can avoid trial when, as a
matter of law, no disputed facts exist and the other
party cannot prevail. Court grants summary judgment
when clear and convincing evidence shows no triable
issue of material fact exists.
 CRCP 56 ( c) controls, except for timing
 Motion must include affidavit
 RPC must respond, with specific facts, also supported
by affidavit, to survive MSJ
Pretrial Motions, continued

Motions in Limine
 Exclude
evidence at trial
 Exclusionary rule, from criminal law, does not apply
 While hearsay is admitted at many hearings (except
adjudication and termination), remember that privilege
is never waived
 Child hearsay exception: C.R.S. §13-25-129

Discovery
 Controlled
by C.R.S. §19-1-307 – not C.R.C.P. 26!
Jury Trial
Colorado permits jury trials for adjudication
hearings . C.R.S. § 19-3-202
 Entitled to jury of 6
 Must request when petition denied, or waived
C.R.J.P. 4.3(a)
 Three peremptory challenges C.R.J.P 4.3(b)

plus 1 for an alternate

Challenges for Cause C.R.C.P. 47 (e)
Timing


Within 90 days from service of the petition if child
over 6
Within 60 days from
service of petition if
any child under 6
Burden of Proof



On Department to show child is dependent or
neglected
Non-ICWA: By a preponderance
ICWA: Clear and convincing, as to certain factors,
with expert testimony
Purpose


Purpose of adjudication is to determine the status of
the child
Adjudication not made "as to" the parent
 People
in Interest of P.D.S., 669 P2d 627 (Colo. App.
1983)
 Interest and welfare of the child control. Fulton v.
Martensen, 129 Colo 125 (1954)
Evidence

Rules of evidence apply, so hearsay not admissible



A caseworker's report may be not admissible at adjudication. C.R.S.
§19-1-107 discusses the report's admissibility for disposition and
treatment planning purposes. But see People in the Interest of A.R.S,
31 Colo. App. 268 (1972), in which the Court did permit the report at
adjudication.
Also, the report may be entered as past recollection recorded, under
C.R.E. 803(5), if caseworker cannot remember some detail.
If a report is entered, even at disposition, then the author must be
available for cross- examination.
Evidence

Child Hearsay exception C.R.S. §13-25-129
 Colorado's
child hearsay exception consists of a
multi-part test. First, there must be a reliable
statement, and the child must testify, or the child's
statement must be corroborated, and the child must
be found to be unavailable.
Causes of Action: Abuse

Physical Abuse
 Defined
at C.R.S. §19-1-103: Physical abuse is an
injury:
 a)
that is not justifiably explained,
 b) that is explained by an explanation that is at variance
with the injury, or
 c) the circumstances surrounding the injury indicate that it
was caused by non-accidental means.
Causes of Action: Abuse


Sexual Abuse: Defined in the criminal code at C.R.S.
§16-22-102(9)
Emotional Abuse is defined as identifiable and
substantial impairment or risk of impairment of a
child's intellectual or psychological functioning or
development. The parent must have inflicted the
abuse or allowed another to abuse the child. C.R.S.
§ 19-1-103 (1) (a) (IV).
Causes of Action: Neglect

Abandonment




When the parent leaves the child and does not intend to parent
the child for 6 months or more.
Lacking Parental Care
Injurious Environment
Neglect

When the parent fails or refuses to provide the child with proper
or necessary:




Subsistence;
Education;
Medical care; or
Any other care necessary for the child's health, guidance, or well-being.
Cause of Action: Neglect
No fault
 Beyond control of parent
 Abused child's sibling

 Evidence
of abuse of one child is admissible and
sufficient to sustain a petition as to another child.

Prospective Neglect
 The
theory is that past behavior is indicative of risk
to the child and this is enough to sustain a petition.
Dismissal





Court fails to sustain the petition
Case dismissed
Child released to parent
Parent released from prior orders
Department must expunge its records
Adjudication Motions Practice- Possible
Pretrial Motions:



















Motion for review of DHS records
Request for production of documents
Request for deposition
Motion in limine
Motion to dismiss
Motion for expert fees
Motion to vacate and reset
Motion for genetic testing
Objection to notice of intent to offer hearsay statements
Child hearsay motion
ICWA: motion for hearing and active efforts report
Motion for interpretor services
Motion regarding subject matter jurisdiction: UCCJEA
Motion to transport
Motion to quash subpoena
Motion to release report
Subpoenas
Motion for telephone testimony
Witness list
Review Checklist



Before the hearing
During the hearing
After the hearing
Success Stories



Successful pretrial motions
Successful negotiations
for deferred
Successful jury trials
Q and A

Any Questions???