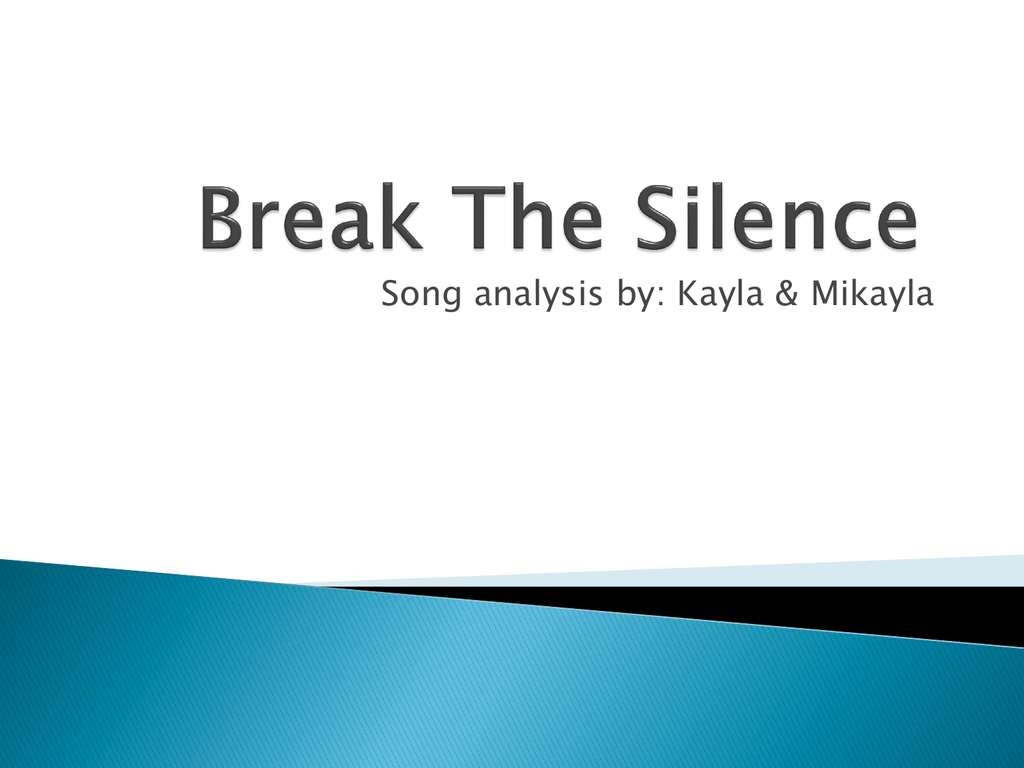 Song analysis by: Kayla & Mikayla
Break The Silence was written and performed by Francois
Mulder in 2013. It was written to get the word out about human
trafficking, specifically sex trafficking. The song is based on
survivor, Timea Nagy's experience as a sex trafficking victim.
Sex trafficking is kept quiet, but it's not right and it's going on
more often than we think. Their goal is to raise awareness
about sex trafficking around the world.
Francois Mulder was born in South Africa, and he lives in
Toronto. He is a musician, singer and songwriter.
http://www.youtube.com/watch?v=9aJS0lcjByM
Timea
Nagy
was
born
in
Budapest,
Hungary.
Her
sex
trafficking
story
happened
more
than
14 years ago. When Timea was 19, she needed
money,
and
she
saw
an
ad
that
promised
quick
money
as
a
maid
or
nanny
in
Canada.
When
she
arrived
in
Canada,
she
found
out
that the ad was fake, and she became trapped
in
human
trafficking.
For
3
months,
she
was
forced to work in strip clubs, and perform sexual acts for men
in massage parlors. She was physically, mentally and sexually
abused and she was denied any medical treatment. She
eventually escaped and founded 'Walk With Me', a support
group for human trafficking survivors. Break The Silence is
based upon her experience, and written in conjunction with
Walk With Me.
Break all the silence
and tell the whole world
that they're tearing me apart with their
dirty selfish hands,
leaving me with nothing at all.
He takes me inside and breaks me apart.
As he's pushed up against me
my skin begins to crawl,
leaving me with nothing at all.
Girls are sexually abused and exploited,
left cold and alone with their dignity, their
self-worth, their everything taken away.
Personification; she's scared and she feels
dirty.
The people who run human trafficking
rings trade sexual acts, performed by the
women, for money.
I will not stop until silence no longer fills
the darkened hotel rooms
where they trade the lives of the
unlucky millions, defaced civilians.
The mother, the daughter, the brother, the
sister, the son.
The women are stripped of their identity.
She'll give her life to make it go away,
washes his hands but still feels stained.
Who's gonna turn their night into day?
She tries to wash away the feeling of men's
hands on her, but she can't get rid of it.
Entire families can be involved on both
sides of human trafficking.
She would die if it meant she would stop
being trafficked.

What is the song about?
The song was written to raise awareness about Human Trafficking. It's
about a survivor's experience as a trafficked sex slave, and how she
felt during the time she was being trafficked. The song is her story,
told from a third person point of view.

Are there any figures of speech/patterns noticeable?
Yes. The song uses some personification, when he sings, "…my skin
begins to crawl…" is an example of that. He also uses some metaphors
when he sings, "Sweat of a monster…" comparing the men to
monsters. Many of the lines are said in creative ways, and the song
verses rhyme. The chorus doesn't rhyme, but it was written in a 'free
verse' type of way. He uses a lot of adjectives, which adds to the
intensity of the song.

Did the songwriter include any images?
He did not use any literal pictures, but Mulder wrote the song in a way
that makes you able to imagine and picture what she's going through.
When he sings "…they're tearing me apart with their dirty selfish
hands, leaving me with nothing at all.", you can picture the struggle
and terror she's experiencing.

Genre:
We would consider this song pop. It's not an upbeat song, but
it's modern and it's not too intense. It's written in a versechorus style, which is generally how most pop songs are
written.

Dynamics:
We believe this song begins in piano, and then moves to mezzo
piano during the first verse, and changing to mezzo forte for
the first chorus. It then becomes forte-fortissimo right until the
end of the song, where it returns to piano.
Human trafficking is considered a form of slavery.
Humans are traded, usually for sexual favours, and their
owners receive money. It happens all over domestically
and internationally. The owners will lure them in by
promising them something like a school scholarship, or a
modeling contract. When they go to meet them, they're
taken
and
forced
into
a
life
of
sexual
slavery.
It's
mostly
commonly
women
and
children
who
are
forced
into
this
life.
They're
raped,
and
then
returned
to
their
'owner'.
Some
people
who
are
trafficked
find
a
way
to
escape,
but
most die or choose to commit suicide.
The US State Department estimates that in
between 600,000 and 800,000 people are
trafficked internationally every year. They say
that of those numbers, around 80% are girls
and women, while 50% are minors. In the US,
they have estimated that 17,500 people are
trafficked annually into the US. It's much less
common in Canada, but it still exists with
around 600-800 people being trafficked into
Canada each year.









Trafficking is illegal in Canada.
Most people trafficked in Canada are aboriginal.
Pimps can make up to $280,000 for each girl they traffic per
year.
78% of girls under 16 are being forced into trafficking.
In Manitoba, it is believed that hundreds of thousands of
children, teens and adults are in the sex trade.
The acts itself usually take place in private homes or hotels.
In Winnipeg, some workers begin in sex trade as young as 9
years old, with the average age being 14.
Most of the women being trafficked are from other countries.
1,500-2,200 people are trafficked annually through Canada
to reach the US.












Turner, Randy. "Police Probe Trafficking of Sex-trade Workers." Winnipegfreepress.com.
N.p., 29 Jan. 2014. Web. 20 Feb. 2014.
Welch, Mary A. "Province Urges Feds to Use Nordic Model on Sex Trade."
Winnipegfreepress.com. N.p., 15 Feb. 2014. Web. 20 Feb. 2014.
"How Common Are Sexual Exploitation and Sex Trafficking?" Gov.mb.ca. N.p., n.d. Web.
20 Feb. 2014.
"Human Trafficking of Girls and Women Is a Serious Issue around the World and Right
Here in Canada." Canadianwomen.org. N.p., n.d. Web. 20 Feb. 2014.
"Walk With Me Canada Victim Services." Walk-with-me.org. N.p., 2009. Web. 20 Feb.
2014.
"Walk With Me Canada Victim Services.". Break the silence Canadian Public service
announcement, Walk-with-me.org. N.p., 2009. Web. 20 Feb. 2014.
"Human Trafficking", Human Trafficking, Makini Chisolm-Straker and respective authors
"The EFC-Human Trafficking (Statistics)" 2014 The Evangelical Fellowship of Canada,
http://www.evangelicalfellowship.ca/page.aspx?pid=915
"Episode 10: Nobody's Victim." CBCnews. CBC/Radio Canada, 11 Mar. 2013. Web.
"Toronto Musician Photographer :: Francois Mulder :: Singer/songwriter." Calculated
Style Photography Blog Toronto Musician Photographer Francois Mulder
Singersongwriter Comments. N.p., n.d. Web. 20 Feb. 2014.
"Panel Discussion: Human Trafficking." Goodgood Manchester RSS. N.p., 20 Feb. 2014.
Web. 20 Feb. 2014.
"Human Trafficking | Globalization101." Globalization101. N.p., n.d. Web. 20 Feb. 2014.