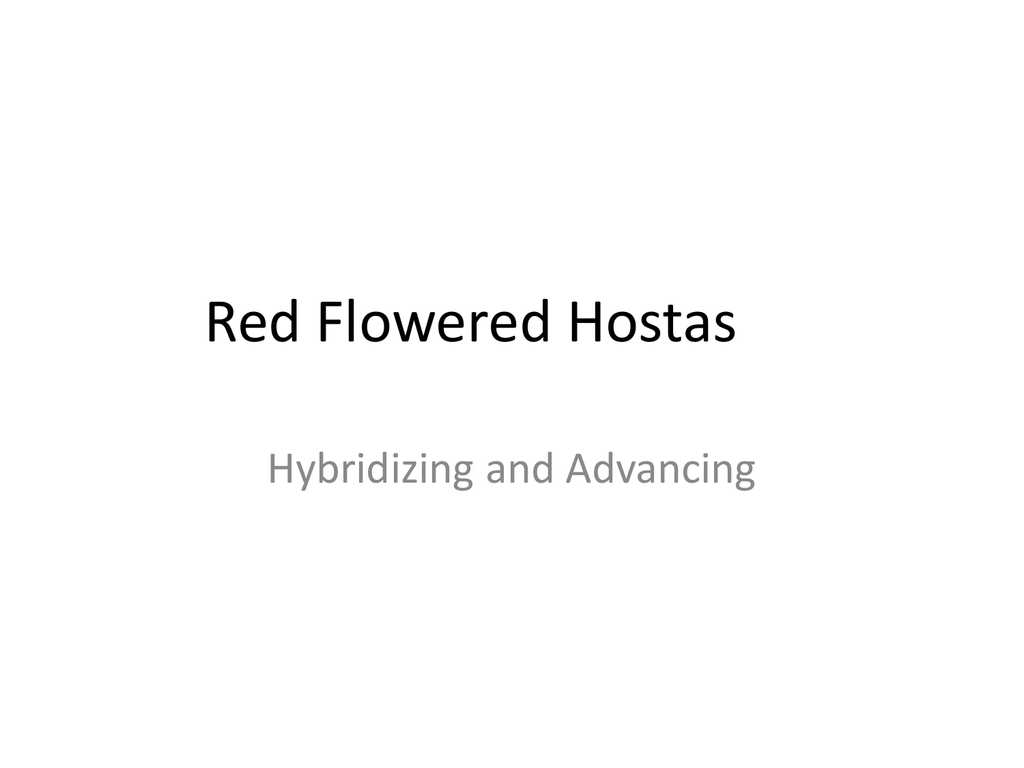 Red Flowered Hostas
Hybridizing and Advancing
There are two known types of Red Flowered Hostas
Akane – A Japanese seedling from the Japanese word meaning "Red".
None are known to exist in the US. The last story is of one at Peter Ruh's that came up
missing.
Seeds from Akane have been sold by the Ruh's but none have produced red flowers
that I am aware of at this time
Notable seedlings from Akane are Amethyst Star and Cosmic Rain.
The newest one suspected to be of Akane origin is Exp 136.
Kokuryu – Very rare red flowered selection from Japan. You can still hunt one up here
and there but they are not listed for sale anywhere and are very inconsistant growers.
Those that have them have been known to lose the plant one year to the next.
Ruh's have also sold seedlings from Kokuryu over the years and they have produced
some very nice red flowered seedlings
Notable seedlings from Kokuryu are Edgar Allen Poe.
Kokuryu
Most self crosses of Kokuryu will produce red flowered
seedlings.
It is rare but possible to get red flowered seedlings in
crosses with non-red flowered pollen.
Lets Explore the Kokuryu line
Kokuryu
As you can see, the flower is not truly red but more of a magenta color.
Kokuryu f1
This is my first red flowered seedling that I grew from seeds from Ruh's.
Kokuryu f1 x Kokuryu
Crossing Kokuryu seedlings with Kokuryu produces 100% red flowers
Kokuryu f1 X Designer Genes
The first shot was with a flash and seems to take out the red color
This is the only cross at this point in time to get red flowers from non-red pollen
Kokuryu f1 x Exp 136
One of my seedlings from the winter of 2012-13 – Kokuryu f1 x Exp 136
Kokuryu x Exp 136
Kokuryu * Exp 136 II
Another seedling from this past winter that is a bit more purple then the others
Next is a series of Red
Flowered plants crossed
with non-red flowered
pollen.
Using Kokuryu f1 as the pod parent
Katsuragawa Beni pollen example
Exp 136
This Akane type seedling is currently not
available but C.H. Falstad has made it available
to a few hybridizers to work on.
Lots of self crosses have been grown from seed
and early reports show about 10% have red
flowers.
Exp 136
Exp 136 x Exp 136
One of the better Exp 136 x Exp 136 crosses
Edgar Allen Poe
The first "black flowered" seedling is Kokuryu f1 x Designer Genes
Amethyst Star
Amethyst Star is Jim Spence's seedling out of Akane.
Cosmic Rain
Another Jim Spence creation – Cosmic Rain which is out of Akane.