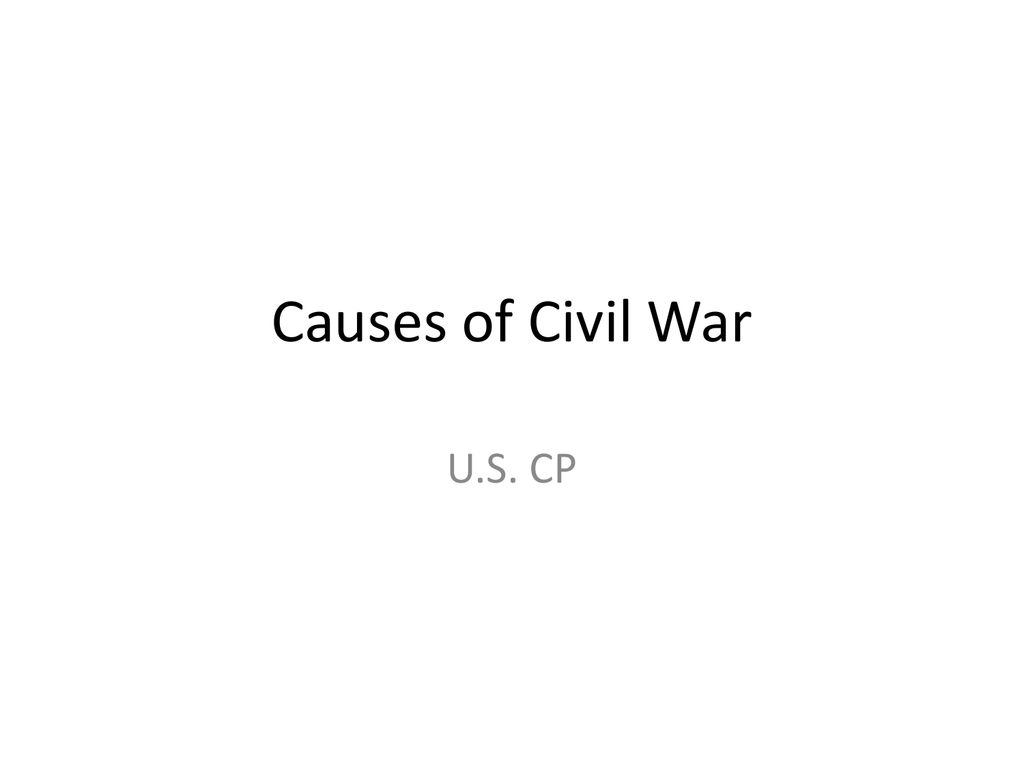 Causes of Civil War
U.S. CP
Today's Objectives
• Know the sectional differences that existed between the North and
the South before the Civil War.
• Understand the impact of the cotton gin.
• Know what the underground railroad was.
• Understand the term "manifest destiny."
• Know how the fugitive slave law created sectional tension.
• Understand how westward expansion caused sectional tension.
• Know the 2 ways that the U.S. acquired the territory that allowed it to
reach the Pacific Ocean.
Sectional Differences
• As North industrialized and became more
modern, the South stayed mostly the
same.
• U.S. became a country with two different
societies.
The North
– 1. More Populous
– 2. More
Manufacturing
– 3. More cities
– 4. More Railroads
– 5. Free Labor (wage
labor) "Self-Making"
South
• Mainly
Agriculture
• Slaves
Slavery 1860
The Cotton Gin
• Slavery was in decline as crops began to shift from
tobacco to wheat in the upper south.
• Eli Whitney's invention (1793) makes cotton a crop that
can be grown in the south.
• It separates seeds from the cotton.
• After the invention of the cotton gin, U.S. South becomes
the leading producer of cotton in the world.
• Caused an increase in the demand for slaves.
Cotton Gin
Review
• How were the North and South different by
the 1840s?
• What was the Cotton Gin and how did it
impact slavery?
Abolitionists
• People who oppose slavery
– A. Moral grounds
– B. Goes against "Self-Making"—the idea that
through hard work, individuals can succeed.
Key Abolitionists
• William Lloyd
Garrison—editor of
The Liberator.
• Frederick Douglass—
An escaped Slave.
Underground Railroad
• "Conductors" help slaves
to safe houses until they
escape to free territory.
• Harriet Tubman is the most
famous "conductor."
• Underground RR infuriates
many southerners.
Uncle Tom's Cabin
• Anti-Slavery novel
written by Harriet
Beecher Stowe.
• Upset many
southerners.
Review
• Who was the most famous abolitonist?
• Who was the famous abolitionist that was
an ex-slave?
• What was the underground railroad?
• Who was the most famous conductor of
the underground railroad?
Fugitive Slave Law
• Law that forced
Northerners to help in
catching runaway slaves.
• Fines for helping
runaways.
• Bonus for returning them.
• Angers many
Northerners.
Sectional Tension over Slavery
• Southerners do not like:
– A. Underground RR
– B. Abolitionists
– C. "Uncle Tom's Cabin"
• Northerners do not like:
– Fugitive Slave Law
– Slavery's negative impact on white selfmaking
Manifest Destiny
• Idea that the country
is destined to expand
to the Pacific.
– A. Virtue
– B. Mission
– C. Destiny
• Allows overpopulation
to have an outlet to
the west.
• Term coined by John
L. O`Sullivan
Westward Expansion
• Country acquires more territory:
– A. Louisiana Purchase
– B. War with Mexico
The problem of Westward
Expansion
• As the country moves west and makes
new states, the issue becomes whether
the new states should be "free" or "slave."
• Why would people care whether states
could have slaves or not?
The answer
• The South fears that if it doesn't have the same
amount of votes in Congress (The Senate),
Northerners will outlaw slavery.
• So Southerners feel that there always needs to
be the same amount of "slave" and "free" states.
• Many Northerners, however, oppose the
expansion of slavery. WHY?
Warm Up
•
What were some of the differences between the North and the South before
the Civil War?
•
What was the Cotton gin? Who invented it? And what was its impact?
•
What was the Underground railroad?
•
What was the fugitive slave law?
•
What was Manifest Destiny?
•
What were the two ways that America acquired territory west of the
Mississippi?
•
How did westward expansion cause tension between the North and the
South?
Louisiana Purchase
• 1803--When Jefferson is President.
• US wants to have access to port city of New Orleans so
farmers can get crops down the Mississippi River to
market.
• When US asks to buy city of New Orleans from France,
Napoleon offers all of Louisiana territory.
• US buys for $15 million
• Doubles the size of the US
The Missouri Compromise
• Missouri applies for statehood in 1819.
• At the time there are 11-Free Sates & 11Slave states.
• Many slaves already in Missouri.
The Compromise
• The work of Henry Clay—Speaker of the
House from Kentucky.
• 1820--Maine would enter the Union as a
free sate and Missouri a Slave state.
• In the future, slavery would not be allowed
in remaining territory above Missouri's
southern border of 36-30.
Indian Removal
• Another problems with westward
expansion was what to do about native
Americans.
• Whites want native lands so they can
farm.
• When Andrew Jackson is president, he
tells natives they must give up their land
and move west of the Mississippi River.
The Trail of Tears
Texas
• Americans invited by Mexican govt. to settle in Texas in
1820s. They are led by Stephen F. Austin.
• Soon there were more Americans than Mexicans.
• American settlers declared independence in 1836.
• Mexican forces ruthlessly try to subdue the rebellion
(The Alamo).
The Alamo
The Alamo
• Battle of San Jacinto—
Sam Houston captures
Santa Anna and Texans
get independence.
• US won't take in Texas
because it would create
controversy (slavery).
• Lone Star Republic until
1844 when US finally
takes Texas as a state.
War with Mexico
• Mexico breaks diplomatic ties with US over Texas
annexation.
• US tries to buy New Mexico and California, but Mexico
rejects.
• Mexico claims that border of Texas is Nueces River.
• America claims it is the Rio Grande.
• US President Polk sends forces commanded by Zachary
Taylor to "defend" the border.
• US claims it was attacked and Congress declares war in
1846.
War with Mexico
• 1846 – 1848 (US wins)
• Winfield Scott captures Mexico City.
• Treaty of Guadalupe Hidalgo ends war
• US gets California, Arizona, New Mexico, Utah, Nevada,
Colorado, and Wyoming.
• Also border of Texas is recognized as Rio Grande.
• US pays Mexico $15 million.
California
• 1846--When Mexican War
broke out, John C. Fremont
led a rebellion of Americans
living in CA and declared
independence (The Bear
Flag Republic).
The Gold Rush
• 1848—John Marshall—
working at Sutter's Mill —
finds gold.
• Leads to Gold Rush
(49ers).
• Most are men—leads to
volatile society.
• Also many Chinese.
Problem with the U.S. winning the
war with Mexico
• Now new sates will want to enter the
union. Should they be free or slave?
• Missouri compromise won't work.
• What would you do?
Problems of California
Statehood
• Calif. Applied for statehood in 1849 as a
free sate.
• The balance between free and slave
states was 15 each.
• Southerners were opposed and feared
other potential new sates—New Mexico,
Oregon, Utah—would also enter as free
states too.
Compromise of 1850
• In 1850 there are 15 free states and 15 slave
states.
• California wants to enter as free state.
• 1. Cal. Enters union as free state.
• 2. Utah & New Mexico territories = Popular
Sovereignty (the people in the state decide if
they want slavery or not).
• 3. Outlawed slave trade in Washington D.C.
• 4. Called for a stronger fugitive slave law.
Kansas - Nebraska
Kansas wants to enter the union.
• Supposed to be free of slavery because of Missouri Compromise.
• 1854 Kansas – Nebraska Act.
Territory divided into two—Kansas and Nebraska.
• Territories could decide for themselves = popular sovereignty.
"Bleeding Kansas"
• 1855—Elections held in Kansas.
• Pro-slavery people from neighboring Missouri come into
the state and vote.
• Pro-slavery majority vote to legalize slavery.
• Anti-slavery people form their own govt. and outlaw
slavery (Lawrence).
• There were then two governments in the state—One
saying the state is a slave sate, the other saying it's a
free state.
• Pro-slavery forces go and "sack" Lawrence.
Bleeding Kansas (cont.)
• Soon fighting between the two
sides began to see who will rule
the state.
• Is a prelude to the Civil War.
"Bleeding Kansas"
Birth of Republican Party
• Kansas –Nebraska Act led Northern
Whigs and many Northern Democrats-who were upset at the repeal of the
Missouri Compromise—to form a new
party.
• 1854—the Republican Party
Republican Party's Ideology
• "Free Soil, Free
Labor"
• They are against the
expansion of slavery
into the territory west
of the Miss.
Read Handout
• What were the two
key rulings handed
down by the Supreme
Court in the Dred
Scott Case?
• In other words, What
two things about
slavery were decided
by this case?
Dred Scott Case
• 1857—Dred Scott v. Sandford
• Chief Justice Roger Taney ruled:
– A. Scott could not sue because
slaves are not citizens, but rather,
property.
– B. The Missouri Compromise was
unconstitutional & thus the fed.
Govt. could not say where slavery
could or could not be.
• Greatly increased sectional
tension because it made it seem
as if fed. Government could not
stop slavery from expanding.
Lincoln-Douglas Debates
• 1858 Senate race in Illinois.
• Series of debates between the
candidates—Republican Abe
Lincoln and Democrat Stephen
Douglas.
• Main issue they debate is what
to do about the issue of slavery
in the western territories.
• Douglas win the election, but
Lincoln becomes famous
throughout the country.
Lincoln-Douglas Debates
John Brown
• Radical Abolitionist.
• Leads a raid on Harper's Ferry
(1859).
• Wanted to give weapons to
slaves so they could rebel.
• Is captured and hung.
• Anti-slave people call him a
martyr.
• South considers him to be
crazy.
The Election of 1860
• Abraham Lincoln, the Republican candidate for
President, is against the extension of slavery into the
western territories.
• Does not think blacks are equal to whites but thinks
slavery is bad for white self-making.
• Some in the South say that they will secede (leave the
Union) If he is elected President.
Election of 1860
Lincoln wins
• The South secedes.
• They form The
Confederate Sates of
America.
• Some southern
"Border" states stay in
the union.