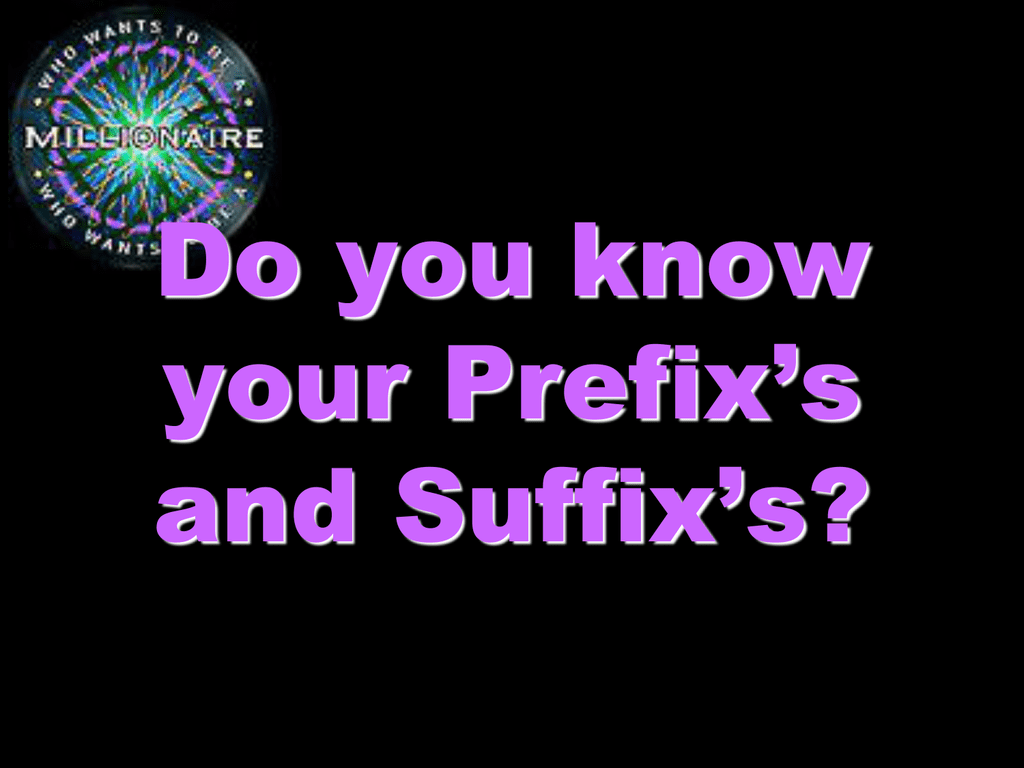 Do you know
your Prefix's
and Suffix's?
What is a
prefix?
A group of letters usually placed at
the beginning of a root word to
modify or change it's meaning,
Eg, able becomes unable
happy becomes unhappy
friendly becomes unfriendly
There are many
others, some
examples are…
Irreplaceable
Defrost
Undeniable
Misfortune
Triangle
Bicycle
Semicircle
Imploded
Exploded
Anticlockwise
Antidote
Transport
Oversight
The word prefix is itself made
up of the stem fix (meaning
attach, in this case),
and the prefix pre- (meaning "before")
The more words you learn, the more
connections you will be able to make
between the prefixes and suffixes.
Who wants
to be a
Millionaire?
Specialist subject-
Prefixes and Suffixes
The Prizes
1
2
3
4
5
6
7
– £100
- £200
- £500
- £1,000
- £2,000
- £4,000
- £8,000
8910
11
12
13
14
£16,000
£32,000
- £64,000
- £125,000
- £250,000
- £500,000
- £1,000,000
Lifelines
• "Phone a friend"
• Ask the audience
Ready?
OK, Let's Play
Look at these
words.
Mistake
Misunderstood
Misbehave
Miscalculate
Misfire
Misbelieve
Misinterpret
£100
What is the meaning of the
prefix, Mis-?
A - wrongly
B – above
C – again
D - half
What about these?
Midfield
Midday
Midnight
Middle
Midpoint
Midway
Midlands
Mid-air
Midweek
£200
What is the meaning of the
prefix, Mid-?
A - Midday
B - Midnight
C - Middle
D - Midlands
£500
The meaning of this prefix is,
NOT.
A
In-
B
Un-
C
Over-
D
Bi-
UnUnbelievable
Unreal
Unfasten
Undo
Unacceptable
Unhappy
Untold
Unlucky
Untidy
£1,000
What do you do if you re-read a
book?
A – read it for the first time
B – don't read it
C – read it again
D – read it upside down
£2,000
Prebook, precheck, precook,
predict, and prefix have a prefix
meaning…?
A - After
B - Before
C - During
D - Never
£4,000
Which of these words can not be
made into another word by
adding the prefix 'sub'?
A – book
B – marine
C – merge
D – way
£8,000
The prefixes such as 'in-, im- ,il-, ir-'
can mean what?
(e.g injustice, impossible, illiterate, irrelevant)
A - Across
B - Big
C - Over
D - Not
Midpoint!
You are doing well
so far,
How well do you
know your
Suffixes??
What is a
suffix?
Letters placed at the end of a root
word to change it's meaning,
E.g, happy could become happier,
happiest, happily
Some other
examples are…
Sensible
Joyous
Enormous
Biggest
Smallest
Difficulty
Running
Happiness
Kindness
Normality
Comfortable
Books
Boxes
Attraction
Higher
Builder
Teacher
Careless
Suffixessecond round!
Ready?
£16,000
Which of these is a suffix?
A - un
B - pre
C - ed
D - mis
£32,000
What suffix would you add to the
word 'blame' to show you have
done nothing wrong?
A - ful
B - ed
C - able
D - less
£64,000
Biggest, smallest, tallest,
highest, greenest and happiest.
The suffix '–est' is used….
A – for an action
B – for one who
C – for comparison
D – just a coincidence
£125,000
This suffix suggests something
that can be done.
A - ly
B - ier
C - ful
D –- able
able
-able, -ible
Achievable
Debateable
Adjustable
Fixable
Lovable
Agreeable
Edible
Legible
Breakable
Preventable
Audible
£250,000
Which of these words has a prefix
AND a suffix?
A - Distinguish
B - Appointed
C - Disagreeable
D - Happily
£500,000
Hopped, Skipped and Jumped
all have the same suffix. It is
used for…
A – present-tense
B
B –- past-tense
C – under
D – without
£1,000,000
What is the correct spelling?
If everybody gets this right, it will
be……
A – Unbeleiveable
B - Unbelievable
C - Unbelievible
D - Unbeleivible
Invisible £1,000,000 cheque
Congratulations!