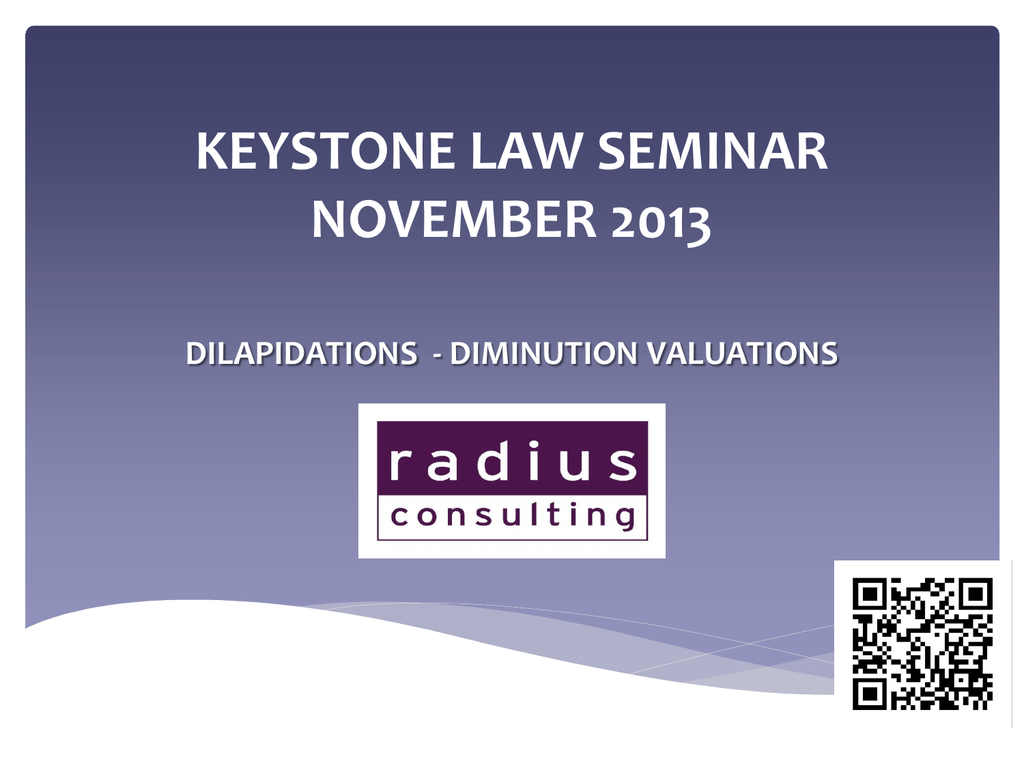 KEYSTONE LAW SEMINAR
NOVEMBER 2013
DILAPIDATIONS - DIMINUTION VALUATIONS
DIMINUTION VALUATIONS
 In the latter part of the 19th Century, established rule of law equated
damages for failure to yield up in repair to reasonable cost of remedial
works
 Such was "irrespective of the extent to which, if at all, that accorded with
the landlord's real loss"
 Generally attributed to Joyner -v- Weeks (1891), with Lord Esher MR
justifying on grounds that:
"It is a highly convenient rule. It avoids all the subtle refinements with which
we have been indulged today, and the intensive and costly inquiries which they
would involve"
DIMINUTION VALUATIONS
 Fry LJ added:
"I cannot help observing that the rule so laid down is one of
great practical inconvenience. It is more simple than the inquiry
to what extent the reversion is damaged….there is….a
complexity about it which unfits it…"
 Of course that rule – as still effectively applies in Scotland –
can result in L being over compensated
DIMINUTION VALUATIONS
 Crucially, it overlooks – as do anti-section 18 propagandists – that
'Cost' and 'Value' are not the same thing
 By reverse analogy, imagine adding a £50k Amdega oak conservatory
to a 1930's semi ex-Council house in Wigan………
 But the misconception that they equate is oft laboured. That they are
interchangeable. One can selectively pick from case law, of course,
but as a valuer, Landau -v- Marchbank features eminent common sense
in noting that
"the fact that repairs are necessary is not in itself (conclusive) evidence of
damage to the value of the reversion."
DIMINUTION VALUATIONS
 The two Limbs of s18 (1) are, as a reminder:
 First Limb
"Damages for a breach of covenant or agreement to keep or put
premises in repair during the currency of a lease, or to leave or put
premises in repair at the termination of a lease, whether such
covenant or agreement is expressed or implied, shall in no case
exceed the amount (if any) by which the value of the reversion
(whether immediate or not) in the premises is diminished owing to
the breach of such covenant as aforesaid."
DIMINUTION VALUATIONS
 Second Limb
"…and in particular, no damage shall be recovered for a breach of any
such covenant or agreement to leave or put premises in repair at the
termination of a lease, if it is shown the premises, in whatever state of
repair they might be, would at or shortly after the termination of the
tenancy have been or be pulled down, or such structural alterations
made therein as would render valueless the repairs covered by the
covenant or agreement."
 The Courts have consistently held that the Second Limb is the
actual intention of actual Landlord, whilst First envisages the
hypothetical sale (letting) to notional purchaser/tenant
DIMINUTION VALUATIONS
 Depending on the 'age, character and locality' of the property (after
Proudfoot -v- Hart), certain bone fide repair (or reinstatement) items might
have little or no impact upon lettability, hence value
 But how do valuers 'objectively' articulate and explain their conclusions?
 For there is no rule book. No RICS Practice manual
 Dowding & Reynolds provide helpful worked examples and guidance.
Many valuers draw analogies with 'Red Book' valuations. Few seem to
truly reflect actual market conditions for the actual property type (or very
similar). In particular, because of our obsession with 'comparables', many
cling to very tenuous comparables (see Living Waters), being all that might
be available in a 'transactions famine'.
DIMINUTION VALUATIONS
 What is our approach?
 Firstly, sound and thorough
'detective work' as to: landlord's
intentions, local market etc
 Has landlord's agent sold premises
to a speculator who capitalised on
the difference between costed
dilaps and actual open market value
impact? (see Wrightstock House
example later)
DIMINUTION VALUATIONS
 The 'value affective' approach in practice seeks to √ and X items in
the Scott Schedule, the latter being items which do not, in our
experience, affect lettability/value. Each case on its own merits.
Examples to follow
'Gilding The Lily'. 'Silk purse from a sow's ear'.
 At the RICS Dilapidations Forum Conference 2012 (speakers
including Nicholas Taggart, Landmark Chambers; Stephen
Jourdan, Falcon Chambers; and David Gilbert, valuer at Lambert
Smith Hampton), this approach was supported.
DIMINUTION VALUATIONS
 Instructions can be at an early stage or once negotiations
have progressed/been exhausted
 Protocol requires Section 18 (1) valuation to be sent with
Schedule
Can assist LL early to provide advice on whether to
undertake works, and which works could be
defended/challenged from a Section 18 (1) perspective
Jervis v Harris clause?
Example 1 - 20-26 George Street, Croydon
 CLAIM – £423,306.82
 B.S REC – £300 - £350,000
 SECTION 18 VAL – £200 - £220,000
 SETTLEMENT - £220,000
CROYDON
CROYDON
Example 2 – Unit 50c, Queensmere
Centre, Slough
 CLAIM - £52,059.27
 SECTION 18 VAL - £Nil
 Example of excess of supply relative
to demand
 Half of units within same mall vacant
SLOUGH
Example 3 – Broadmead, Bristol
 LL CLAIM - £115,000
 T'S B.S ASSESSMENT - £60,000
 Radius S.18 - £40,000
 Settlement - £40,000
 Property let by LL to a temp tenant at lease
expiry
 Much of internal fit out (changing rooms,
racking etc) used by temp tenant
 Therefore, if anything, has had a POSITIVE
impact upon value
Example 4 – Jasper House,
London
 CLAIM - £1.2 million
 SECTION 18 VAL FOR T- £250,000
 RESULT (at Mediation) - £380,000
 Section 18 assisted in settlement –
in particular to dismiss LL's claim
for loss of rent (large amount of
secondary offices on market
nearby)
Example 5 – Brixton Way,
Shrewsbury
 CLAIM - £661,306.47
 SECTION 18 VAL - £175-£200,000
 SETTLEMENT - £325,000
 LL agreed letting immediately after expiry
 Detailed analysis of Heads of Terms
identified certain works required by
ingoing tenant
 But not all of LL's Claim - therefore not all
works will be 'value affective'
Example 6 – 36-38 Plume Street,
Aston
 CLAIM - £218,000
 SEC 18 VALUATION - £26,500
 Industrial Unit – c 20,000 sq ft
 Limited marketability in any event
 Number of 'repairing' issues
simply do not impact upon
reversionary value including:
 Dented / scuffed cladding
 Decs to internal
metalwork/columns
 Mortar joints
 Works to boundary walls
 Carpets/decs to internal offices
 Spalled/cracked yard surface
 Replacement of tired kitchen
fittings
Example 7 – Vicarage Lane,
Blackpool
 Section 18 on behalf of Landlord
 Landlord's Claim - £80,000
 Tenant's Offer - £nil
 Sec 18 Valuation - £50,000
 Settlement - £50,000
 When faced with offer of £nil, no
other option but to obtain S.18
Wrightstock House, Worsley
 Purchaser had negotiated 'back-to-back' surrender, with the
tenant agreeing to pay some £400,000 comprised thus:
 Rent/Rates - £150k
 Dilapidations - £250k
 B.S for previous Landlord had served Terminal Schedule at
£625k, with former Tenant's B.S assessing £300-£350k.
 Purchaser then spent about £100,000 on relevant/most
appropriate works ('value affective) before selling again.
Wrightstock House, Worsley
 Refurbished property then sold for £870,000 with vacant
possession
 Gross mark up for first purchaser of about £330k –
illustrating 'cost' and 'value' not the same
What if the LL has done the works?
Cost = Value?
 Common view – if LL has done the works then he has
crystallised his claim
 Not always the case, especially in such a weak market
Example 8 - Canterbury
 Landlord had undertaken works and
relet to a new tenant. Seeking cost
of works to justify Claim
 Cost of Works - £150,000
 Section 18 - £70,000.
 Had done considerable decorative
works to upper parts – not used by
new tenant
 Settlement - £75,000
Example 9 – Black Horse House,
Tunbridge Wells
 Landlord spent £400k and relet
 Claim - £195,000
 Section 18 - £110,000
 Relet at £12.63 psf
 Local evidence suggested that rent of £14
psf could be achieved on basis of new
carpets and redecoration only.
Therefore, some of LL works not 'value
affective
 Settlement - £120,000
DISPUTE RESOLUTION
 Litigation, Arbitration or Mediation
 Predominantly Mediation these days
 Non-cognate Mediator's generally using 'reality
check' of huge litigation costs to promote settlement
 We promote use of a cognate Mediator
 Settlement more likely or failing that better informed
to litigate
www.mediatenotlitigate.co.uk
Conclusion
Tempers the opportunist….