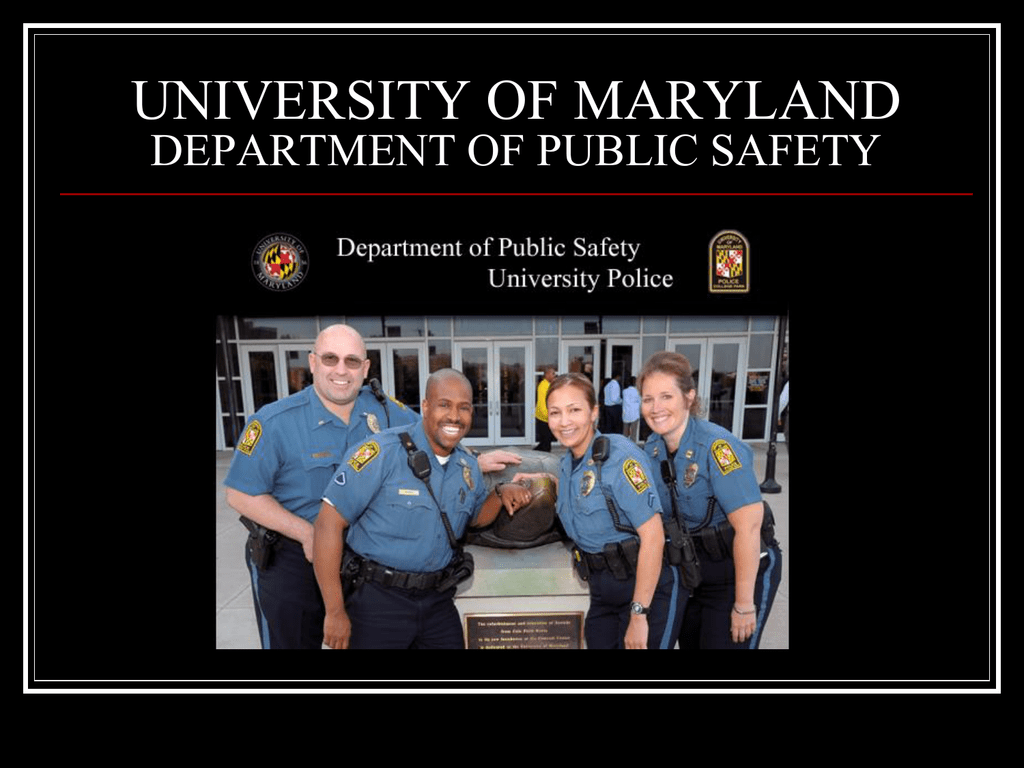 UNIVERSITY OF MARYLAND
DEPARTMENT OF PUBLIC SAFETY
UNIVERSITY OF MARYLAND
DEPARTMENT OF PUBLIC SAFETY
(UMDPS)





The Department of Public Safety is the
University's Police Department
Full-Service Law Enforcement Agency
99 Sworn Police Officers (allotted strength)
24 Hours a Day / 7 Days a Week
Internationally Accredited (CALEA)
UMDPS MISSION
 Serve
the University Community;
 Protect Life and Property;
 and Enforce the Law.
UMDPS JURISDICTION
 Primary
Jurisdiction
 Concurrent Jurisdiction
 Extra-Jurisdictional
Authority
UMDPS SERVICES

Police Services






Emergency Response
Routine Patrol
UMDPS Rescue Vehicle on
display at Maryland Day 2011
Criminal Investigations
Personal Safety Presentations
Hate Incident Response Reporting
Traffic Law Enforcement
UMDPS SERVICES

Emergency Communications Center—911




Civilian employees who answer calls from the public,
dispatch officers to calls for service, and operate the
UMD Alert system.
911 for Emergencies from campus phones
 911 from mobile phone will connect to PGPD
#3333 from Verizon Wireless, T-Mobile, Sprint Nextel,
and ATT mobile
PROGRAM THIS NUMBER INTO YOUR PHONE
UMDPS SERVICES

Auxiliary Division (SPAs)—(301) 405-5761


Crime Prevention Unit—(301) 405-7032


Student Police Aides are employees who perform a variety of
security-related functions for the University. Police Aides assist
patrol by providing escorts from 6 p.m. to 2 a.m.
Sworn police officers and civilian employees analyze crime problems,
trends, and strive to create solutions to address these issues. Also
help promote crime prevention through environmental design.
Building Security Services—(301) 405-3286

Civilian employees responsible for mechanical and electronic security
hardware for all non-residential buildings on campus.
SECURITY OPERATIONS
CENTER (SOC)

Monitor UMCP's Video Security System

Review Post-Incident Video
Monitor Alarm Systems

IMPORTANT INFO FOR
STUDENTS

UMD Alerts


Shuttle UM Services- NextBus







alert.umd.edu
transportation.umd.edu/nextbus.html
(301) 314 – 2255  Option 1  Enter five digit NextBus
Stop Number
Text "NBUS UMD (NextBus stop number)" to 41411
NextBus DC/lite App for Smartphones
DOTS NITE Ride (301) 314 – NITE (6483)
UMDPS Walking Escorts (301-405-3555)
Blue Light Emergency Phones (300+)
NEW SERVICES

M-Urgency



Available for Android 2.2 or higher phones and iPhone
4/4S
Use to contact police in emergency situations
m-urgency.umd.edu

Facebook page: University of Maryland
Department of Public Safety

Twitter: UMD Public Safety @umpd
OTHER UM SAFETY AND SECURITY
SERVICES





Security Gates – Student Police Auxiliary
Preferred Path to and from Metro
Community On Patrol
Threat Assessment Program
SARPP – Sexual Assault Response and
Prevention Program

Advocate Crisis Cell Phone: (301) 741-3442 (advocate is available 24 hours
during fall and spring semesters and 9am to 5pm only during winter and summer
sessions)
CRIME ON CAMPUS


Unattended property theft is BY FAR the most
frequently reported crime on campus
In the vast majority of all theft cases, the crimes
are PREVENTABLE



Lock valuables
Do not leave property unattended
Crime statistics are available at
www.umdps.umd.edu
Notifications to University Community
There are five components to the UMDPS notification system:
1) UMD Alert—Text Messaging
2) Early Warning Siren System
3) Alertus Technology
4) Crime Alerts
5) Nixle Messaging
Urgent / Immediate
Timely / Non-Urgent / Non-Immediate
UMD ALERT
UMD Alert is a Software
Application Used to Send
Emergency Alerts, Notifications,
and Updates to Text Enabled
Devices and/or E-mail Accounts
UMD ALERT



ACTIVATED IN CRITICAL EMERGENCY
SITUATIONS
Crime—When Imminent Threat to Safety Exists
Extremely Severe Weather
Hazardous Materials Situations
Students May Register for Text Alerts
http://alert.umd.edu
EARLY WARNING SIREN SYSTEM

Siren Tones

Loud enough to alert the entire University (exterior)
and areas contiguous to the University where many
in our community live and study



What Should I Do If I Hear the Siren?


Emergencies: A steady tone will sound for at least
three minutes
All Clear: One short blast will sound for less than 30
seconds
Seek shelter and obtain further information
System Testing

The Early Warning Siren System is tested the first
Wednesday of every month at 11:55 a.m.
ALERTUS



Located in 19 buildings around campus
UMDPS personnel can send messages out when
there is an imminent threat to the public
Depending on the level and type of threat, a
message may be displayed, lights may flash, and
an alert tone may sound
CAMPUS CRIME ALERTS




E-mail and web posting
Sent to notify community of incident which poses a
threat to the safety of University community
members
Sent to all umd.edu email accounts plus anyone
with an email registered with UMD Alerts
• Umd.edu email users may not opt-out
A requirement of the Clery Act



The Nixle messaging service is used by
UMDPS to send alerts, advisories,
community messages and traffic info
This is an Opt-In service
www.nixle.com


Subscribe to "University of Maryland Department
of Public Safety"
Add "College Park" to your locations
PULL OUT YOUR PHONES



Encourage your student
to download M-Urgency
 m-urgency.umd.edu
Like Us onFacebook:
University of Maryland
Department of Public
Safety
Follow us on Twitter:
@umpd
Emergency: 911
Emergency from Mobile:
#3333
Non-Emergency & Walking
Police Escorts:
(301) 405-3555
NITE-RIDE: (301) 314-NITE
(6483)
CONTACT INFORMATION
Emergency:
911
Emergency from Mobile: #3333
Non-Emergency:
(301) 405-3555
UMDPS Web Site:
www.umdps.umd.edu
Emergency Procedures: www.umd.edu/emergencypreparedness
IN AN EMERGENCY, SEEK INFORMATION FROM:
www.umd.edu
1640 AM Radio Station
(301) 405-SNOW (7669)
88.1 FM WMUC Radio Station
Campus Cable Channel 76
TWITTER: @UMPD
Questions?
Thank You!