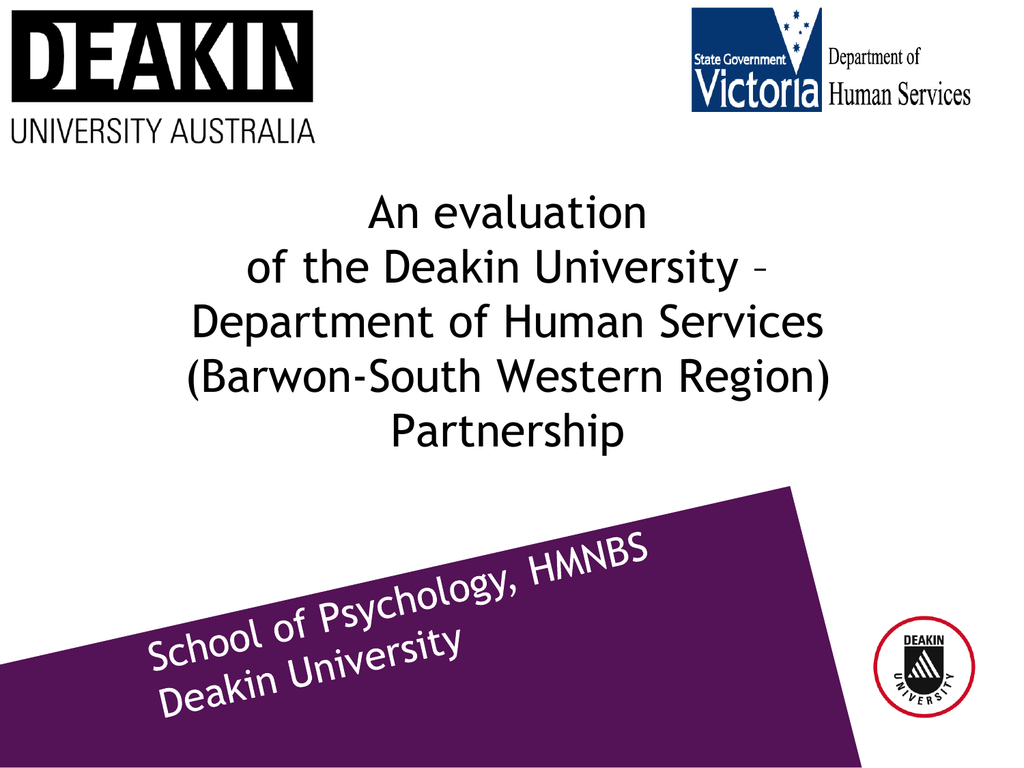 An evaluation
of the Deakin University –
Department of Human Services
(Barwon-South Western Region)
Partnership
Purpose
A
snapshot to provide a preliminary
evaluation of the partnership
 This
interim evaluation is Stage 1 of the more
formal evaluation which will occur towards the
end of the 2007-2010 Business Plan
Literature Review

Partnerships are increasingly recognised as
positively impacting on community health (Zakos &
Edwards, 2006). However, partnership sustainability
can be difficult (Zakos & Edwards). This may be
partly due to the need for greater knowledge
concerning the managerial and organisational factors
which are necessary for partnership effectiveness
(Einbinder, Robertson, Garcia & Patti, 2000). This
suggests that there is a need for greater evaluation of
partnerships to uncover such factors.
Literature Review

Research suggests that partnership evaluation
should involve an assessment of whether key targets
have been reached, but this is difficult to attribute
solely to the work of the partnership (Dowling, Powell
& Glendinning, 2004). Therefore, research on
partnership evaluation tends to focus on the internal
functioning of partnerships (Lasker, Weiss & Miller,
2001; Zakos & Edwards, 2006).
The Evaluation -methodology
Strategies
Beacon Projects
Farmers and
Rural Health
Conference
Workforce
Development
Research
Corio-Norlane
Projects
Other
Projects
Teaching and
Workforce
Development
TBC
TBC
TBC
TBC
Research and
EvidenceBased
Practice
TBC
TBC
TBC
TBC
Health and
Wellbeing
TBC
TBC
TBC
TBC
Public Health
Forums
TBC
TBC
TBC
TBC
Methodology- surveys
2
surveys
 Survey 1 – Strategic Advisory Group Co-Chairs
 Survey 2 – All Partnership members
Survey 1- Advisory Group Co-Chairs

Mapping Exercise (VicHealth Partnerships Analysis
Tool: Activity 2)
Mapping Example:
Youth Housing
Agency
LEGEND
Nature of relationships
between partners:
State Youth
Department
Community
Health Service
(Lead Agency)
Secondary
College
Networking
Coordinating
Cooperating
Collaborating
..…...
Survey 2- all Partnership members

Demographics

Part B – Purpose of the partnership (VicHealth
Partnerships Analysis Tool: Activity 1)

Part C – Successful Partnership Checklist (VicHealth
Partnerships Analysis Tool: Activity 3)

Part D – Current Partnership Success (Nuffield
Institute for Health Partnership Assessment Tool)

Part E – Resource-use Template – 3 months (The
University of Melbourne)

Part F – Several questions formulated based on
gaps between theory and current tools
Outputs
 Evaluation
Report
 Recommendations
 E.g. An evaluation plan involving students on
placement to prospectively evaluate the
achievement of key priorities.
Suggestions?