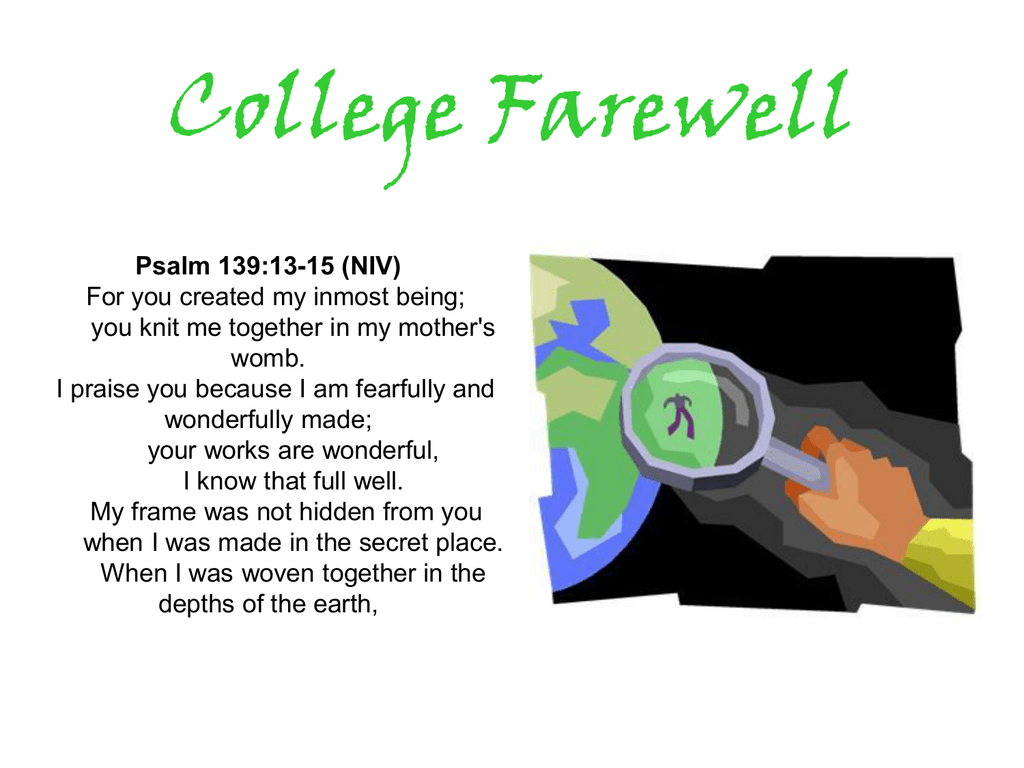 College Farewell
Psalm 139:13-15 (NIV)
For you created my inmost being;
you knit me together in my mother's
womb.
I praise you because I am fearfully and
wonderfully made;
your works are wonderful,
I know that full well.
My frame was not hidden from you
when I was made in the secret place.
When I was woven together in the
depths of the earth,
Connor
Edwards
Connor will attend
Broome Community
College and has been
accepted to
transfer to SUNY
Geneseo into the
Business curriculum.
Jake Fazio
Liberty
University:
BA in
Business
Marketing
John Fazio
Masters of Arts:
Management and
Leadership
at
Liberty University
Paul is
taking his
MCATs
8/13/10 and
applying for
med school for
Fall 2011.
Paul Fazio
Marshall Lagoe
Paul Smith's College for Fishery and
Wildlife Management
Kerry van Althuis
Liberty University:
Majoring in Criminal
Justice and
Environmental
Sciences- Biology
Bethany Sims
University of Kentucky: Marketing
Serving our Country!
Matthew Sims
VERMONT ARMY
NATIONAL
GUARD
Tyler Rundell
Pre-med at Boston University
Courtney van Althuis
BSN Nursing at Liberty University
Jamie Knowles
Spring 2011Baptist Bible
College:
History Major
God bless our college
students in their future
endeavors!