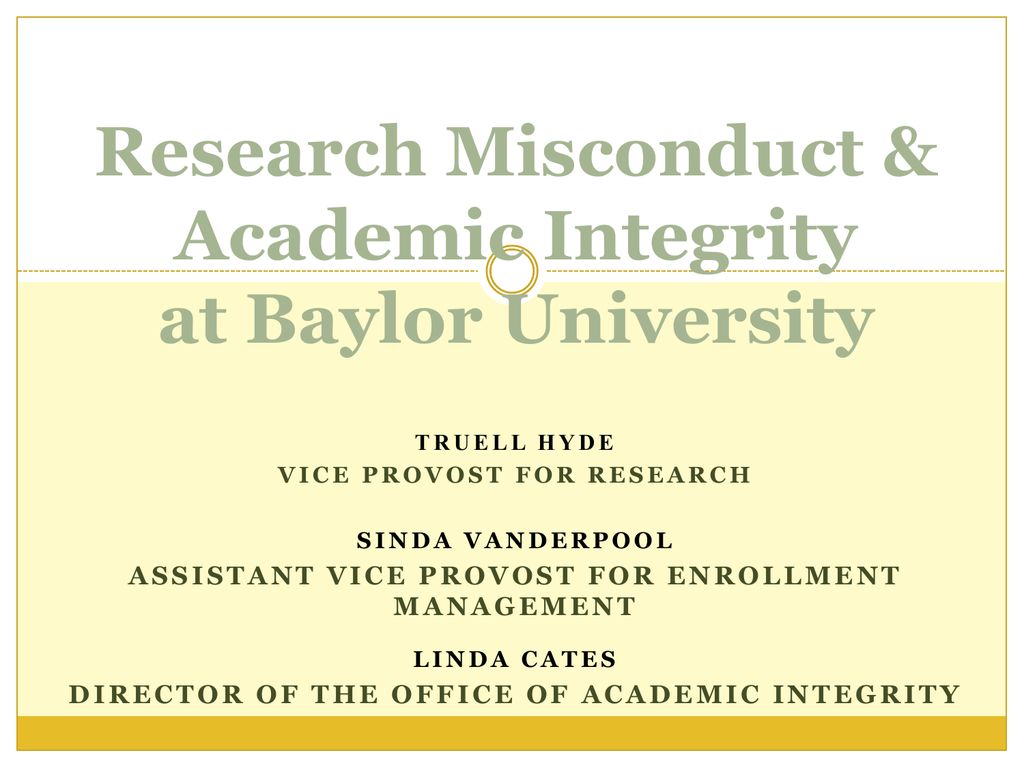 Research Misconduct &
Academic Integrity
at Baylor University
TRUELL HYDE
VICE PROVOST FOR RESEARCH
SINDA VANDERPOOL
ASSISTANT VICE PROVOST FOR ENROLLMENT
MANAGEMENT
LINDA CATES
DIRECTOR OF THE OFFICE OF ACADEMIC INTEGRITY
Honor Code
Baylor University students, staff,
and faculty shall act in academic
matters with the utmost honesty
and integrity.
TRUELL W. HYDE
VICE PROVOST FOR RESEARCH
Responsible Conduct of Research
Responsible Conduct of Research
 All Baylor researchers are expected to
engage in research with a level of ethical
and moral behavior, supportive of and
consistent with the university's Christian
mission
 Researchers must also adhere to
applicable laws, regulations and relevant
funding agency standards
Responsible Conduct of Research
 Federal regulations are tightening and
now require all students (graduate and
undergraduate) working on funded
research to complete responsible
conduct in research (RCR) training.
 Beyond these regulations, RCR training
is strongly encouraged for all
researchers, regardless of funding
source or field of study.
Responsible Conduct of Research
 General topics covered in any basic RCR training program
include:
• Publication Practices and Responsible Authorship
• Peer Review
• Mentor and Trainee Relationships
• Conflicts of Interest and Commitment
• Collaborative Research
• Data Acquisition, Sharing, and Ownership
• Research Misconduct
• Protection of Human Subjects
• Animal Welfare
• Contemporary Ethical Issues in Science
Preventing Issues Before They Happen
• Familiarize yourself with relevant
standards and best practices for your
academic discipline
• Check your funding agency's website for
specific requirements
• Review the Baylor University Statement
on Misconduct in Research
Preventing Issues Before They Happen
 Consider integrating RCR topics into
your curricula. (A number of academic
programs at other universities are
already doing so.)
 Strongly encourage your research
faculty and students (particularly those
with external funding) to take RCR
training
Responsible Conduct of Research
• Baylor offers this training through CITI
• To get started, visit the OVPR website at:
http://www.baylor.edu/research/irb/index.php?id=7310
8
• Training is offered to all faculty (research active or
not). While not required, faculty are encouraged to
complete the training as a refresher and to spark
discussion with students on proper research
standards
What is Research Misconduct?
 Two areas in which issues have arisen at
Baylor during the past few years.
Plagiarism
Conflict of Interest
What is NOT Research Misconduct
•
Research misconduct means fabrication,
falsification, or plagiarism in proposing,
performing, or reviewing research, or in
reporting research results
 Misconduct in Research is NOT:
•
•
Honest error or difference of opinion
Questions of authorship
Standard of Proof
• To support a finding of research misconduct:
(1) There must be a significant departure from
accepted practices of the relevant research
community
(2) The misconduct must have been committed
intentionally, knowingly, or recklessly
(3) The allegation must be proven by a
preponderance of the evidence
(42 CFR 93.104)
Preventing Issues Before They Happen
 Clarify authorship up-front
 Early
in the project, come to agreement with your
collaborators and students regarding each team
member's expected level of contribution and
which members will be recognized as authors of
any publications
 Setting expectations early in the research project
can prevent a claim of plagiarism later if an
investigator does not receive the credit he/she is
expecting
If You Witness Misconduct in Research
• Baylor researchers are expected to report any
observed, suspected, or apparent research
misconduct
• Misconduct may be reported:
–
–
–
–
To the Research Integrity Officer, Frank Mathis
([email protected])
To the accused person's immediate supervisor
To an appropriate administrative official
(department chair, dean, research center director)
Through Baylor's third-party reporting system,
available at http://www.baylor.edu/about/ethics
Linda Cates
DIRECTOR OF THE OFFICE OF
ACADEMIC INTEGRITY
Upholding Academic Integrity
Reporting Honor Code violations is
expected of all faculty members.
Assigning Sanctions
What are appropriate and consistent sanctions?
A. Faculty has discretion in sanctions, including, but not limited to:
1. Failure/grade penalty on assignment
2. Rewriting the assignment
3. Failure/grade penalty on test
4. Failure/grade penalty in course
B. Honor Council recommends sanctions based on precedent.
1. Those sanctions listed above
2. Plus probation, suspension, expulsion, etc.
3. Sanctions are issued by Provost, not Honor Council.
C. For assistance with consistent sanctions, go to Web site – see Honor
Council Reports.
Honor Code Violation Statistics
2010-2011
80% ( 108) handled by Faculty
20% (27) handled by Honor Council
Top schools/colleges
reporting:
135 Guilty
0 Not Guilty
Business 41%
Arts & Sciences 49%
Engineering/CS 11%
Education 4%
56% Male violators
44% Female violators
4 Suspensions
2 Expulsions
Top violations:
Plagiarism
Other's Work
Not Obeying Professor's Instructions
Types of Violations Seen Most Often
2009-2010
Plagiarism (2)
Not Obeying
Professor's
Instructions (12)
Other's Work
(1)
Obtaining
Information (8)
Altering
Documents (16)
Misrepresenting
Facts (11)
 Note: Number in parenthesis is from Sec. II of the Honor Code
Reminders
 Report all violations of AI
 Spread the word to other faculty about
process
 Please contact any of us with suggestions,
questions, or concerns
Available Resources
 Office of Academic Integrity 254-710-8882
Director, Linda Cates
 Judicial Affairs 254-710-1715
Associate Dean, Bethany McCraw
 Provost 254-710-6024
Assistant Vice Provost for Enrollment Management, Sinda K. Vanderpool
 Academic Integrity Web site
http://www.baylor.edu/honorcode/
 Student Policies and Procedures Web site
http://www.baylor.edu/student_policies/
 TurnItIn Plagiarism Detection Service
http://www3.baylor.edu/Library/plagiarism/
Sinda Vanderpool
ASSISTANT VICE PROVOST FOR
ENROLLMENT MANAGEMENT
Creating a Culture of
Academic Integrity
 Recent survey of students revealed:
 40% remember learning about the Honor Code from
Orientation
 70% remember learning about it from a specific professor in
a class
Faculty and academic leaders are key in creating the right
culture
Best Practices:
Prevention and Education
 Set up clear expectations
 Consistent message from Baylor: "above reproach"
 Discuss openly at the beginning of the semester
 Put a statement in the syllabus
 Remind students at key points in semester
 Be specific
 Spell out by giving examples (plagiarism, unauthorized collaboration, etc.)
from your discipline
 Give examples of proper citations, authorized collaboration, etc.
 Give special instructions for group projects, take home exams, using internet
sources, etc.
 Tell them, "when in doubt, ask!"
 Create a classroom environment that fosters academic integrity
 Safety for students not inclined to cheat
Prevention and Education:
Graduate Students
•
•
At time of application
During teaching/pedagogy training, address
–
–
–
–
appropriate relationships with students
expectations of fair treatment
employment issues
future consequences for missteps
Questions?