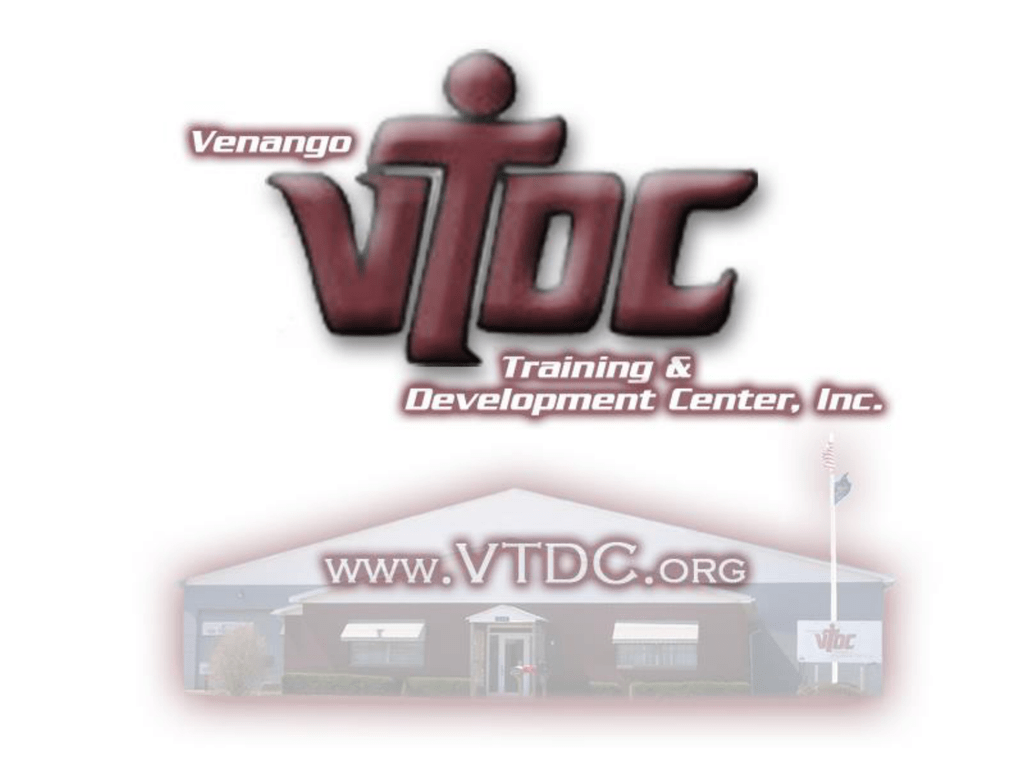 VTDC Title 1
Youth Services
Clarion, Crawford, Forest,
Venango & Warren Counties
W.I.A.
WIA Youth Eligibility
Workforce Investment Act
• AGES 14-21, LOW INCOME INDIVIDUAL
• BARRIERS TO EMPLOYMENT
–
–
–
–
–
–
DEFICIENT IN BASIC SKILLS
SCHOOL DROPOUT
PREGNANT/PARENTING
HOMELESS/RUNAWAY/FOSTER CHILD
OFFENDER/ADJUDICATED
REQUIRES ADDITIONAL ASSISTANCE TO
COMPLETE EDUCATION OR TO SECURE AND
HOLD EMPLOYMENT
10 Elements of WIA
1.
Tutoring, study skills
training and instruction
leading to the completion
of secondary school,
including dropout
prevention strategies
6.
Leadership development
opportunities
7.
Supportive service
2.
Alternative secondary
school services
8.
Adult Mentoring for not
less than 12 months
3.
Summer employment
opportunities directly
linked to academic and
occupational learning
9.
Follow up services for not
less than 12 months
4.
Paid/unpaid work
experience
5.
Occupational skill training
10. Comprehensive guidance
counseling
TANF Youth Eligibility
Temporary Assistance for Needy Families
• SERVES YOUTH AGES 5 – 18
• MUST BE IN-SCHOOL YOUTH
• MEET 235% OF POVERTY INCOME LEVEL
• FREE AND REDUCED LUNCH RECIPIENTS QUALIFY
• FAMILY RECEIVES CASH ASSISTANCE
Role of the Youth Coordinator
• Provides case management activities to all enrolled
youth
• Develops Individual Service Strategy with youth,
family and school input
• Monitors provider agencies
• Tracks youth goals and outcomes
• Recruitment of work experience/ job sites
What programs do we offer?
•
Work Experience
-This is when a youth works at a site of their choice focusing on their long term career
goal for 180 hrs, this is paid for by VTDC through the WIA program. When the 180 hrs is
over the youth and the employer have the option for them to be hired on as a employee,
which is the ultimate goal, or pursue other employment options.
•
Mini Grants to Schools
- Each school within the 5 counties are given a mini-grant ranging between $1,000.00$1,500.00 to continue a leadership program already in place at the school or to create a
new program focusing on leadership with the students.
•
Industry Clubs
-We currently have 12 Industry Clubs tentatively planned in the 5 counties. There is also
one happening in North Central through the WIA program. The schools recruit youth to
participate in the club with at least half being TANF eligible. The purpose of this program
is to show youth that they do not necessarily need to leave the area to obtain good
employment and expose them to industry in the area. Each week the youth research one
of 8 industry clusters by using the O'Net website and composing questions to ask
employers. The 8 industry clusters are: Healthcare, Finance and Insurance, Metals and
Metal Fabrication, Wood, Hospitality Tourism, Technology, Plastics, and most recently
added Packaging.
Programs Continued….
•
Individual Training Accounts – ITA
-This is for youth that are enrolled in the WIA program and have graduated high school
or obtained their G.E.D and are looking to continue on to post-secondary education. The
WIA program can assist them with up to $7,500.00 for classes and books. They must
retain a 2.0 GPA while attending and the school must be located in Pennsylvania.
•
Expanded Youth Employment – EYE
-Youth that have completed a work experience positively may have the opportunity to
obtain expanded youth employment. This is where an employer is reimbursed wages for
the employee on a sliding scale until that youth becomes paid 100% by the employer and
is a regular employee of the company. The WIA program will reimburse up to $8.00/hr for
a total of 520 hours or 3 months, whichever comes first.
•
Supportive Services
-Supportive services are offered to youth in the WIA program and TANF program. This
money is used to help youth obtain and retain employment or education. We have helped
youth get their drivers permit, drivers license, interview clothes, work clothes, glasses,
and car insurance. Needs vary depending on the youth.
•
Subcontracted Programs including:
–
Youth Alternatives
–
VIBES
–
Big Brothers Big Sisters
–
Focus on Forest's Future
–
Keystone Smiles
–
Junior Achievement
–
And Many More…
Programs Continued….
•
Out-of-School Adventure
- Each year we take all of the out of school youth that have successfully completed a
service on a trip. The federal government suggested we figure out a way to get all of the
out of school youth together and since we didn't have too many options to accomplish this
task, the out of school trip was created. The first year we took 8 youth to Pittsburgh for the
day, 20 were invited. We went on the Duquesne Incline, Gateway Clipper, Sports Works
Museum, and a Pirate game. Last year we went to Cleveland where the youth went to the
Cleveland Zoo, Rock and Roll Hall of Fame, and Cleveland Indians game, there were 18
youth in attendance last year. This year we are planning on going to Buffalo/Niagara Falls.
•
Career Day
- This program is where we again bring in all of our out of school youth for a day to go over
budgeting and career guidance with them. We show them how to write a check and balance
a checkbook as well as doing a monthly budget based on a fictitious career.
•
Career Camp
- This year we are celebrating our 5th year of offering this service to all the youth in our
program in all counties. In the past we have had camp 3 days a week for 2 weeks, this year
we are planning on a ten day, 2 week camp for Clarion, Venango, Forest, and Warren
counties. We are planning a separate camp for Crawford County collaborating with Erie
County. Each year we have the youth work on a project that is judged at the end of camp.
This year they will be working on DVD's of various topics such as drugs and alcohol,
bullying, pregnancy, and dropout prevention. We also bring in guest speakers, have
leadership activities, and teamwork projects.