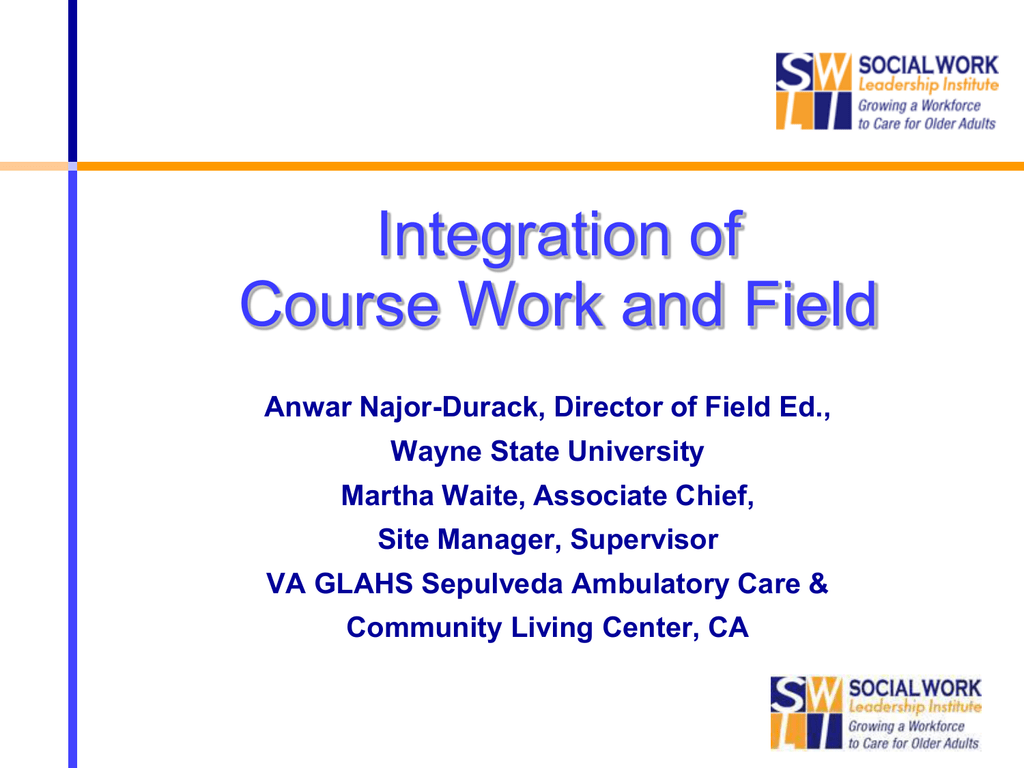 Integration of
Course Work and Field
Anwar Najor-Durack, Director of Field Ed.,
Wayne State University
Martha Waite, Associate Chief,
Site Manager, Supervisor
VA GLAHS Sepulveda Ambulatory Care &
Community Living Center, CA
Field Work
 The Signature Pedagogy
 Models of Field Work
 Concurrent with coursework
 Block placements toward end of program
 Part time students
 Field Placement Assignments
 Micro, mezzo and macro focus
 Required hours
www.socialworkleadership.org
Oversee implementation
of HPPAE

Review applications for HPPAE participants

Field Instructors volunteer a full day to visit
campus and interview students for selection

Participate in one or two day training during
the summer to assist in preparing HPPAE
students for fall placement

Participate in semester meetings to support
students through transition for following
semester assignments
Recruitment and Retention
of HPPAE Students

Agency Partners participated in panel
presentation for "Careers in Aging Week"
event to publicize HPPAE and social work
careers in aging

Willingness to talk/meet with prospective
students

Provide Field Instructors to facilitate the
professional and personal development of
social workers interested in working with
older adults
Evaluate the programs
effectiveness and revise as needed
 Field Instructors and students provide
feedback at each end of term meeting
 Field Instructors and students complete a
written evaluation at end of each year
 End of year meeting used to discuss
possible program changes – (ex.
Rotation models restructured)
Role of Field Instructor
 HPPAE champion!
 Assists in recruiting students
 Designing field practicum assignments
 Orientation to field placement
 Communicating with other
departments/programs
 Continuum of care
 Supervision: Field Instructor & Task Supervisor
 Evaluation
www.socialworkleadership.org
University-Community
Partnerships

Field Instructor involvement at outset of
HPPAE

Hosting meetings on campus and at
partner agencies

Field Instructors assisting with training of
new students

Field Instructors sharing in ideas for
sustaining program (and stipends)
www.socialworkleadership.org
Benefits of our UniversityCommunity Partnership
 Strengthening overall partnership – they
know us better and we see each other at
least four times each year!
 Field Instructors and faculty contacts –
 CE Instructor
 EBP workshop for agency by faculty
Rotation Models
 Inter-agency
 Orientation to agency needed prior to field start
 Organization of field assignment
 Fast paced
 Intra-agency
 Requires coordination within agency
 Communication with field instructors and Task
Supervisors
www.socialworkleadership.org
Cultivate and garner resources to
keep the program running
 Partner with the WSUSSW Center for
Social Work Practice and Policy Research
for exploration of external funding sources
 FIs working within their agencies to
support stipends for future participants
 VA and Foundation stipends
 List serve used to share information on
workshops, free services and other
training for students and FIs
HPPAE Implementation at VA Greater Los Angeles
Healthcare System:
Sepulveda Ambulatory Care Center & Community Living Center
West Los Angeles Medical Center
University-Community Partnerships:
Geriatric Social Work Education Consortium
VA GLAHS
Alzheimer's Association
Motion Picture Television Fund
Huntington Memorial Hospital
Senior Care Network
Jewish Family Service
SCAN
UCLA
USC
Cal State Dominguez Hills
Cal State Long Beach
Cal State Los Angeles
Cal State Northridge
www.socialworkleadership.org
University-Community Partnerships:
The GSWEC Model Across the
Continuum of Care
Aspects of the Service Spectrum
Independent and
Assisted Living
Mental Health
Services
Centers of Excellence
(CoE)
Alzheimer's
Association
Motion Picture &
Television Fund
Graduate Social Work
Programs
USC
CSULA
Outpatient Geriatric
Jewish Family
Assessment
& Children's
Programs
Service
Institute
UCLA
Hospital-Based Geriatric SCAN Health
Case Management
Plan
Caregiver
Support
Services
CSULB
CSUN
VA of Greater LA
Healthcare System
Jewish Family
Service
Huntington Senior Care Network / Pacific
Clinics / Partners in Care Foundation
Other Supportive Services
for Older Adults
Group Didactics
Depth
Community-based Geriatric
Case Management
Primary Experience
at
Center of Excellence
Adult Day
Services
Acute Care
Hospital
Hospice
Home Health
Care
Rehabilitation
Skilled Nursing
Facility
Complementary Experience at
Associate Site
Breadth
Competency Based Education
• VALUES, ETHICS AND THEORETICAL
PERSPECTIVES
• ASSESSMENT
• PRACTICE & INTERVENTION
• THEORY & KNOWLEDGE
• PROGRAMS AND POLICIES
• EVALUATION AND RESEARCH
www.socialworkleadership.org
Competency Based Application
•Pre-Test defines areas of strengths and opportunity
•Action plan defines specific areas of development
•Field placement operationalizes the competencies
•Group supervision provides didactic and
collaborative practice, case presentations
with interactive discussion
www.socialworkleadership.org
Field Rotations
GSWECSepulveda Campus
● Adult Day Health Care ● Geriatric Medicine Clinic-PACT Teamlet
● Geropsychiatry ● Spinal Cord Injury (SCI) ●Community Residential Care
• Community Living Center
•PACT Teamlets in Primary Care and Womens' Health
●Mental Health Integration Recovery Treatment
GSWEC West Los Angeles Campus
● Geriatric Evaluation and Management Unit (GEM) ●Geropsychiatry &
Neurobehavior ● Home Based Primary Care ● Community Living Center
●Homeless Per Diem Program with Older Adults ● Palliative Care
GRECC involvement
in Educational, Program Development,
Evaluation activities including didactics and research/program,
development for the macro projects
www.socialworkleadership.org
Expanded Role of Field Instructors
www.socialworkleadership.org
Elevated Field Emphasis
•GSWEC Field Instructors demonstrate
and offer opportunities where
competence meets practice
•Focus in GSWEC is Field experience
and gero-rich application
•University serves to complement the
field
•Didactic quarterly programs for all
GSWEC Students at different field sites
www.socialworkleadership.org
Targeted Student Recruitment
8 Step Process:
•School Liaisons discuss GSWEC with first year students
•Field Representatives from GSWEC meet with students on
campus
•Open House in March outlines opportunities at each Center
of Excellence (last year topped 90 attendees); current
GSWEC students describe their experience
•VA Open House with presentations from different programs,
GRECC and different field sites
•Students sign up for interviews
•Field Instructors select top 3 candidates
•Students select top 3 placements
•Match meeting with all schools, centers of excellence
www.socialworkleadership.org
GSWEC Match Date
ALZHEIMER'S
HSCN
3
CSULA
Rosa Garcia
Wilshire
UCLA
Nikki Hemans
Wilshire
CSULA
Katherine Mancia
4
CSULA
Caryn Cortez
CSULB
Lisa Markarian
CSUN
Sal Perez
Rancho?
Pacific Clinics
SCAN
5 + (1)?
CSULA
USC
Janelle Arambula
Debbie Ananias
Older Adult Program
CSUN
CSULA
Jocelyn Mayo
Veronica Cruz
Older Adult Program
CSULA
Ignacia Romero
Older Adult Program
CSUN - TBD
Cindy Hsu
APFC
CSUDH
USC
Amy Sugita
Sheila Frando
Portals
CSUDH
Partners in Care
Alicia Santiago
2 ????
CULSA
Otilia Lopez
DPHP
CSUN
Marlene Pinotti
CHIC
Possible Placements:
Accepted by Agency:
To Be Determined:
42
35
7
CSULA - 9 - TBD: 3
MPTV
2
JFS
2+ (3)?
UCLA
Jessica Fauman
Elder Connection?
CSUN
Hilda Quigley
????
TBD:
Silvia Aguilar - CSULA
VA
4 + (1)?
UCLA
Jennifer Halbert
Valley Storefront
CSULA - TBD:
Martha Arechiga
FCCS
CSULA
Yessenia Ramirez
Stephanie Mills - CSUN FCCS
Denise Padilla - UCLA CSUDH
Rocio Martinez
Freda Mohr
USC
City/County AAA
4 + (2)?
CSULB
Miriam Arguinzoni
City AAA
CSUN
Armine Stepanyan
City AAA
CSULA
Jose Burgos
County AAA
CSUN
Silvia Valdivia
County AAA
9
UCLA
Brittany Carraway
Sepulveda
UCLA
Brent Chow
Sepulveda
CSULB
Gelyce Hairston
Sepulveda
CSULB
Wendy Sotelo
Sepulveda
CSULB
Marylu Molina (COPA) Roxana Cruz
LIFE Program
LACC
CSUN
Tracely Downs
LACC
UCLA
Jocelyn Chen
WLA
CSULB
Reham Shah
WLA
USC
Rima Simon
WLA
TBD (County):
Kara Lagunas - USC
Bich Thai - CSULA
CSULB - 6
CSUN - 7 - TBD: 2
USC - 4 - TBD: 1
www.socialworkleadership.org
UCLA - 6 - TBD: 1
CSUDH - 3
GSWEC Sustainability
GSWEC VA Student Graduates: 107
GSWEC VA Hires: 46
GSWEC Students Accomplishments:
99 Candidates last year at VA
Continued support and development of Steering
Committee: (9 Centers of Excellence, 7 University
Social Work Graduate Programs)
www.socialworkleadership.org
Leadership
Macro projects examples include:
•The Impact of a Brain Training Group on the Cognitive
Functioning and Coping Skills of Veterans in a VA
Outpatient Substance Abuse Clinic
•LGBT Older Adult Health: Improving Health Disparities
•Gerontological Social Work: Psychosocial
Considerations
•Quick References and Tip Sheet For Older Adults in
Independent Living
•Geriatric Social Work: What We Really Do
www.socialworkleadership.org
Conclusion
•
•
•
•
Interprofessional Teamwork
Cajon term meaning: Surprise!
Something extra a team offers
Don't forget to have fun on your team!