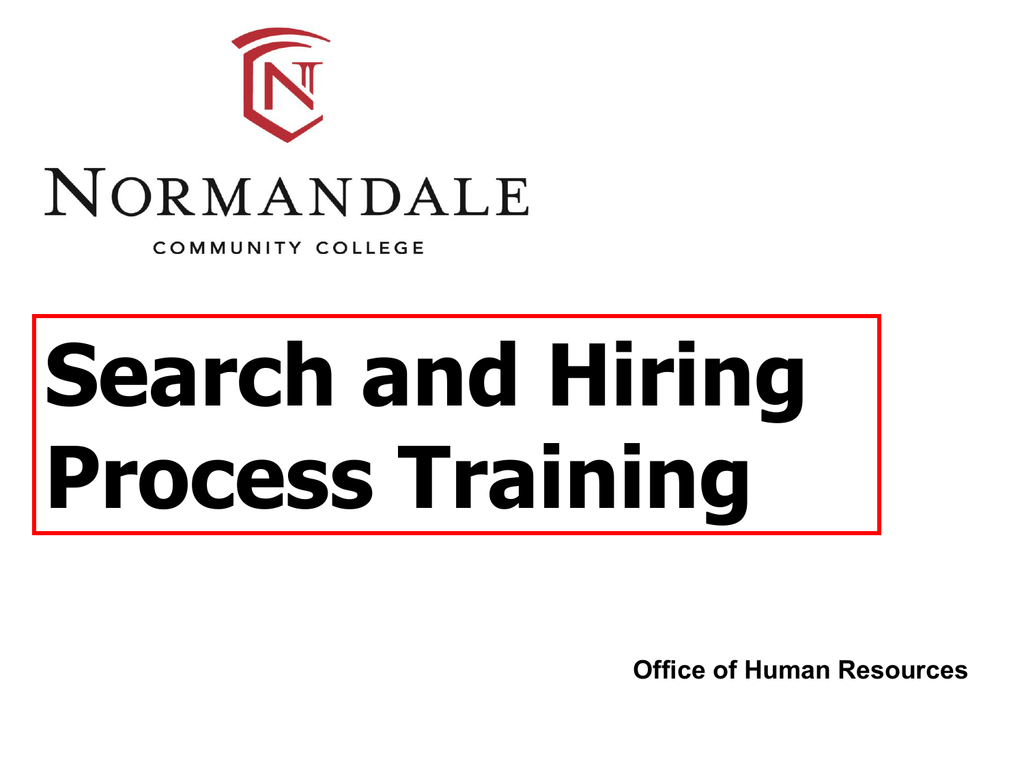 Search and Hiring
Process Training
Office of Human Resources
Our Search Philosophy
Hiring new members of the
Normandale community is one of
the most important functions we
perform on our campus. To be
invited to serve on a search
committee is an honor and a
privilege.
Hiring and Search Process
Resources
• Hiring Process Workbook
• Hiring Resources Center
Hiring and Search Process
Resources
• Checklists
o Non-faculty and Non-Administrators
o Administrators
• Under Development: Faculty
Guidelines for Assembling Your
Search Committee
•
A search committee should be comprised of 3-5 members.
•
The committee should be chaired by someone who is not the hiring supervisor, but
has some familiarity with your business practices. In some situations, it may be
desirable for the hiring supervisor to sit on the committee; consult with HR.
•
The search committee should NOT be chaired by someone with little or no previous
search committee experience.
•
The committee should have at least one person from outside the department.
•
The hiring supervisor should consider having someone from HR on the committee
to advise and assist with the search process.
Guidelines continued
•
Some search committees may have a student and/or a subject matter expert from
the MnSCU system office or another campus. They must also go through
Normandale search committee training.
•
Committee members should be racially diverse. There should also be diverse
gender representation on the committee.
•
Search committee members must be able to commit time and effort to the process
and be available for all on-campus interviews.
•
Search committee members must demonstrate an understanding of and
commitment to confidentiality.
•
For Administrator positions, search committee membership is solicited and
determined by the President and/or another member of Cabinet.
•
HR advises on and/or approves the membership of each search committee.
Search Committee Chair
Responsibilities
•
Coordinate and facilitate
•
Lead the effort to develop evaluation criteria
•
Lead the effort to evaluate candidates
•
Lead the effort to develop interview questions
•
Champion diversity
•
Lead candidate interviews
•
Host candidates who interview on campus
•
Ensure that the search process is fair and equitable
•
Maintain confidentiality.
SEARCH COMMITTEE CHAIR RESPONSIBILITIES
 Affirmative
Action/Diversity/EEO (with
HR)
 Reasonable Accommodation
(with HR)
 Coordinate reference check
process (may be with HR)
 Notify unsuccessful
semi-finalists
 Return all committee
documentation to HR after
hiring process concludes
 Notify internal Normandale
applicants of final decision
Search Committee
Responsibilities
•
Publicize the search
•
Develop evaluation criteria
•
Evaluate candidates
•
Develop interview questions
•
Embrace diversity
•
Interview candidates
•
Host candidates who interview on campus
•
Ensure that the search process is fair and equitable
•
Maintain confidentiality
SEARCH COMMITTEE RESPONSIBILITIES
Determine criteria for evaluation of candidates' preferred
qualifications.
Review and score applicant files
Create interview questions and "best response" measures
for each question.
SEARCH COMMITTEE RESPONSIBILITIES
 Interview candidates
 Attend all candidate interviews
 Recommend unranked finalists to hiring supervisor/decisionmaker
SEARCH COMMITTEE
RESPONSIBILITIES
 Return all search materials to
HR
 Be mindful of the importance
of and the College's
commitment to creating
diverse interview and finalist
pools.
 Maintain complete
confidentiality
CONFIDENTIALITY: MN GOVERNMENT DATA PRACTICES ACT
Please DO NOT:
 Discuss applicant names or their credentials outside of search
committee process
 Remove applicant files from HR or make copies of applicant
materials
 Reveal the name of candidates offered position until all
necessary notifications have been made
Reminder: If a candidate does not become a finalist, his/her
name remains confidential both before and after the search.
Note: "Finalists" are those selected to participate in the
final round of on-campus interviews.
CONFIDENTIALITY
All search materials and
information are subject to
disclosure and/or subpoena including:
– Individual committee notes
– Applicant file and interview rating forms
– Discussions among committee members or
outside committee process
Please refrain from writing notes, particularly
of a personal nature, on rating forms and
other search committee materials.
Possible Consequences of
Breach of Confidentiality
 Removal from search
committee
 All input discarded
 Personal and/or
institutional liability
 Search process may
need to start over
 Discipline, up to and
including, discharge
KEEPING CANDIDATES INFORMED
OF THE PROCESS
 Progress by search
committees will be
documented on the web
site.
 Keep HR updated.
 Refer questions about the
process to the HR web
page on the Normandale
web site.
 Refer also to Search
Committee Chair.
www.Normandale.
mnscu.edu/hr
Affirmative Action/Diversity
The college is committed to hiring people of
color and people with disabilities.
Affirmative Action: The college's effort to
recruit and hire a diverse workforce.
The Normandale Affirmative Action Plan will
be followed in the hiring process.
Affirmative Action/Diversity
 Affirmative Action Disparity: Exists when a job group does not
reflect the gender, racial and disability diversity of the
available work force.
 If the college has candidates who can alleviate a disparity AND
meet minimum qualifications but are not offered an interview,
the Affirmative Action Officer (HR Director) or the President
will request an additional interview(s).
 Search Committee Chairs or Hiring Supervisors will be asked to
document "missed opportunities."
 Even though we may not currently have a disparity in a
particular job group, we remain committed to actively
recruiting, interviewing and hiring diverse candidates.
Normandale Employees of Color
by Bargaining Unit FY2014
MnSCU's Goal
• To better reflect the demographics of the
state of Minnesota, increase the diversity of
the workforce from 9.6% to 12% over the
next 5 years.
College-Wide Performance Metrics
Employee Diversity – Employees of Color
FY2007-FY2016
30%
25%
20%
15%
10%
5%
0%
FY2007
5
FY2009
FY2011
FY2013
FY2015
OUR COMMITMENT TO DIVERSITY:
 Normandale will continue
to recruit applicants for all
positions who represent the
diversity of our students.
 We will continue to seek
every opportunity to create
a more diverse workforce.
In reviewing applications, consider…
 That at Normandale,
employees of color are
under-represented in
comparison with our
student population.
 That having a
multicultural faculty
and staff is a top
priority for the college.
In reviewing applications, consider…
 That we include
diversity/multicultural
experience related to the
position as a criterion in
rating applicant files and in
interview questions.
 That experience with
diversity can mean
experience with diverse
issues, with diverse
students and with
working/living in
multicultural environments.
In reviewing applications, consider…
 That giving excess points for
teaching experience, for
example, tends to eliminate
certain age groups from
competition.
 That we don't award/not award
points based on your own
experiences or journey.
 That we exercise caution with
the use of the word "fit." Too
often, it means someone who is
just like me!
In reviewing applications, consider…
 That comparison of
candidates is based on
position description
 That we always use a
standard scoring form
developed by the
committee and approved by
HR
 That HR reviews for
minimum (required)
qualifications
 That desired (preferred)
qualifications are scored by
search committee
 That each applicant file must
be scored by at least three
committee members (prefer
scored by ALL members)
 Snd remember to return all
rating forms to HR at end of
search!
INFORMATION YOU CANNOT USE
in screening applicant files
–
–
–
–
–
–
–
–
Age
Family status
Arrest record
Race/Religion
Ethnicity
Gender/sexual preference
Disability/health status
Anything else that doesn't directly
relate to the teaching
responsibilities and/or the position
itself
SELECTING INTERVIEWEES
• Based on credentials/qualifications and
experience.
• Based on written criteria developed by the
committee and closely aligned with the
position description and/or job posting.
• Based on point values assigned to criteria in
the file rating form.
• At least 4-5 candidates should be interviewed.
YIKES! I KNOW THIS CANDIDATE!
 Pitfalls: Interviewing
someone you know and
like (remain objective).
 Pitfalls: Interviewing
someone you know and
don't like (remain objective).
 "Locals" do not get
special consideration.
 Question: Can I tell
the committee what I
know?
 Answer: If it's job
related, Yes; but not
what you "think" you
know.
STRUCTURED INTERVIEW
PROCESS
Structured Interview Process – questions
developed by committee and approved by HR
Must include a best answer example for each
question along with a numerical rating system
Examples:
– 1 - Did not provide details about X, Y or Z...
– 3 - Response included X and Y…
– 5 – Complete response included X, Y and
Z...
WHY USE A STRUCTURED INTERVIEW
PROCESS?
 Promotes two-way learning
 Provides information not in
application materials
 Helps ensure a fair
evaluation
 Promotes goodwill for
Normandale
 May protect the college
from legal action
INTERVIEW QUESTIONS
 See Interview
Question Bank in
Hiring Resources
Center on portal.
 Must include, at a
minimum, one
question related to
diversity/multicultural experiences.
INTERVIEW QUESTIONS
 Must be directly related
to candidate's ability
and credentials to do
the job.
 Must include
question(s) to assess
diversity experience in
relation to the position.
 Example: Tell us about
experience you've had
working as an
administrator in an
institution with a
diverse workforce.
INTERVIEW QUESTIONS
 Situational Questions
describe a problem and
ask how interviewee
would handle it.
"What if a parent comes to
you and complains about
the grade their child
received? What do you
do?"

Behavioral Questions
solicit specific
examples of past job
behavior.
"Tell us about a time when
you had to resolve a
conflict with your staff.
How did you handle it?"
INTERVIEW QUESTIONS
Acceptable Follow-Up Questions
"What do you mean by…"
"Specifically, what were your
responsibilities?"
"I want to be sure I understood your
response, please explain…"
INTERVIEW QUESTIONS - Follow up
questions you should not use
 Anything that reveals:
– Political or religious beliefs or practices
– Anything else not directly related to standard
interview questions or position
– Racial or ethnic background
– Arrest or criminal conviction
– Health or disability information
– Age
– Sexual orientation, family, or marital status
Candidates on Campus For
Interview
• Meet and escort them from first point of
contact until they leave campus
• If applicable, arrange for a tour of campus
with a non-committee member
• If multiple interviewees on campus
simultaneously, provide separate waiting
spaces
• For Administrator candidates, schedule Open
Forum
Candidates on Campus For
Interviews
For Faculty and Administrator Candidates:
• Schedule ½ hour for candidates to complete paperwork in Human
Resources
• HR will have them complete
-Background check consent
-Reference check consent
-Provide expense reimbursement request form
-Work status questionnaire
-Any other relevant paperwork
For all other positions, the candidate may complete the applicable forms at
the time of their interview. Search Committee chairs may collect the
forms from Human Resources.
Citizenship/right to work
Eligibility for employment may not be limited
only to citizens or permanent residents.
Because of the time and financial
commitment required, the college will
determine our potential role in sponsoring a
candidate for an employment visa.
Citizenship/Right to Work
What Can We Ask?
In the interview process, do not ask anything about work
status. HR has developed a form that candidates
complete when they come to campus for their
interview. The form contains the two questions we
are permitted to ask by Immigration Officials:
• Are you legally authorized to work in the US full-time
and for all employers?
• Will you now or in the future require
• employment visa sponsorship?
CANDIDATE EXPENSES
 Administrator candidates will be
reimbursed, based on reasonable costs, for
transportation (mileage/airfare); lodging for
one night; and 3-4 meals
 Faculty candidates for Unlimited Full-Time
positions can be reimbursed up to $250.00
for travel, hotel, and meal expenses if from
out of state
 Interview coordinator should let candidates
know when setting up interviews
 Expense reimbursement request form
provided by HR when candidates stop by to
complete paperwork
 Expense reimbursement requests are
approved by Vice President and HR Director
Welcome to
Minnesota
REFERENCE CHECKS
 Purpose: To assist in choosing finalists
 Generally done after interviews FOR TOP
CANDIDATE ONLY
 Done by hiring supervisor or may be outsourced
(for Administrator positions)
 Use standard form (can be modified with
assistance from HR)
 Permission obtained in writing on standard
consent form
REFERENCE CHECKS
 Should never be done independently by
committee members
 Checking references "on your own" may result in
removal from the search committee
 Checking references outside the committee
process can result in liability for the college and for
the individual
REFERENCE CHECKS
• If a finalist has prior MnSCU/State experience,
consult with HR before making an offer
• Always try to ensure that you speak to one
reference that was a candidate's former or
previous supervisor
SOCIAL MEDIA AND HIRING
• Absent a formal policy, hiring supervisors and search committee members should not utilize
social media to screen candidates.
In Hiring:
• Social networking sites often contain personal information about an individual including age,
race, marital status, religious affiliation and political views. This information may be
"protected" information that an employer cannot ask about in the hiring process or use as a
factor in making a hiring or other employment decision. It is recommended that employers
either avoid screening candidates on social media sites or ask someone in the Office of Human
Resources to review these sites to filter out protected information.*
• Ask yourself this simple question: What can I possibly learn about this person's ability to
perform the functions of this job by looking at their Facebook page?
• If you would like to discuss the use of social media in your search, please contact the Chief
Human Resources Officer.
*"Recent Developments in Employment Law" by James Olney, Attorney at Law, at the 2012 Minnesota Society for Human
Resources Management Conference
CRIMINAL BACKGROUND CHECK
• Obtain written permission at time of interview
• Only done on finalists for certain positions
• Done through Normandale Public Safety
Department
• If there is a criminal record, Public Safety, the
HR Director and College President will make a
determination as to relevance
SELECTION OF FINALISTS
Based upon:
 Application materials, qualifications
 Appropriate credentials required by MnSCU system
 Interview results
 Reference checks
FINAL DECISION
 Committee recommends three or more unranked
candidates to the Hiring Supervisor/Decision-maker
noting general strengths and weaknesses of each
candidate whose name is forwarded.
 There must be no written indication of ranking.
 For faculty searches, Vice President and/or President
confer on selection.
 Committee will be notified of selection/results.
CONCLUDING THE SEARCH
At the end of the search process, please return
ALL of the documentation generated during
the search process to HR, including:
– Rating forms
– Interview notes
– Documentation of strengths/weakness
THANK YOU!