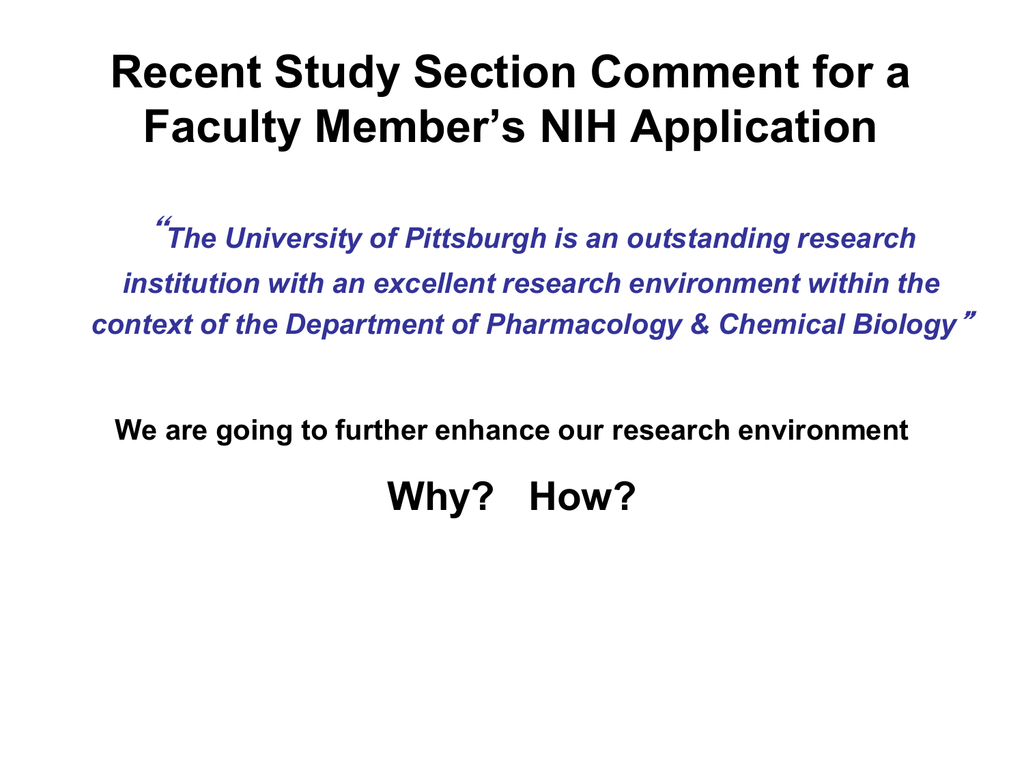 Recent Study Section Comment for a
Faculty Member's NIH Application
"The University of Pittsburgh is an outstanding research
institution with an excellent research environment within the
context of the Department of Pharmacology & Chemical Biology"
We are going to further enhance our research environment
Why? How?
University of Pittsburgh School of Medicine
Department of Pharmacology and Chemical Biology
Faculty Development Program
Overall Goals
• Designed to enhance faculty professional
development and funding of research objectives
• Advance the conduct of high quality research
• Improve the student training environment
• Provide specific goals for successful promotion
• Increase competitiveness in current economy
• Protect overall departmental/institute budgets
Reduce stress, enhance success
during difficult times
Faculty Development Plan – Key Elements
•
•
•
•
•
All faculty will participate
Managed by senior faculty, colleagues
Workshops on grantsmanship, teaching, promotion
Individualized internal advisory team of 2-3 people
Individualized external advisory team of 2-3 people
One week turnaround times for all grant-related input
Also – Feel Free to Seek Advice From:
Current P&CB NIH Study Section/Foundation Peer Review Committee Members
Van Houten
Zhang
Palladino
Levitan
Pagano
Freeman
Oesterreich
Friedman
DeFranco
Schopfer
Lee
Wang
Faculty Development Plan
Promoting Excellence in Scholarship
• Periodically review CV and annual faculty evaluation:
provide rank, promotion, and tenure-related advice
• Develop strategies for research advancement:
resource needs, seed new collaborations, lab and time
management strategies
• Advise on teaching portfolio: classroom, lab, student
mentoring
• Provide advice regarding service commitments: more
is not always good
• Review drafts of research and review articles
• Identify intramural 2-3 person mentorship team and
other helpful mentors
• Peter Friedman, PhD, Vice Chair for Academics will
provide guidance in many of these areas
Faculty Development Plan
Promoting Research Excellence
Internal evaluation/support
• 2 page pre-proposal for planned submissions
(hypothesis, specific aims, significance, innovation, key
experimental approaches/reagents, overall impact)
1 week review
• Advice on CSR/Study Section assignment
• Guidance for revised resubmissions (Introduction)
• Department support for a colleague to give a local
seminar and foster interactions with PI's lab team:
identify thought leaders, potential collaborators
• Each faculty member must deliver a departmental or UPCI
seminar every 2 yr, attended by department faculty,
fellows and students
Faculty Development Plan
Promoting Research Excellence
External evaluation/support
• Optional for A0, required for A1 submissions
• High quality external advisors will be identified with
faculty member's input
• Written critique of final draft will be provided to faculty
member and internal mentorship team by external
consultant using specific NIH or foundation guidelines
1 week external review, immediate internal feedback
• $500 honorarium given to external consultants that show
effort and quick responses. This program is more than
self sustaining if we as dept are successful with one
more grant in a calendar year
Faculty Development Plan
Promoting Research Excellence
Timeline
• Pre-proposal (2 pg) submission to internal advisors 2
mo before P&CB/UPCI "science" upload deadline
• Final draft submission to external advisors 1 mo before
P&CB/UPCI "science" upload deadline
• This gives 3 weeks for final revisions before upload
• Compliance and success will be incentivized!