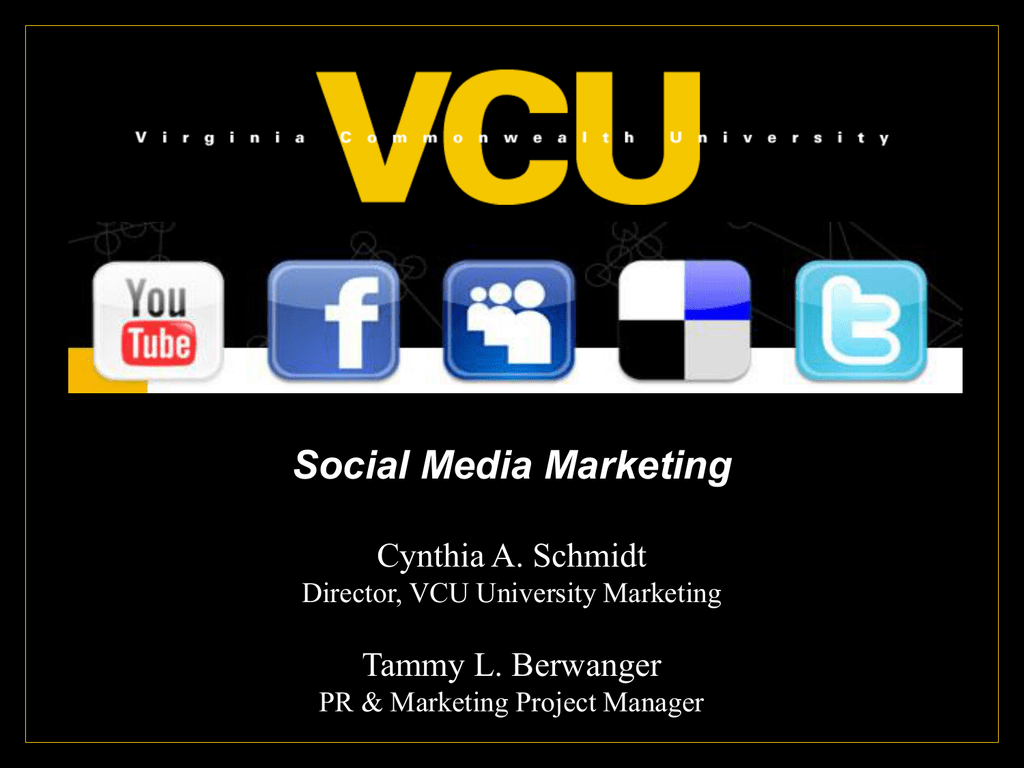 Social Media Marketing
Cynthia A. Schmidt
Director, VCU University Marketing
Tammy L. Berwanger
PR & Marketing Project Manager
Today's Agenda
•
•
•
•
Overview of Social Media
VCU's Social Media Initiatives
Understanding Your Audience
Best Practices
Social Media's Growth
• Adult Internet users who have a profile on an online social network site
more than quadrupled in the past four years — from
8% in 2005
to 35% now, (Pew Internet & American Life Project's December
2008 tracking survey)
• 75% young adults aged 18-24 have a profile.
• By 2011, half of all online adults and 84% of
online teens (105 million total users) will use social networks
(eMarketer)
Why Do We Use Social Media?
• Marketing/Branding
–
–
–
–
–
Be where the action is
Be part of the discussion
"bond with the brand"
Create more loyalty, respect
Admissions
• Public Relations/Reputation Management
–
–
–
–
Supreme efficiency
Monitoring of discussions, anticipate issues
Humanize stories
Emergency communications
• Alumni Relations
– Continue ties with alumni
• Advancement
Universities Ahead of the Curve
Colleges and Universities Adopt
Social Media to Recruit and
Research Potential Students;
Outpace Corporate Adoption of
New Communications Tools
and Technologies
Society for New Communications Research (SNCR)
Examples from universities
Overview of VCU's Social Media Initiatives
Get Connected
Social Media Initiatives Underway University-wide
•
Marketing
– Facebook, YouTube, MySpace, LinkedIn, Delicious, Flickr
•
Communications & Public Relations
– Twitter, RSS Feeds, Facebook, Wikipedia
•
Alumni Relations
– Facebook, LinkedIn, Twitter
•
Advancement
– Contract with Kintera includes a social media component to be deployed
•
Athletics
– Blogs, YouTube, Facebook, Twitter
•
Admissions
– Chat University, Blogs, Facebook
•
Advising/Teaching
– University College, Center for Teaching Excellence, School/Department information
•
Technology Services
– Facebook, Twitter, Yammer
• Over 300 million users
around the world
• Connects people with friends
and others
• Used to keep up with friends,
upload an unlimited number
of photos, share links and
videos, and learn more
about others
• Almost half a million new
users each day
Sample of VCU Groups/Pages
maintained for VCU by VCU employees.










•
Virginia Commonwealth University
VCU Alumni
VCU Athletics
VCU School of Business
VCU Education Abroad
VCU Fall Fest Rocks!!!!
VCU Graduate School
VCU Medical Center
VCU Recreational Sports
VCU University College
Groups and pages allow administrators to
promote events, post news items and
connect viewers to other VCU groups/
pages. They also give members/ fans
another way to connect with friends.
VCU Page Activity
• Over 36,000 people in the VCU
Facebook network
• As of November 9, the Virginia
Commonwealth University page
had 9,730 fans. 46% of the fans
are in the undergraduate student
age group.
Other VCU Groups
Sample of other VCU
Groups
•
•
•
•
•
•
•
•
•
Alumni in Washington, DC
I Y VCU Baseball
VCU Alumni Working at VCU
VCU APB Movies
VCU Crew
VCU Intercultural Festival
VCU Nursing Alumni
VCU Photo & Film
VCU School of Social Work
Alumni Network
• VCU SGA Forum
• VCU Ultimate Frisbee
• VCU Women's Basketball
And then there are these…
MCV
•
•
•
MCV Class of 2008
MCV Emergency Dept.
MCV not VCU Health System or VCU
Medical Campus
Other
•
•
•
•
•
•
•
I Don'T Need To Have Sex...Vcu F**Ks Me
Everyday!!!!
Screw you, I'm a VCU student.
VCU Stop Raising Da Damn Tuition!!!!
WTF VCU?
VCU Haters
VCU sucks
VCU Freshman Suck!!!!!!
•
•
•
•
An online network of more than
50 million experienced
professionals from around the
world, representing 150 industries
Profiles summarize professional
accomplishments and help users
find and be found by former
colleagues, clients, classmates
and partners
Now allows business to create
profiles in addition to groups
As of November 9, the Virginia
Commonwealth University Alumni
group had over 2,700 members.
There are also several VCU
school groups that have been
created by LinkedIn users.
• Leader in online video
• Simple platform to upload
and share video clips
• VCU Channel created as
the YouTube "home page"
• Links to other VCU
channels
• Real-time, short messaging
service that works over
multiple networks and devices
• Breaking world news to
updates from friends
• VCUPR, VCU Information
Security, VCU Technology
Services and VCU Alumni
most active accounts
•
•
VCUPR profile posted its first entry on
January 7; now over 2,196 followers
VCUPR's followers include:
Media
– NPR News
– Capital News Service
Universities
– washingtonpost
― Virginia Tech News
– Ad Age
― William and Mary
– Newsweek
― Univ. of Richmond
– CBS 6 News WTVR ― UVA
― UVaToday
– SEC Sports
― Old Dominion Univ.
– 8NEWS_WRIC
– Daily_Press_News Government
― Rep. Rob Wittman
(Daily_Press)
― Virginia Department of
– Richmond.com
Business Assistance
– NBC12 Richmond
– WTKR NewsChannel 3
Blogs in Higher Ed
• Faculty as thought leaders
– http://blog.vcu.edu/nascar/
• Shape message communications
• Create more engaged networks
• Frequency no longer as important as size of
network
• Unify blogs with easy-to-find thematic lists of
bloggers
• Share more than words: video, photos,
information graphics
• Leading "bookmarking"
site
• Tag, save, manage and
share Web pages and
content from a
centralized source and
see what's hot with other
users by checking out
popular tags
• Leading photo
management and
sharing application
• Enables new ways of
organizing photos and
video
• VCU's Flickr page
linked to the new VCU
web site and the VCU
Facebook page
Understanding Your Audiences
The Evolution
of Web 2.0
Or,
What is Your
WCQ?*
*Web Culture Quotient
The Internet Meme Timeline
http://www.dipity.com/tatercakes/Internet_Memes#
Oct. 21, 1996: Dancing Baby
Dec. 2000: Peanut Butter Jelly Time
April 2007:
RickRoll
Dec. 6, 2004:
NumaNuma
Feb. 12, 2009: David After Dentist
Top 5 Subjects of discussion in each channel
Rank
Order
Facebook
YouTube
Social
Bookmarking
External Blogs
Institutional
Blogs
1
Campus Life
Events
Courses
Faculty
Campus Life
2
Sports
Campus Life
Projects, NonResearch
Research,
Physical
Sciences
Events
3
Technology
Faculty
Research, Physical
Sciences
Institution Overall
Institution Overall
4
Product Services
Courses
Events
Expert
Commentary
Institution SubGroups
5
Events
Institution Overall
Faculty
Events
Admissions
Standard classifications of discussion
Acknowledging receipt of
information
Advertising something
Answering a question
Asking a question
Augmenting a previous post
Calling for action
Disclosing personal information
Distributing media
Expressing agreement
Expressing criticism
Expressing support
Expressing surprise
Giving a heads-up
Responding to criticism
Giving a shout-out
Making a joke
Making a suggestion
Making an observation
Offering a greeting
Offering an opinion
Putting out a wanted ad
Rallying support
Recruiting people
Showing dismay
Soliciting comments
Soliciting help
Starting a poll
Classification of Video Content
•
•
•
•
•
•
•
•
•
•
Advertisement
Animation
Demonstration
Event/Performance
Fiction
Film
Home Video
Instructional Video
Interview
Lecture
•
•
•
•
•
•
•
•
•
Montage
Music Video
News Broadcast
Promotional Video
Sightseeing/Tour
Slideshow
Speech
Television Show
Video Log
Consider How Your Video is Seen
THEN
NOW
Social Media Best Practices
Basic tips for using social media
•
•
•
•
Don't duplicate your Web site, brochure, newsletter
Start with your friends
Embrace your audience
Keep it personal, real & authentic
– Encourage individuals, not departments, to maintain
institution blogs
– To drive engagement, encourage personal opinions and
anecdotes
• Use often
• Build maintenance time into your schedule
• Encourage participation
Start the Discussion
Safe Bets: somewhat frequent subjects that result in desirable,
engaging discussion
Research/News that has resulted in a new, demonstrable
invention.
Faculty/Staff achievements, lectures and appointments.
Events, especially competitions.
On institution-supported blogs, campus life, depictions of
student life and admissions procedures.
On external blogs, expert commentaries by faculty/staff.
Advertising
• Target your audience
• Ad pricing for Facebook & LinkedIn –
pay per click (CPC) or pay per
impression (CPM)
• Track the progress
Promoting sites and events: Facebook/LinkedIn
• Advertise
• Post links on your profile, groups
or pages
• Add pages to your "favorite
pages" box
• Create events or post links to
events others have created
• Send links for sites and events
to your Facebook friends to get
the ball rolling
How to Measure Success
–
–
–
–
–
–
–
–
–
–
–
Engagement
Number of unique users
Returning versus new readers
Referring source statistics
Links from other sites
Google PageRank
Conversation Index: The ratio of
blog comments to blog posts
(where applicable)
Total time spent on the site
The popularity of the content itself,
which gets the most views
Traffic to web site
Sales
Jump in
/
Questions?