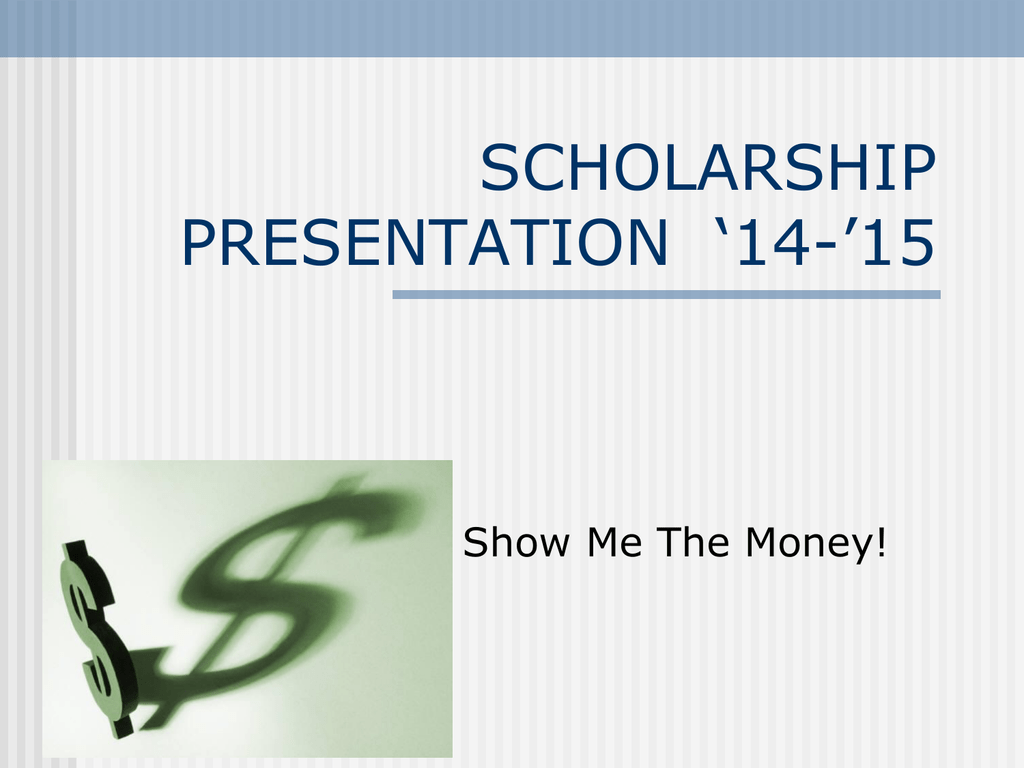 SCHOLARSHIP
PRESENTATION '14-'15
Show Me The Money!
Agenda
Types of Scholarships
 Tips to apply
 Resources
 Matched College Savings Program
 Navigating the BHS website
 (very little about) FAFSA
 And more
 Questions??

Higher Education Costs
Community Colleges
$4,000 tuition
 Public Colleges and Universities
$8,000 tuition, $24,405 total cost
 Private Colleges and Universities
$30,000 (and higher) tuition,
$40,000 (and higher) total cost

Net Price Calculator





College pricing and financial aid a
complicated process
Estimate the net price to attend a
particular college
Every college/university must now include
a Net Price Calculator on their website
www.NetPriceCalculator.com
Simple process: go to site, enter name of
the college, click on NPC link, fill out
questionnaire
Institutional Scholarships



Sometimes students are automatically
considered for an award at a college to
which they have applied (sometimes,
however, there is a separate
application/test for scholarships; check
websites!).
Examples of auto awarded $$ from the U
of O:
Stamps, Summit, Apex, Freshman
General, PathwayOregon, Solari
Specifics…







Stamps=5 awards at $110,000 to cover tuition, fees, r/b, etc.
3.85 GPA or better, 1240 Rdg/Math on SAT or 28 on ACT
Demonstrated leadership, perseverance, service and innovation.
Summit =$5000 renewable
3.80 GPA, minimum score of 1200 SAT or 26 ACT
Apex=$3000 renewable
3.65 GPA, min. score of 1150 SAT/25 ACT
Freshman General University = $1500 - $2000/one-year
"Select outstanding freshman" Based on admission application and h.s.
academic achievement
PathwayOregon = variable $$
3.40 GPA, Pell Grant eligible
Solari = $5000 renewable
"High achieving freshmen" from middle-income households.
FAFSA required!/Check school websites!
Western Undergraduate
Exchange (WUE)

Scholarships for non-residents at
tuition and a half

WUE states: AK, AZ, CA, CO, HI, ID,
MT, NV, NM, ND, OR, SD, UT, WA,
WY

Each college sets their WUE policies
Each College Sets WUE
Policies
Such as…
How to apply for WUE
Application deadlines
Which majors eligible for WUE
Required academic qualifications
#of WUE awards offered
Requirements to retain WUE
WUE FAQs at www.wiche.edu/wue
Check college websites
WUE Savings Scenarios
California Maritime Academy
Resident tuition: $5,600
Non-resident:
$18,864
WUE tuition:
$8,400
Savings:
$10,464
 Montana State University
Resident tuition: $5,470
Non-resident:
$15,961
WUE tuition:
$8,205
Savings:
$7,756

Unclaimed WUE $$
University of Idaho
 30 WUE scholarships targeted to
minorities
 Separate from "regular" WUE
 Only 8 claimed last year!!

State Administered
Scholarships








OREGON STUDENT ACCESS &
COMPLETION (OSAC)
FAFSA application required
One application/many scholarships!
Apply online after Nov. 3 at:
www.oregonstudentaid.gov
Workshops in the CCC
Early Bird deadline: Feb. 15 ($500)
Regular deadline: March 1
OSAC personal statements





Each statement is limited to about 150 words
1. Explain your career aspirations and your
educational plan to meet these goals.
2. Explain how you have helped your family or
made your community a better place to live.
Please provide specific examples.
3. Describe a personal accomplishment and the
strengths and skills you used to achieve it.
4. Describe a significant change or experience
that has occurred in your life. How did you
respond and what did you learn about yourself?
Activities Chart

OSAC requires an awards/activities
chart to see evidence of:
leadership, decision-making,
organizational skills, special
recognition, volunteer service,
and work history
Why Not?, J & D Moore, Ford
Scholars, Amie Wood Memorial
Apply through OSAC
 Why Not?- Obstacles overcome
 Moore - High achievers
 Ford - Financial need/3.0 gpa (100
in OR)90% of need met/must attend
OR school
 Wood - "Well-rounded" kids. Priority
given to work with animals

LOCO FOR LOCAL
SCHOLARSHIPS
Rossi
Scholarship
Susie Laughlin Scholarship
DREAM Scholarship
JJH
2010, '12 & '14 World Champions/SF
Giants!
Local Scholarships (con't)
Careers That Work! Scholarship
 Vose, McKay, Chehalem
Scholarships
 Highland Neighborhood Association
 Scott Rutherford Memorial
 And more!

FUTURE CONNECT @ PCC
Scholarship money $600 - $3000
based on EFC
College success coach
Career guidance
Enrichment activities/Carpe Mundi
1st gen/low income
www.pcc.edu/futureconnect
Navigating the BHS
Scholarship website
Academics link
 Counseling
 College and Career Center
 Scholarships Updated Weekly
(name/link, field, criteria, award)

http://www.beaverton.k12.or.us/beav
erton/
Tips for Applying






Read ALL directions
Make sure you are totally qualified
Assess the competition
Write a compelling essay – have it
proofread and critiqued
Fill out FAFSA as soon after Jan. 1 as
possible
MEET THE DEADLINE!
Remember:
It isn't necessary to pay anyone for
scholarship searches

Check the CCC, BHS website, OSAC,
student's or parent's place of employment,
organizations, and the colleges to which
student is applying!

Examples: Burger King, WalMart, Kohl's,
Rotary, NHS, Beaverton Business, Health
Careers…
Matched College Savings
Program
Enroll at a member college (Concordia, Corban Univ., G. Fox,
L&C, Linfield, Marylhurst, Pacific U, Reed, UPortland,
WPacific, Willamette)





Begin an Individual Development Account (IDA)
Match savings 5:1. Save at least $25/month each month
i.e. $25 a month = $125 in match, a total of $150
Earn up to $8000 total
For more information, please visit
www.mycollegesavings.org or contact one of the
colleges/universities listed above.
Scholarship Resources
www.fastweb.com
www.collegeboard.com
www.oregonstudentaid.gov
www.beaverton.k12.or.us/
beaverton/home.html
www.pcc.edu/futureconnect
www.mycollegesavings.org
raise.me
Through B & M Gates foundation
 Opportunity for any student
 100 participating colleges
 Students earn micro-scholarships
 e.g. $600 for a B in 9th grade
English, $400 for volunteering, $750
for playing a sport

Financial Aid Application



Free Application for Federal Student Aid
(FAFSA). Students and parents can request
Personal Identification Numbers (PINs) now at
www.pin.ed.gov.
Students can also go to
www.fafsa4caster.ed.gov and get an early
estimate of your eligibility for financial aid.
As soon as possible after January 1 students
and parents should complete the FAFSA at
www.fafsa.ed.gov.
Financial Aid Application

College Scholarship Services
PROFILE – is required my some
private schools who want additional
financial information that the FAFSA
doesn't provide.
Financial Aid Night
 December
of your senior
year.
 Next year: 12/2015
details to follow….
Financial Aid Day/PCC
Monday, Jan. 12: Cascade Campus
Tuesday, Jan. 13: Sylvania Campus
Wednesday, Jan. 14: Rock Creek Campus
Thursday, Jan. 15: Southeast Campus
5:30 pm Check-in and light refreshments
6-8pm Information sessions
 Spanish language advisors available at all
locations
 For more information contact [email protected]
Undocumented Students





Cannot apply for FAFSA money
Scholarships available (i.e. Future/Connect, as
well as MCSP, the BHS website, and more)
Resources: www.edudaris.com, www.maldef.org,
www.scholarshipsaz.org,
www.pcc.edu/futureconnect
Tuition equity: Undoc students who earn a high
school diploma or GED are now allowed to pay
resident tuition rates instead of nonresident
tuition rates.
See your counselor. We are here to help you.
ARMY SCHOLARSHIPS
Post 9/11 GI Bill

ACTIVE DUTY
*Tuition and fees paid to your college of choice (up to $19,198
p/yr)
*Monthly housing allowance (i.e. Portland = $1,620)
*Book allowance of $1,000 p/yr
*Total 4-year scholarship is $139,112 (for 3 yrs minimum of
military service)


RESERVES
Enlistment
6-years
GI Bill
Payment (monthly)
$13,032 $362
TUITION ASSISTANCE
$4000 p/year * both active and reserve
POC: SFC Bivins (503)381-1357, SSG Bobian (503)449-1070

QUESTIONS?