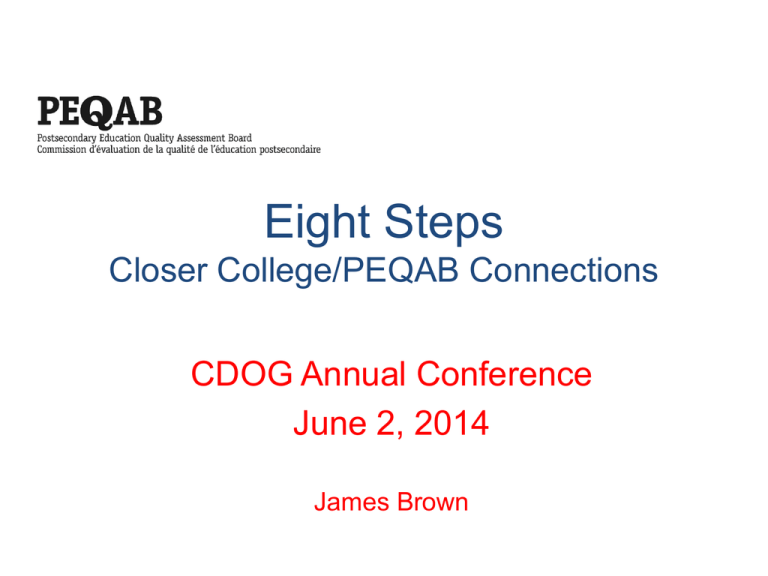 Eight Steps
Closer College/PEQAB Connections
CDOG Annual Conference
June 2, 2014
James Brown
Step One
Clarifying/expanding what "counts" as scholarly
engagement:
faculty are intellectually engaged with developments in
their fields, including
-participation at conferences
-scholarship of teaching/learning (pedagogy)
-participation in certification degree audits & related
TAKEN/DONE
-applied, labour market research & industry needs assessment
-applied conceptual knowledge to practice: consulting/industry
reports, case studies
Step Two
Work Terms: Flexibility on 14 "Consecutive" Weeks
Any work-integrated learning experience
STARTING
TODAY
a) Is appropriate to the program field
b) Has articulated appropriate learning outcomes
c) Has identified methods for both instructor and
supervisor to "evaluate"
d) Amounts to no less than 14 weeks (490 hours) in one or
multiple blocks
Step Three
50% "Count" Terminal Credentials
Two methods of counting
STARTING
TODAY
a) 50% of faculty teaching courses hold the terminal
academic credential in the field or related field
b) 50% of courses are taught by faculty holding the terminal
academic credential
Proviso: in the context of a practicable schedule of teaching
assignments
Step Four
Assessor Orientation
One of PEQABs values: "fair and ethical"
STARTING
TODAY
Could you offer your expertise, based solely on the
merits of the program and without reference to the
kind of institution offering it—whether that be an
Ontario College, a private institution or a public
university from outside Ontario?
Step Five
"Studio" vs. "Lecture" Formats
"Hands On Learning" vs. "Other Academic" assessed
differently as to terminal degree, venue characterized by
Specialized facility
NEXT STEP
At least 50% of contact hours hands-on/guided practice
Small class size
Terminal credential may be less than a PhD or Masters
Step Six
Clarifying Procedures on "Samples of Student Work"
Terminal stage of the program (3rd year or 4th year)
Offered to students in program being reviewed
NEXT STEP
Total equals 20% of students in program
Minimum of 15—5 in each "pile"
Variety of assessment, including qualitative & capstone projects
Step Seven
"Lighter Touch" Audit Process
PEQAB recommends to Minister lengths of "Consent"
Recommended consents: 5 years, 7 years or "unlimited"
NEXT STEP
No Minister ever implemented "unlimited"
Develop an "audit process" for a new "ongoing" Consent
"Lighter touch" focus on Colleges processes to qualityassure its programs itself
Step Eight
Survey: College Satisfaction with PEQAB
PEQAB secretariat continuous improvement in service
Willing/able to identify gaps in your submissions?
NEXT STEP
Clear and timely communication?
Helpful presence at site visits?
Generally helpful attitude?