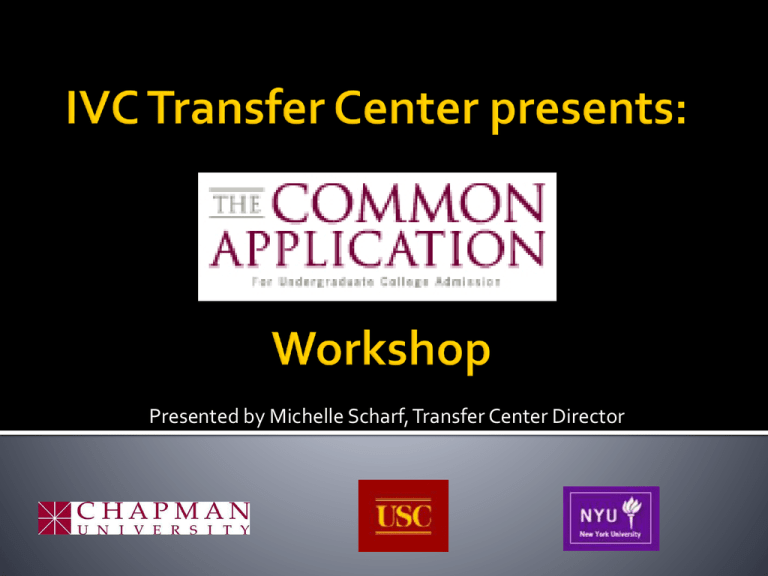 Presented by Michelle Scharf, Transfer Center Director

Used by over 500 4-year colleges and universities around
the country and world – some of the most popular ones
for IVC students are Chapman, USC, Loyola Marymount,
and NYU

One application goes to all participating colleges you want
to apply to

School forms must be printed and submitted for each
school you're applying to: Final Report (aka School
Report), Mid-term Report, Registrar Report

Some schools also require a writing supplement

A fee is paid for each school you apply to – fees vary

You will need two websites for each school you apply
to:
 The school website. Check this first! On the school
website, you will need to find the "Application Checklist"
which will have the following information:
▪ Application due date
▪ Specific school forms needed by that school (not all of the forms
may be needed!) - read carefully!
▪ Additional requirements such as a writing supplement, letters of
recommendation, specific school requirements, etc.
▪ For example, Chapman University, USC, NYU
 The Common App website:
https://www.commonapp.org/CommonApp/Default.aspx
 Start a checklist of each school you will apply to and include their due
date, fee, what school forms they require, whether they want a
writing supplement, personal statement, letters of recommendation,
transcripts, SAT/ACT scores, and departmental materials
 Use the current version of your browser
 Disable popup blockers
 Once you create your username and password, you can start, save,
stop, and log back in – you don't have to complete the whole
application in one sitting
If you need support, visit the Applicant Help Center:
https://appsupport.commonapp.org/ics/support/splash.asp
Find each college you
want to apply to –
these will go on your
"Dashboard"
Click on the My Colleges tab to
see contact info, application
deadlines, application fees,
and school forms required.
Next, click the
Common App
tab. There are
6 sections to fill
out before you
are finished. This
information will
be sent to all
schools you apply
to.
From the Common App website:

The essay demonstrates your ability to write clearly and concisely on a selected topic and
helps you distinguish yourself in your own voice. What do you want the readers of your application
to know about you apart from courses, grades, and test scores? Choose the option that best helps
you answer that question and write an essay of no more than 650 words, using the prompt to
inspire and structure your response. Remember: 650 words is your limit, not your goal. Use the
full range if you need it, but don't feel obligated to do so. (The application won't accept a
response shorter than 250 words.)
• Some students have a background or story that is so central to their identity that they believe their
application would be incomplete without it. If this sounds like you, then please share your story.
• Recount an incident or time when you experienced failure. How did it affect you, and what lessons
did you learn?
• Reflect on a time when you challenged a belief or idea. What prompted you to act? Would you
make the same decision again?
• Describe a place or environment where you are perfectly content. What do you do or experience
there, and why is it meaningful to you?
• Discuss an accomplishment or event, formal or informal, that marked your transition from
childhood to adulthood within your culture, community, or family.
Your Dashboard will
be home to the schools
you choose. Click on one
to work on the application.
The yellow dots tell you
they have not been
submitted yet.
When you click on a
school, it should say
"Ready" by Common
Application. You just
have to answer member
questions , assign
recommenders, and
do the writing supplement
if required. Click on the
links to complete these
steps.
For the Academic Evaluator, put the
person's name and email address
that you want to write you a letter of
recommendation. They will receive
an email asking them to log in, write
your letter and submit it.
For the Registrar Report, IVC wants
students to use the hard copy. Since
you have to "invite" a Registrar, put
Ben Guzman for the name, and
admissions@ivc.edu for the email
address. Then print out the Registrar
Report from the bottom of the screen
only if your college(s) requests it. Take
it to IVC Admissions for processing. You
can also request your IVC transcript to
be submitted with it.
If you recommender has trouble with
creating an account or logging on,
they can opt-out and submit a hard
copy to each school you are applying to.
Be sure to give them stamped, addressed
envelopes for each school.
Also, give recommenders at least 2 weeks
notice before inviting them online! No
one likes being asked to write a letter at
the last minute!

This is one of the forms at the bottom of the
recommenders screen. If your college asks
for a Final Report (formerly known as a
School Report), then you will need to print
this out and give it to your high school to
process. They will fill it out and send it with
your high school transcript to each college
you are applying to. You may have to print
out multiple forms if you are applying to
multiple schools.

Another form on the recommenders screen.
Print this out and take it to each instructor
you have currently. They will indicate your
current grade and sign it. Mail a copy of this
form to each school you are applying to and
keep an original for you. Remember, not
every college will ask for this form.
Once you are finished,
All parts of the application
should say "Ready". Click
the submit button. A PDF
version of your application
will be created. (It takes a
while).
Review your application,
pay your fee (if not waived),
and sign.
Once you see the green
checkmark on the dashboard,
the schools you applied to
have access to your application.
You will submit your writing
supplement separately.

If you need to make changes to your application after
submission, you have to contact the college's
admissions office to do so

If you apply to other colleges after, you can make
changes and then submit

Keep an eye on your email – check at least weekly

Don't miss deadlines for documents such as
transcripts, school forms, letters of recommendation,
portfolios – it can cost you your admission!