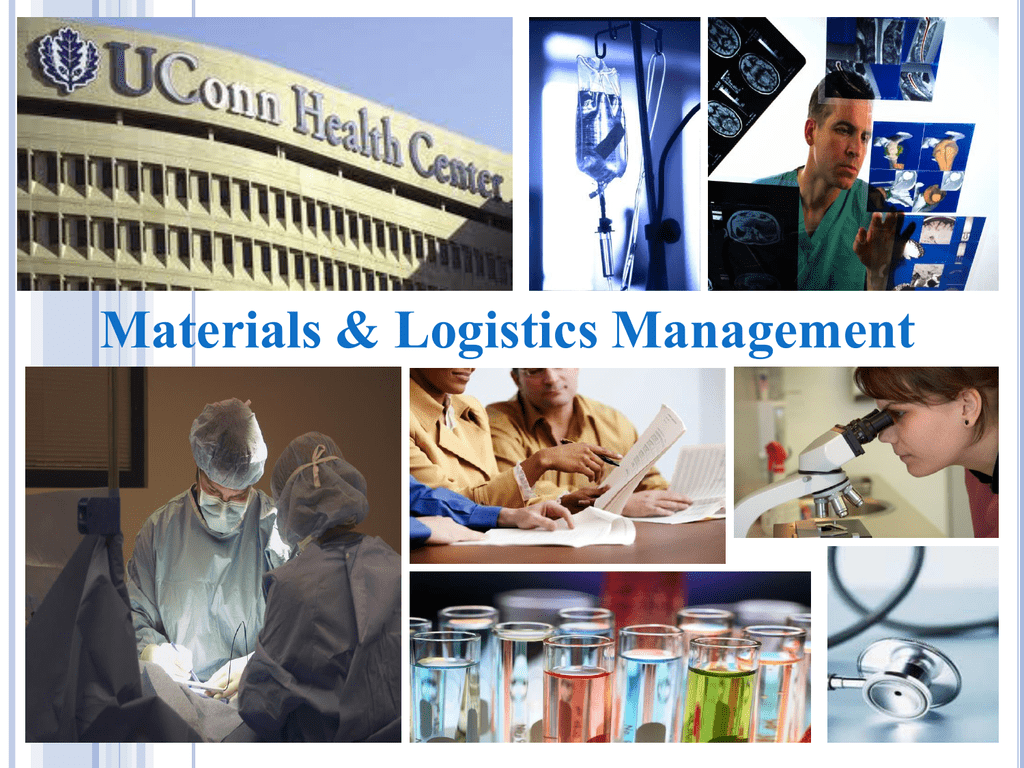 Materials & Logistics Management
OFFICE OF MATERIALS & SUPPLY CHAIN MANAGEMENT
MISSION STATEMENT
Materials & Logistics Management (MLM) is
dedicated to advancing the Health Center's academic,
research and clinical care objectives by providing the
Health Center community with expert, efficient, cost
effective and compliant supply chain logistics,
distribution, inventory, property management, records
retention, shipping and receiving services. Working
together, we will tap into our collective power and
experience to offer a diverse perspective from our
various Hospital and Clinical departments, challenge
current practices, promote innovative solutions, and
advance the University of Connecticut Health
Center/John Dempsey Hospital to the next generation
of supply chain optimization and savings.
Jack Ferraro
860-679-1927
University Director and
State of Connecticut
RML Officer
Materials, Supply Chain, Property
& Resource Management
The Friendship of Those We Serve is the
Foundation of Our Progress.
Our philosophy is to use a team
approach that involves our customers.
MLM'S ROLE - WHAT WE DO





Transportation – Patient Transportation, Central Shipping/Receiving &
Distribution (mail & courier)
Property Administration
• Tag and track capital assets
• Handle moving and storage needs
• Ensure compliance with records retention and destruction requirements
• Oversee electronic waste and degaussing process
• Manage surplus property program
• Manage fleet vehicles & vehicle rental program
Clinical Inventory/Supply Chain – Manage Central Warehouse, clinical
inventory formulary and PAR programs
Value Analysis – Partner with clinical leadership and Procurement
Department to reduce costs and improve quality of care through the
selection of clinical products
Health Care Industry Representative Badging – Support efforts of Public
Safety and Compliance Department to ensure that only authorized
individuals are allowed into patient care areas
MLM SERVICE AREAS
Transportation
Patient Transportation, Central Shipping/Receiving & Distribution
• Provide patient transportation and related services for JDH
• Provide central shipping and receiving services (including customs and
•
•
•
•
outbound freight)
Sort and meter mail
Provide on-campus and off-campus distribution
and courier services (pick-up and delivery of mail,
packages and supplies)
Distribute clinical PAR inventory
Ensure that materials are received and accounted
for, and that they are distributed in a safe, timely
and efficient manner
MLM SERVICE AREAS
Property Administration/Capital Assets
• Update the Health Center's equipment inventory data file
• Reconcile the equipment inventory data file to expenditure
information
• Conduct physical inventories throughout Health Center as
required
• New Acquisition Control (tag & inventory)
• Loss Reporting
MLM SERVICE AREAS
Motor Pool & Fleet Operations
• Maintain a fleet of passenger vehicles, vans and trucks to
support the business needs of all Health Center departments
• Vehicles are available for daily rental or monthly leases
• Manage UCHC's Central Motor Pool, which allows departments
to share the use of state vehicles for business purposes.
• Daily rentals available through the MLM Help Desk.
• Special event bus/transportation program to support UCHC's
business needs
MLM SERVICE AREAS
Clinical Inventory & Supply Chain
• Ensure proper placement & distribution of all items within the
•
•
•
•
clinical inventory formulary
Maintain & monitor inventories in the hospital & clinical
enterprise
Enter Requisitions into HuskyBuy for clinical supplies
Work with clinical leadership and Procurement Department on
Value Analysis and the development of product standards for
the clinical enterprise
Coordinate the evaluation and trial of new
clinical equipment and supplies
MLM SERVICE AREAS
Warehouse Services
• Provide short- and long-term warehouse
•
•
•
•
storage
Manage central inventory
Coordinate the surplus supply and equipment
credit/exchange and disposal programs
PAR inventory for JDH, UMG, SODM & CMHC
Provide on-site records storage (for records
that are required to be retained on site)
REQUESTING NEW CLINICAL PRODUCTS & EQUIPMENT

Requests for clinical products or equipment not already being used at UCHC
require additional review and approval for:






The new item may need to be trialed before it can be approved.
For supplies/equipment used in a clinical setting:




Compatibility with UCHC's current clinical products, equipment & systems
Safety/effectiveness of item and regulatory approvals for use
Staff training required
Financial viability – total cost of item requested including cost of consumables and
peripherals, reimbursement eligibility, impact on UCHC's product standardization
program
The new item must be reviewed and approved by one of our Clinical Value Analysis
committees
The Procurement Department investigates potential sourcing for the new item –
what suppliers sell it, and at what price?
Materials & Logistics Management handles the financial analysis and coordinates
trials of the new item
Once all approvals to purchase it have been obtained, the Procurement
Department will work with the requesting department to source the item
(through a bid, GPO or sole source process).
HEALTH CARE INDUSTRY REPRESENTATIVE REGISTRATION
Healthcare Industry Representative Notice
Dear Healthcare Industry Representative,
We are committed to providing the best patient care available to our patients. As a healthcare industry
representative, you are an integral part of this process and it is a priority of ours to ensure that we, and our
vendors, are compliant with hospital policy and industry standards.
The University of Connecticut Health Center/John Dempsey Hospital is requiring that you provide
documentation that you will abide by our standards for environmental health, safety, privacy and quality.
In order to assist our hospital with credentialing all vendor representatives in the most efficient way, we
have partnered with Vendormate (www.uchc.vendormate.com). Vendormate provides an internet based
service that will allow our vendors and hospital departments to navigate our compliance goals in an
efficient, easy and comprehensive manner. Please go to www.uchc.vendormate.com, register, and begin
completing your profile and submitting the required compliance documentation for our review. If you have
already registered with Vendormate due to your working relationship with other hospitals, you do not need
to register again. However, you do need to log-in to your account and ensure compliance with The
University of Connecticut Health Center/John Dempsey Hospital policies, by selecting the respective
facility and submitting the appropriate documents. …
HEALTH CARE INDUSTRY REPRESENTATIVE REGISTRATION
Hall Pass Assigned to Vendor Representative
Hall Pass includes a picture of the
vendor along with the date, time, vendor
name, UCHC Logo, and the department,
contact or physician they are there to
see that day. Badge also is time expiring;
after 12+ hours the badge becomes
invalid and is visibly "Expired", showing a
red stop sign.
MATERIALS & SUPPLY CHAIN TEAM
Jack Ferraro - x1927
University Director and State of
Connecticut Records Management
Liaison Officer
Jeff Boyko - x1955
Assistant Director and Business/Finance Manager
Property & Materials Mgmt
• Capital Assets
• Moving & Storage
• Records Storage
• Surplus Property
• Transportation
• UCHC Fleet Operations
Business & Finance Services
• Clinical Supply Chain
• Supply Chain Management
• Warehousing
• Inventory Control
MATERIALS & SUPPLY CHAIN TEAM
Adam Mike - x3255
Materials Logistics Supervisor
Central Warehouse Services
• JDH, UMG & CMHC PAR Program
(for all clinical & non-clinical
supplies that are on PAR)
MACOLA/e-Portal/Barcode Apps
Code Carts
Q-Sight
• Cardiac Cath Lab
• EP Lab
• Radiology
• Suture & Endo
Alex Schwarz - x1942
Materials Transportation Supervisor
Patient Transportation
Central Shipping & Receiving
(including desktop shipping)
Central Distribution (mail & courier)
Demurrage Services (gas cylinders)
Filtered Water Cooler Services
MATERIALS & SUPPLY CHAIN TEAM
Dan Hannon - x2740
Medical Materials Supervisor &
Clinical Supply Chain Liaison
Providing Clinical Materials Expertise and Support
• Serving John Dempsey Hospital: CSS, Equipment Storage
Services, OR, FSC, Transportation
Karen Grady - x2283
Materials Supply Chain & Resource Supervisor
Materials Supply Chain & Resource Management
• Central Help Desk Services
• Resource Services: JDH/UMG/OCME Requisitioning
(e-Portal/SIS/HuskyBuy), Badging/Hall Pass Program, Inventory
Services, JDH Clinical Laboratory Supplies, CMHC Supply
Inventory Services, UMG Clinical Supplies, Medical & Surgical
Supplies, Housekeeping Supplies, Non-Hazardous Chemical
Supplies, Clinical Forms & Business Supplies
• Analytical Services: MLM, UMG Clinics, CMHC, Hospital,
Pharmacy & OCME
MLM ON-LINE RESOURCES
On the MLM Website, you can access…
• Forms required for:
• Move Requests (MM-1)
• Surplus Property/Equipment Removal Requests (MM-2)
• New Product/Implantable Device Request (MM-7 & MM-
12)
• Product Returns (MM-17)
• Use of Fleet Vehicles (MM-11 & MM-11C)
• Records Disposition Authorization Form (RC-108)
• Warehouse Catalogs
• E-Portal On-Line System
• Clinical products standardized by JDH, Pharmacy, UMG
Clinics, Dental, CMHC and OCME are available through the
e-Portal on-line ordering system
MATERIALS & LOGISTICS MANAGEMENT
CONTACT INFO
Help Desk – Central Distribution Services (West Dock): x1958
Help Desk – Central Warehouse Services: x1965
Help Desk – Capital Assets, Inventory Control: x1952
MATERIALS & RESOURCE MANAGEMENT
THANK YOU!