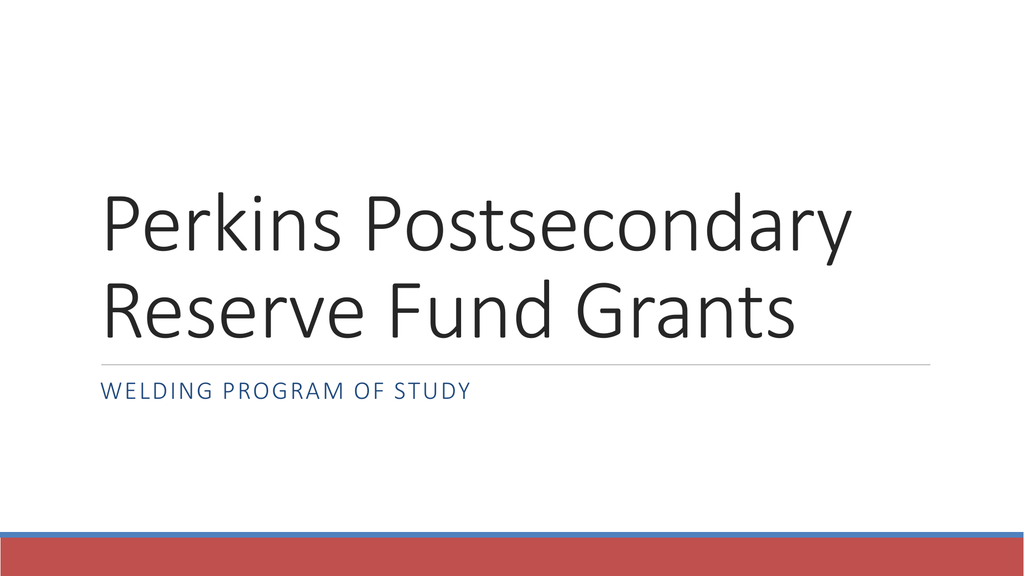 Perkins Postsecondary
Reserve Fund Grants
WELDING PROGRAM OF STUDY
Overview and
General Information
Reserve Fund Authorization
The approved Arkansas State Plan for Career and Technical Education authorizes ADHE to
reserve up to 10% of awards provided to local recipients.
This Perkins Postsecondary Reserve Fund may be used to fund model projects that support
statewide Perkins goals and will be awarded through a competitive RFP process.
These model projects include alignment of curricula in CTE programs of study as defined in the
current Perkins legislation.
Recipients must be willing to provide technical assistance to institutions wishing to replicate
projects funded through the Reserve Fund.
Purpose of Reserve Fund
Funds will be awarded for the purpose of increasing the number of students completing welding
programs and receiving recognized industry certification.
Preference will be given to proposals that focus primarily on aligning welding curricula between
secondary and postsecondary institutions and with said curricula based on industry standards
which meets the needs of business and industry in Arkansas.
Use of the reserve fund for programs of study is also in response to a compliance finding
received during a federal monitoring review in 2014. Arkansas is in improvement plan status
until this deficiency is corrected.
Reserve Fund Amount
Perkins recipients did not spend $180,000 of funds allocated in 2013-14.
ADHE has set aside $95,000 of this amount for the Perkins Postsecondary Reserve Fund to be
distributed through a competitive grant process for developing and/or enhancing programs of
study in welding.
Amounts awarded are in addition to basic grant awards and will be reimbursed separately from
these funds.
Eligible Recipients
Institutions eligible for Reserve Fund grants must be a current Perkins recipient and meet at
least one of the following criteria
Be located in a rural area. For the Reserve Fund, rural is defined as Arkansas counties will less
than 120 persons per square mile. (Benton, Craighead, Faulkner, Garland, Pulaski, Saline,
Sebastian, and Washington)
Have a high number of CTE students. For the Reserved Fund, this is defined as a minimum of
800 students enrolled in CTE programs.
Have a high percentage of CTE students. For the Reserve Fund, this is defined as either 50% of
overall student population enrolled in CTE or 50% of all programs offered are CTE.
Rural: Less than 120 person per square mile
Program of Study Definition
Sec. 122. (c)(1) CTE program of study definition
Incorporates secondary and postsecondary elements
Includes coherent and rigorous content aligned with challenging academic standards and
relevant CTE content
Is delivered in a coordinated, non-duplicated progression of courses that align secondary and
postsecondary education to prepare students to succeed in postsecondary education
May include opportunity for dual/concurrent/articulated college credit
Leads to an industry-recognized credential or postsecondary certificate or degree
Eligible Use of Funds
Alignment and Credit Transfer
Expenses related to convening secondary and postsecondary staff for purpose of aligning
curriculum (stipends, travel, meals, meeting supplies, etc.)
Expenses related to establishing agreements between secondary and postsecondary
Expenses related to establishing agreements between postsecondary institutions for purposes
of credit transfer
Expenses for required curriculum development and/or embedding of NCCER, AWS or other
industry recognized curriculum in existing coursework
Eligible Use of Funds
Strengthening Advisory Boards for Alignment with Industry Needs
Expenses related to establishing joint secondary/postsecondary and/or regional welding
advisory boards
Eligible Use of Funds
Increase Number of Students Earning Technical Certifications
Expenses related to activities that increase the number of students obtaining industry
certifications (certification of faculty to administer certification assessments, student testing
fees, etc.)
Eligible Use of Funds
Other Items
Professional development/certification for welding faculty
Activities that promote enrollment and completion of females in welding programs
Expenses related to collection and reporting of student certification results
Administration of the grant
Equipment and/or classroom supplies are ineligible at this time. If funds remain, a second grant
period will be open for equipment requests.
If requested funds are for something other than curriculum alignment, a completed Program of
Study Template for the welding program must be provided as evidence that the program
complies with Perkins requirements.
Award Period and Timeline
Date
Activity
February 20
Grant Application Process Announced
March 16
Application Deadline
April 3
Applicants Notified
September 30
Deadline to Obligate Funds
December 15
Deadline to Submit Final Project Report
December 15
Deadline to Submit Final Request for Reimbursements
Application and Submission Process
Qualified institutions must submit a proposal describing the nature and scope of the proposed
project and the amount of funding requested.
The application form and related documents can be found at http://www.adheperkins.com
under State Announcements.
The Perkins Postsecondary Reserve Fund application form must be submitted electronically to
[email protected] no later than 4:30 p.m. on March 16, 2015.
Applications received after the deadline will not be considered.
Applicants will be notified of results by email no later than April 3, 2015.
Reporting Requirements
A final narrative report and a final expenditure report must be submitted no later than
December 15, 2015.
The final report must include a completed Program of Study Template (found at
http://www.adheperkins.com).
Failure to Commence and/or
Right to Terminate
If the project activities described in the grant proposal have not commenced within 30 days
after acceptance of the grant award, the recipient must provide a written explanation and an
adjusted timeline.
If project activities have not commenced within 15 days of the receipt of this letter, ADHE may
terminate the grant and the recipient will be required to reimburse the State of Arkansas for all
Reserve Fund monies previously received.
Any changes to activities described in the grant assurances must be approved in writing prior to
the change occurring. Failure to do so could result in termination of the grant and/or refusal to
reimbursement expenses paid without proper approval.
Payment of Grant Funds
Funds will be paid to the institution on a reimbursement basis.
Documentation must accompany all requests for reimbursement.
This documentation includes evidence of the date of obligation and evidence that the expense
has been paid by the institution.
This reimbursement is separate from basic Perkins grant funds.
For More Information
Monieca West, ADHE Federal Program Manager
501.371.2018
[email protected]
Grant Application
Documents
www.adheperkins.com
Cover Page
CONTACT INFORMATION
PROJECT MANAGEMENT
Submitted by: Click here to enter text.
Project Manager: Click here to enter text.
Title: Click here to enter text.
Title: Click here to enter text.
Phone: Click here to enter text.
Phone: Click here to enter text.
Email: Click here to enter text.
Email: Click here to enter text.
Cover Page
CONTACT INFORMATION
PROJECT MANAGEMENT
Submitted by: Click here to enter text.
Project Manager: Click here to enter text.
Title: Click here to enter text.
Title: Click here to enter text.
Phone: Click here to enter text.
Phone: Click here to enter text.
Email: Click here to enter text.
Email: Click here to enter text.