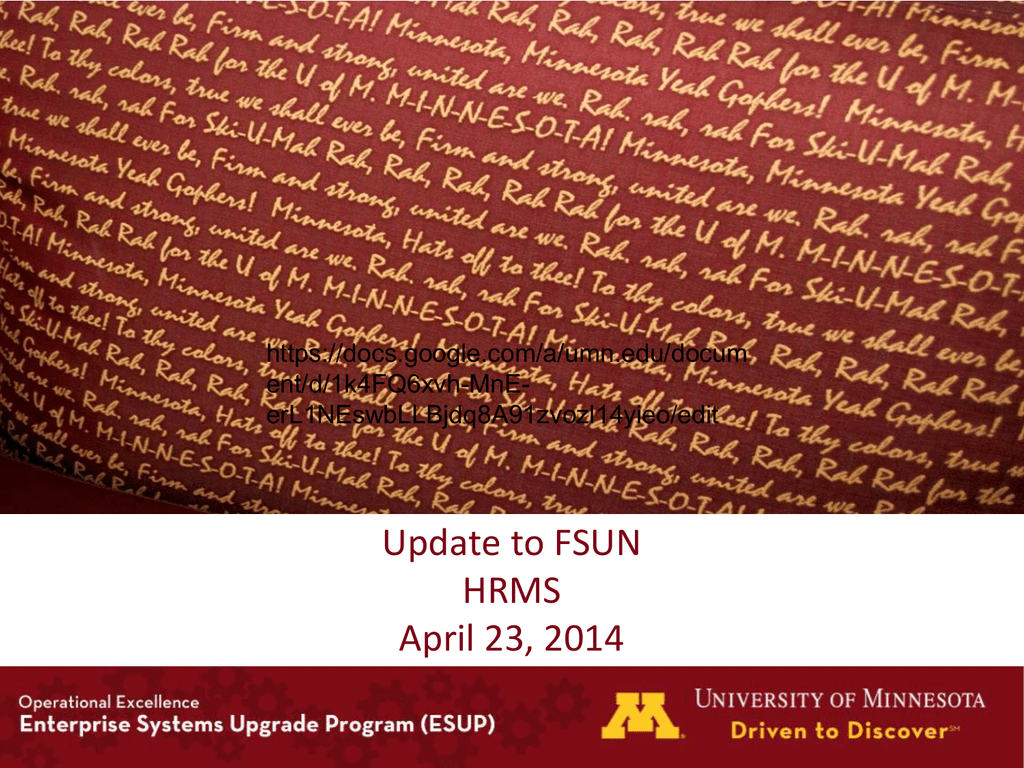 https://docs.google.com/a/umn.edu/docum
ent/d/1k4FQ6xvh-MnEerL1NEswbLLBjdq8A91zvozl14yieo/edit
Update to FSUN
HRMS
April 23, 2014
Agenda
• Distribution Entry
• Time Sheets
• Account Value Expansion
• HSAs
• FRP Changes
2
Today
• Distributions are tied to appointment entry
• Each employee record has its own distribution
3
After the Upgrade
• Distribution entry will be separate task from
appointment entry; can assign the work to two people
• Distributions can be at:
• Department (Default if no other level defined)
• Position Pool
• Position
• Individual appointment
• Both tasks, appointment entry and distribution entry,
still occur in HRMS
4
Department Budget Front End
On the following slide
• Top section shows employee job, compensation and additional pay
data
• Bottom section is where distribution is entered
– First level – effective date of distribution
– Second level – earnings code (blank code represents all earnings
not otherwise specified) base salary is represented by the blank
earnings code
– Third level – distribution to combination codes by percent (must
total 100%)
• Below is an example of an 'Appointment' funded employee. Many
employees will be funded by the Department-level distribution or
Position-level. The hourly employees with multiple projects would have
to be Appointment-level
Punch Time Sheets with Comments & Combo
Codes – Hourly & Exception Hourly
Chart of Accounts Information
Account Value Expansion
• The account chart field is one of the values that
makes up a chart string
• In order to implement Simplify Fringe, account
values need to increase to provide granularity
• In EFS, account values represent employee
groups
• Changes are required in 8.9 for FY 2015
• Key point - accounts are mapped to jobcodes
Chart of Accounts Information
HRMS Impact
• Distributions must change for any employee whose
jobcode's account value is changing
• Much of this work can be done paired with merit
increases which are entered for 6/16/14
• If increases are going to be retroactive, a new
distribution must still be entered for 6/16/14 before
the first FY 2015 payroll is run
• Central oversight will be needed to ensure this
work is completed - 25,000 job records and 52,500
distributions
Chart of Accounts Information
Employee Groups
• Faculty require no changes
• P&A – only changes for Administrative, Police, and
Post Doc/Research Specialist
• Grad Assistants generally ok, but Resident/Fellows
need to a new combo code
• Students – work study and Professionals in training
• Civil Service require no changes
• Labor Represented require changes
• Temp & Casual require changes
Retro Distributions
HSAs in 8.9 – Retros in 9.2
PeopleSoft has two types of retro distributions:
Budget retro – occurs when making an historical
distribution entry change, i.e., the effective date of a
distribution change affects pay periods that have
already been expensed, and
Direct retro – occurs when crediting a chartstring that
was used for an employee's salary or fringe
transactions and debiting a different one.
Retro Distributions
HSAs in 8.9 – Retros in 9.2
CCI & Payroll Accounting IDP Recommendation:
Use PS's delivered retro distribution processing, and
eliminate the U's custom HSA process.
Add a custom page for the entry of direct retros to
both limit the functionality for users (direct retros are
very powerful and unwanted errors could occur) and
to facilitate and speed up the data entry process.
This page will also allow for justification comments.
Retro Distributions
HSAs in 8.9 – Retros in 9.2
Executive Oversight Committee approved the joint
EFS/HR/SPA recommendation on Retro Distributions on
3/25/14.
Will process Retro Distributions in 8.9 through the effort
period (October 2015). Will build a feed from 8.9 to 9.2
to update the 9.2 data. After this effort period, retro
distributions will be done manually, as needed.
Joint work grouped looked at five options and
determined this was the best option.
FRP Plan Changes
• Waiting period for P & A employees who do not meet
salary thresholds was eliminated by the Board of
Regents, effective July 1st, 2014.
• All Faculty earnings are subject to FRP deductions
(eliminate SMR/SMZ distinction) effective May 4th,
2014.
• Communication will be coming from Benefits.
Questions?