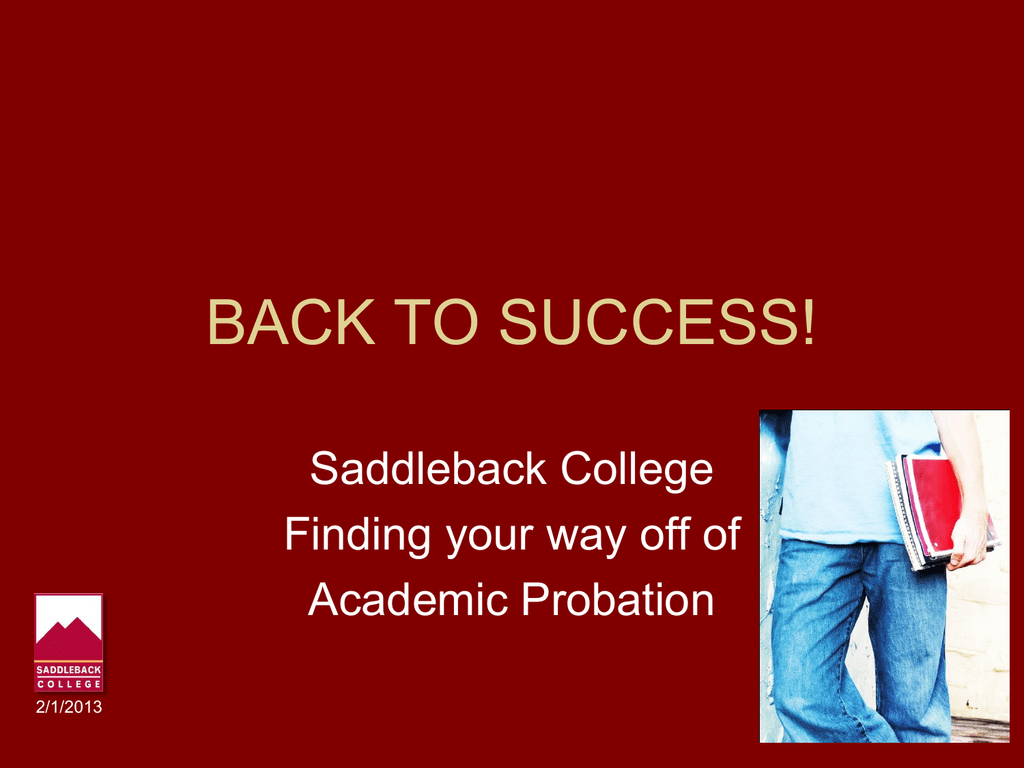 BACK TO SUCCESS!
Saddleback College
Finding your way off of
Academic Probation
2/1/2013
Back to Success
N0-F funded through a
Basic Skills Initiative Grant
Back to Success
• You're here because you are "First-time"
student on probation.
• Now MUST attend a probation workshop.
• Research shows early intervention will
benefit the student.
• Beginning Summer 2012 students may
only repeat courses 3 times. "W" count
too!
Back to Success
• Academic Probation
-Student has attempted
at least 12 semester
units.
-Grade Point Average
(GPA) is below 2.0
• Progress Probation
-Student has enrolled in
at least 12 semester
units.
-Entries of "W," "I," and
NP exceeds 50% of
all grades.
Back to Success
Dismissal
• Cumulative GPA below 1.75 for three
consecutive semesters.
• "W," "I," and "NC," exceeds 50% in three
consecutive semesters.
• Student is dismissed from Saddleback
College and may not register for classes for
one semester.
Back to Success
• How did you end up on Academic
Probation?
- This is not the time to kid yourself, be
honest.
Back to Success
Back to Success
•
•
•
•
•
•
•
Too many worked hours?
Too many classes?
Missed the date to drop the class?
"My instructor was going to drop me!"
Why am I going to college?
No major?
Not ready; you can't keep up with the
work? Refresh on some basic skills.
Back to Success
• Who has a major?
• APSY 140
• APSY 160
• Career Center
Back to Success
Life Happens…
Illness/accident
Family obligations
Financial needs
Lack of motivation
Personal problems: drugs, depression, etc.
Other issues
Back to Success
• Know the last day to drop a class without
receiving a "W."
• Utilize support services on campus such
as Special Services, Financial Aid and
EOPS.
• A great tip: Go back and review Online
Student Orientation and Online
Advisement again.
Back to Success
Reduce work hours
• Schedule 2- 3 hours
per unit, per week, for
studying.
• Take fewer classes
• For one 3-unit class
you need to schedule
6 hours per week for
studying.
Back to Success
• Take into account other obligations: work, family,
relationships, recreation and sleep.
• Full time = 12 units +
• Part time = 11 units • General Guidelines:
Working
Units
– 40
3-6
– 20
6-12
– 10 or less 12-19
Back to Success
•
-
What are you trying to do at Saddleback?
Transfer
Certificate
AA Degree
Back to Success
• Remedial Work: English 200/Math 251
• General Education: IGETC, CSU Transfer
• Lower Division Major Prep: ASSIST, AICU
• Electives
MATH 124
ART 25
CHEM 210
APSY 140
• 1 – 299
• 1 – 199
• 1 – 99
Saddleback College
CSU
UC
Back to Success
•
-
Drop your class
Drop deadlines
Where do you find out when the date is?
You are responsible for dropping your
class; don't assume your instructor will
drop you.
Back to Success
• What's an incomplete?
Back to Success
• If you cannot complete a course because
of an emergency, ask your instructor for a
grade of "incomplete."
• Obtain conditions of completion in writing.
• You have one year to complete the course
for a grade, or.."F"
Back to Success
Magic!
Request for Transcript Repeat Notation
Original Class
Repeated Class
Course Title
Grade
Semester/Year
Course/Title Grade
Semester/Year
English 1A
F
Fall/10
English 1A
Spring/11
*Complete form, you sign and turn into Admission & Records
B
Back to Success
• "I didn't deserve that bad grade!"
• "That "F" was a mistake, my instructor
made a mistake!"
• You have 45 days once your grade is
posted to have a grade change made by
your instructor.
Back to Success
•
•
•
•
•
•
Academic Renewal
Complete a petition in A&R
No more than two semesters or 30 units of parttime work.
Work is 3 years old or older.
You have completed 30 new units from an
accredited college or university with a 2.5 GPA.
Guaranteed at Saddleback only.
Use one-time only.
Back to Success
•
•
•
•
•
Follow up:
Make an appointment with a counselor
Take an APSY 140 or 160 course
Get free tutoring in the LRC
Get support from the reading and writing
labs.
• Take a study skills class
• Health Center
Back to Success
• No one is perfect…
• College Success Guide
• Complete
• Select your lowest area, one
recommendation you are willing to make
to improve your grade.
Back to Success
• Questions..
• What's next for you?
Back to Success
• Have you completed a MAP (my academic
plan)?
• Use this tool on mysite
• Make some drafts and bring them with you
to your next counseling appointment.
• Prevent "W, D & F on your transcript.
• You work at Saddleback College matters
and it stays on your transcript
permanently!
Quiz
• 1. Which statement best defines academic
probation?
• A cumulative grade point average (G.P.A.)
below 2.0
• Failure to complete at least 50% of the units
enrolled in
• Enrolled in too many units for the semester
2- Which statement best defines progress
probation?
• My GPA is below a 2.0
• Failure to complete at least 50% of the units
I enrolled in
• Failure to turn in my homework
3- Students who stop attending a class,
without officially withdrawing, may earn the
letter grade of "F" for the course.
• True
• False
4- If students work 40 hours per week in
addition to attending class, it is recommended
that they take no more than
• 1 class
• 2 classes
• 4 classes
5-If you earn less than a 2.0 grade point
average after attempting 12 semester units,
you will be placed on academic probation.
• True
• False
6- Students who are placed on probation for 3
consecutive semesters(GPA<1.75) will be
disqualified.
• True
• False
7- To improve your GPA, you can repeat a
course in which you earned a grade (D or F)
and submit a Repeat Petition to Admissions
and Records
• True
• False
Tell me one thing that you will
do to help yourself improve
academically?