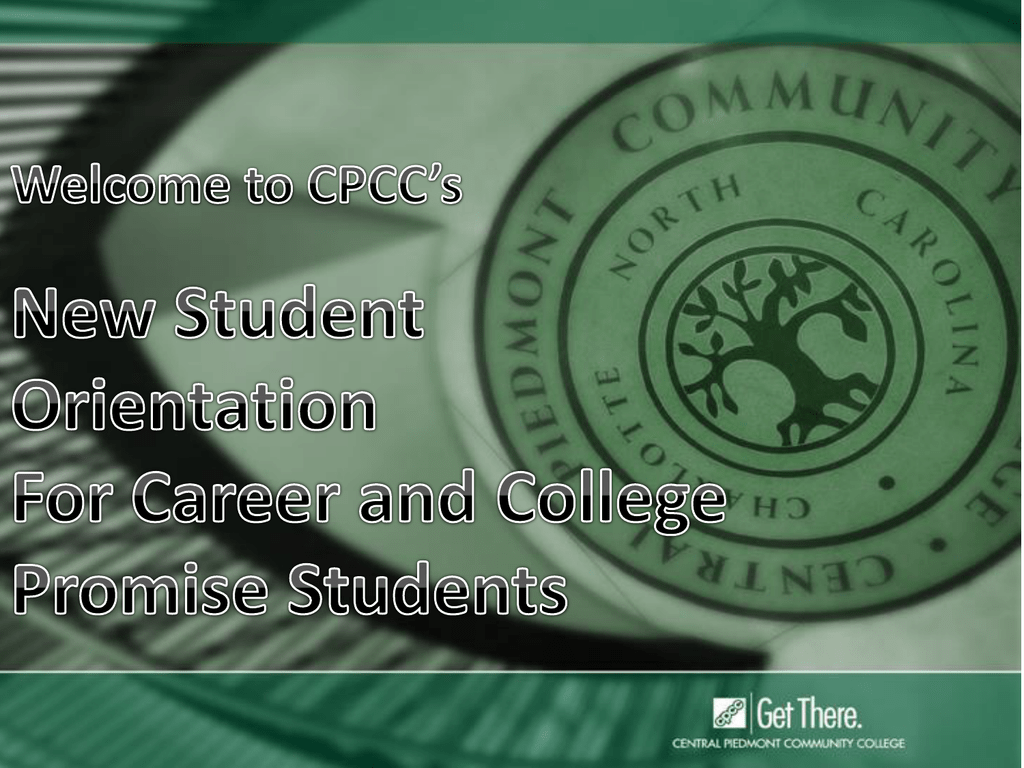 • Core Competencies
• Academic Calendar
• Student Email & My
College
• Blackboard and Moodle
• Student Parking
• Student IDs
•Textbooks
• Student Handbook
• FERPA
• Campus Safety &Security
• Getting Assistance
• Disability Services
• Campus Resources
• ESS Directors
• Social Media
Core Competencies
• Communication
• Critical Thinking
• Personal Growth & Responsibility
• Information Technology &
Quantitative Literacy
Welcome to Central Piedmont Community College!
CPCC is the largest community college in North
Carolina! Visit www.cpcc.edu to find out more about
the college.
 Serves over 70,000 students
a year
 Offers 61 degrees, 23
diplomas, and 123
certificate programs
 Offers services and courses
at all six campuses
All Career and College Promise students must follow the CPCC
Academic Calendar for CPCC courses.
August 9th - Fall classes begin
August 9th - First Short Session begins
September 3rd - Labor Day Holiday
September 4th – September 7th – Student Break Campus Closed
October 11th – October 12th – Fall Break
October 15th – Second Short Session begins
November 22nd November 25th – Thanksgiving Holiday
December 5th – December 11th – Final Exam Period
December 11th – Semester Ends
Access the online academic calendar at http://www.cpcc.edu/calendar/academic
Drops:
Classes can be dropped through the 10% date of the class and will not appear on the
student's record. Classes dropped between the 10% and 35% date of the each course are
withdrawals.
Withdrawals:
A student who for any reason cannot complete a course must take the responsibility to
formally withdraw in order to avoid a failing grade. To receive a "W" grade, a student
must withdraw prior to the 35% date of the class. The last day to withdraw is printed on
each course syllabus.
College Transcript:
Remember that whatever grade you get will follow you. Your college transcript begins
with your first CPCC course, and these grades will be part of your permanent college
transcript.
All Career and College Promise students will be
required to submit paper work each semester
that they plan to take classes.
Refer to the CCP website for important deadlines
and registration dates for each semester.
Although this program is tuition-free, the costs of books can be considerable. CPCC
Foundation has many scholarship opportunities that may help with this cost.
Visit http://www.cpcc.edu/financial_aid/assistance/scholarships to explore these options.
● Register for classes ● View your student ID #
● Print your schedule ● 1098 tax information
● Check grades
● Sign up for Critical Alert
● Change address
● Enrollment verification
● Transcripts
● Residency status
● Financial aid
information
● Priority registration dates
• Powered by
• Accessed from CPCC homepage
under "Online Services
• Used for official communication
with the college
• Check your email daily
• Use the calendar feature to help
with time management
• Most CPCC classes have a
learning management system to
organize coursework given by
instructors in both online and
traditional classes.
• Attend an eLearning orientation
to learn how to use Blackboard
and/or Moodle.
• Student IDs are REQUIRED to:
- Check out Library materials
- Use the Testing Center
- Use the Computer Lab
- Use Fitness Centers
- Attend the Career Fair
• Get your ID made at Admissions
once you register and pay for classes.
Replacement IDs are $5.00
• Campus schedules vary.
•Parking decals are REQUIRED at all
campuses.
•A class paid receipt/schedule and a
photo ID are required to pick up your
decal.
Pick up your decal at any campus!
- Security Office
- Cashier's Office
• Display decals on the driver's side, rear
window.
• Bookstores are located at every CPCC
campus (hours are limited)
• SOME books may not be available at
every campus
• Textbooks can be purchased in
person, online or from an outside
source (CMS = Campus Bookstore)
• Save money on textbooks by buying
used books or renting when available
A guide which includes CPCC policies that govern academic and
campus life and other valuable student information.
• Academic Policies
• Code of Conduct
• CPCC Policies
• Safety and Security
Access the Student Handbook at: www.cpcc.edu/student_handbook
Family Educational Rights and Privacy Act
• According to this federal law,
instructors and College personnel
cannot give out a student's
academic records,
accommodations and disabilities
to anyone other than the student,
including the student's parents.
• Dial the 24-hour Central Dispatch Station to get help
from campus security officers.
• CPCC's emergency notification system
• Includes text messaging and direct phone calls
• Only used in emergency situations
• Sign up online
All CPCC first time students will receive a Higher One Debit Card in the mail. The
college uses these cards for refunds of any kind. As a CCP student, you will also
receive this card. Keep it in a safe place in case you need it in the future.
Activation:
Once you receive your Higher One Debit
Card, you may follow directions on the sticker
to activate if needed.
Replacement Cards are $20
Contact: 866.782.0821
www.cpccdebitcard.com
Counseling - PCAP (Personal
Advising:
Counseling Assistance Program):
• Stress, grief, depression,
anxiety
• Struggles with personal
relationships
• Test taking and study habits
• Goal Setting
• Early alert
• Academic intervention
• Community referrals
• Discuss Career and College
Promise Pathways
• Assist with Pathway Changes
• Recommend classes
[email protected]
Provides academic accommodations and auxiliary aids/assistive
technology to students with a documented disability.
Services provided include:
•
•
•
•
Classroom and testing accommodations
Sign language interpreting and communication access
Assistive technology
Disability Counseling and advocacy
 Student must self-identify to the Disability Services office every semester.
 Students must provide current and appropriate documentation. (DS will
review your IEP but they may require additional information, such as a
Psychological Evaluation).
 Students are responsible for all class work. (Tutoring services maybe available
through the Academic Learning Center, there is not Special Education in
college).
ALC is a tutoring center available to serve the academic needs of the students at
CPCC. For any student enrolled in a curriculum course that needs individual
assistance in addition to that which they are receiving in the classroom, CPCC has
caring qualified staff who are ready to help them learn.
The ALC is committed to helping students in three crucial areas:
• Overcoming difficulties with academic coursework
• Promotion of independent learning
• Proactive endowment of students with skills necessary to promote academic
and life-long learning success
•
•
•
•
•
Clarify your career goals
Take career assessments
Explore occupations & degrees
Hone your job seeking skills
Find a job
Student Life facilitates student learning and development by providing activities and services
that enhance positive relationships among students, the College and the community.
Family Resource Center
Student Government Association
Leadership Opportunities
Campus Ministry
Student Organizations
• Know why you're here
• Schedule time for school and study
• Be positive
• Be respectful to faculty & fellow students
• Get to know others
• Use available CPCC resources
• Have a plan for success
• Let your needs be known
• Student Success Center
• First Year Experience
• Ask your Instructor
• Call the ITS Help Desk
• Search tool on CPCC website
The Enrollment and Student Services Director at each campus is a
great place to start if you are have questions at the area campus.
•Cato
•Harper
•Harris
•Levine
•Merancas
Marla Harris
Gene Merklein
Andrea Abercrombie
Reggie Pincham
Tracy Moore
704-330-4845
704-330-4441
704-330-4608
704-330-4207
704-330-4175
CPCC provides real time information to students via Facebook and
Twitter. We encourage all students to "like" us on Facebook and follow
our "tweets" on Twitter. It is easy to do.
Go to www.cpcc.edu
On the bottom of the page click Facebook and Twitter. Also visit our
YouTube videos to find out more about our exciting programs.
We provide information on parking, current events, campus closing
and more!
Welcome to Central Piedmont Community College! If you have
any additional questions, please email us at [email protected]
Thank you!