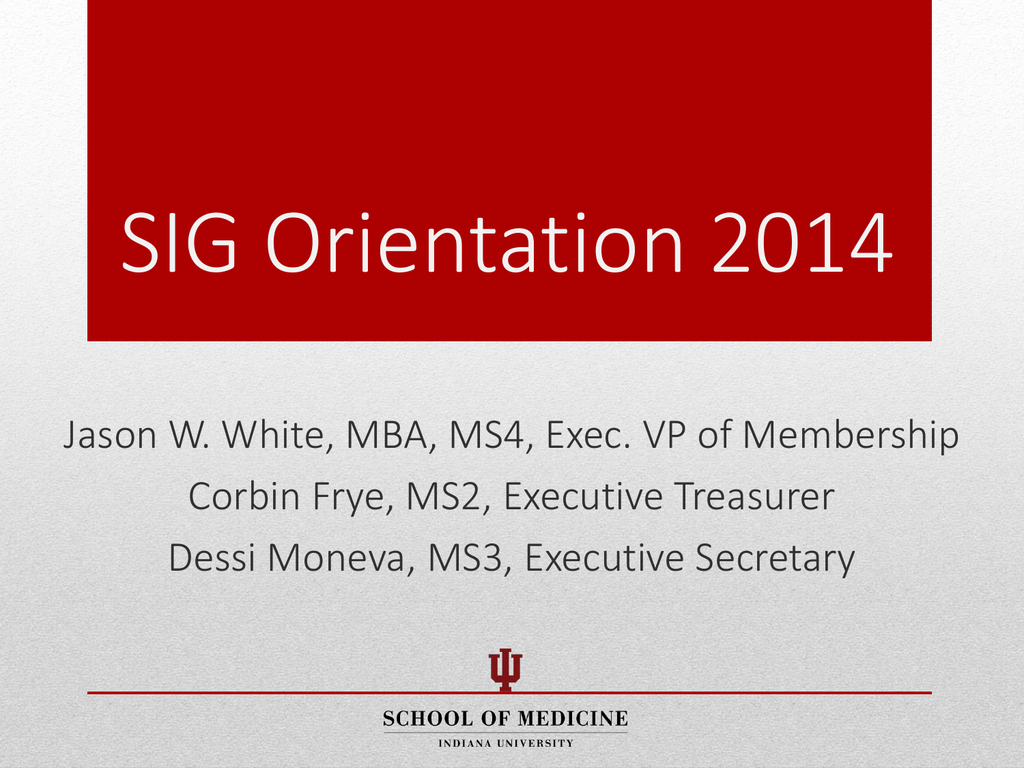 SIG Orientation 2014
Jason W. White, MBA, MS4, Exec. VP of Membership
Corbin Frye, MS2, Executive Treasurer
Dessi Moneva, MS3, Executive Secretary
MSC Executive Board
Voting
Class
Officers
Committees
SIGs
Center
Reps
Medical
Specialty
National
Orgs
Special
Topics
MSC
Appointed
= Voting Members
= Non-Voting Members
MSC Organizational Chart
Dean
Appointed
Medical Student Council (MSC) – [email protected]
• VP of Membership: Jason White, [email protected]
• Treasurer: Corbin Frye, [email protected]
• Secretary: Dessi Moneva, [email protected]
Medical Student Affairs (MSA)
• Kim Anderson, [email protected], MS 164
• Lisa Christy, [email protected], MS 166
Building Coordinator/Room Reservations
• Leo Thompson, [email protected], MS 108
Technology – Polycom and Mediasite
• Sean Moser, [email protected], MS B10
IUPUI Office of Student Involvement (OSI) – 317-274-3931
• Matt McKay, [email protected]
• Jillian Van Auken, [email protected]
Contacts
1. SIG Orientation attended by >1 officer, preferably 2
(President/Chair and Treasurer/Secretary suggested)
2. 5+ events/year: 1 must be a service project
• This SIG Orientation, officer meetings, elections, MS1 Activities Fair,
MS3 GLIC1 SIG fair do not count
• Turn in attendance sheet for each event to Kim Anderson (MS164)
and/or MSC Treasurer to receive future funding
3. Elections held before end of April
4. End-of-Year Report submitted before end of May
5. If SIG advisor or constitution change, let us know
Failure to meet the above requirements results in probation
Remember: IUPUI registration by May 31, Nuts & Bolts by Oct 1
Yearly Requirements
• New standard attendance sheet
for all events
• Download here, or make your own
• Be sure to include right-most column
• Only add to your listserv those who
mark "Yes" in that column
Event Attendance Sheet
• Download here
• Add rows as needed
• Email to VP of Membership
and Secretary before end of
May each year
• This serves to report your
election results
• You should be re-registered
with IUPUI by this point
End of Year
Report
• Mission Statement: To build strong bonds between
student leaders, further the development of creative and
innovative ideas, and problem-solve together.
• Medical Specialty SIGs
• 2x/semester
• Led by VP of Membership
• Dean-Appointed Committees
• 1x/semester
• Led by Executive VP
Collaboration Meetings
How to Plan an Event
1. Email Leo Thompson ([email protected]) to reserve a
room
• Tell him the SIG name, date, time, and room number
• Choose a mediasite-capable room if at all possible. Mediasite
recording is strongly encouraged for all events!
• Extra resource to view all available rooms on campus
2. Submit the AV request form for the equipment you will need,
including data projector for PowerPoint
• This step must be done >2 days in advance
• Required for PowerPoint use, independent of Mediasite
3. Email Sean Moser ([email protected]pui.edu) to set up Mediasite
recording and/or Polycom
• Tell him the title and which folder to place it in
Step 1: Reserve room & AV
Choose a room
Choose a building
by clicking in the
diagram or along
the left column.
Fill in your name,
SIG name, etc.
Request access to
Data Projector,
Polycom,
Microphone, etc. as
needed by your
group.
Specify the
date, time, and
location of your
event.
goo.gl/1mPVbe (case sensitive),
DEMO TIME – PHONES OUT!
Word of mouth, guys.
• All SIG events are required to be on the Student Orgs Cal. SIG leaders
should sync the calendar to their device, know how to post events, and
use it to consider scheduling conflicts when planning.
• Events will not be considered for MSC funding, nor count as one of your
5 required events if they are not posted to the calendar
• google.com/calendar
• Log out of your personal google account.
• Login: [email protected] / post.to.orgs.cal
• Create Event.
• CLICK "EDIT EVENT" TO ADD LOCATION!
• Include: speaker, description, food availability, polycom instructions,
direct link to mediasite folder if recording, and contact info where
students can submit questions in advance
Step 2: Student Orgs Cal
(aka OrgsCalGoogle; Orgs IUSM)
MEDIASITE LINK
Login as yourself
To find direct mediasite link, go
to your SIG's folder and then click
"links" at the top right corner.
1. IUPUI Student Organization Grant (SOG)
• For RSOs to hold events on campus or near enough to be accessible
• $3000/academic year
• >30 days in advance, but may be accepted without an exact date! If you plan
ahead, you can even submit an entire semester's events and get all the $.
• Use new MachForm (No longer on MyInvolvement.)
• Must submit to jagnews 1 week in advance to advertise to IUPUI students
• First semester of being an RSO: $500 cap
• Determined by Student Development Funding Committee (SDFC)
2. Alumni Association Grant: for student-alumnus interaction,
apply in advance. Download application form here.
3. Outside funding: national organization, department, fundraising
Step 3: Funding & Food
4. MSC funding
• On request form, choose from a list of IUSM/IUPUI
approved vendors
• If a vendor is not on the list, work with Kim Anderson to add it
• Must use Chartwells if >$100 on weekdays ($250 on weekends)
for on-campus events (exceptions: IU Health; other non-IU
buildings on campus).
• Itemize the budget and be specific! (i.e. 10 pizzas, not 'food')
• Tell the vendor to invoice the IUSM account
• You receive food/items and MSC/MSA directly pay vendor
• There is a process for reimbursement, for emergencies only
Submit attendance sheet to Kim Anderson after every event!
Step 3: Funding & Food
IUPUI FUNDED
IUPUI DID NOT FUND
•
•
•
•
• Did not meet the 30 day
prior guideline
• Too general (i.e. officer
meeting or election)
• Too selective or not open to
the campus (i.e. suture lab,
dinner for when matches
are made, a "buddy" lunch
for a group's new first years)
• Promotional items
• Lack of information
provided and lack of
correspondence with SDFC
committee
•
•
•
•
•
•
lunch talks
speaker events
seminars
meetings for membership
solicitation
poster sessions
dance performances
concerts
cultural cooking
demonstrations
to seed fundraisers without
a ticket price
partial approvals
EMAIL & LISTSERV
3 ways to email the student body:
1. SIG listserv – unlimited access
2. Up to 2 emails per semester to Indy listserv only
•
•
[email protected]
Monitored and enforced by MSC Executive VP (Annalise)
3. To email statewide or target a specific class year/campus,
send your email to [email protected] If approved, it will
be forwarded to the requested parties via Announcements
(please note if urgent).
Remember, you can also communicate via Student Orgs Cal!
*NEW* Email Policy
1. Login to email account (i.e. [email protected])
• At least 1 officer should link it to their phone
2. Send email to listserv (i.e. [email protected])
• Students can add themselves to listservs:
•
•
Email [email protected]
Subject line: subscribe 'insert name of the list' Firstname
Lastname (i.e. subscribe rsig-L Dessi Moneva)
How to send emails
Login with SIG's
CAS account
OR enter full
SIG e-mail
address and IU
List password
Note: Your SIG's IU List password is not automatically the
same as your SIG's email password. (You can choose to
use the same password for both, or pick a shorter one.)
iulist.iupui.edu/sympa
Choose your
SIG listserv
Click "Manage
Subscribers"
Enter e-mail address
to be added
Or click here to
add multiple
people at once
Use this
section to
remove
subscribers
1.
2.
Fill out the NEW form (No longer on MyInvolvement.)
Once submitted, SIG Advisor receives auto-generated email asking
them to login and confirm their advisorship
• Your application will not even be looked at by IUPUI until this is
done. So, contact your advisor to make sure they know this.
3. Then IUPUI processes and sends a confirmation email when
approved
• If you have not received a confirmation email, then you are NOT reregistered. Usually it is a hold-up at the level of the SIG advisor.
• Check status using the RSO list. This is updated weekly.
• Deadline is May 31 each year. Do not wait until the last minute!
• If you have any issues, call the IUPUI Office of Student Involvement at
317-274-3931.
• Re-registration + Nuts & Bolts by Oct 1 each year required for funding
IUPUI RSO Re-registration
(Registered Student Organization)
• Each Medical Specialty SIG has a folder within IU Box  MS
Resources  Specialties
• View folder at iu.box.com/msresources, or become a collaborator
with upload rights
• Please upload:
• Documents and/or links on how to find & apply to residency
programs
• Important contacts (residency program director and coordinator,
SIG advisor, SIG leaders, etc.)
• 2 Google Docs:
• Advice on electives, 4th year scheduling, research, leadership,
extracurriculars, etc.
• Info on away rotation experiences (no bashing programs, please)
• Please do NOT upload copyrighted material
• If you have issues or need to delete items: [email protected]
Box: MS Resources
• Bulletin boards are available to all student groups in Daly
basement
• Email MSC Secretary ([email protected]) to
reserve/renew bulletin board space
• Please don't sign up unless you actually plan to use it
• If not renewed, all displays will be removed by MSC on
August 10, 2014
AMA
AMWA
AOA
AWS-SIG
DermSIG
EOTA
FMSIG
GHSIG
GSMA
Lit & Med
MMSIG
MSFC
MS-SOL
OrthoSIG
PedSIG
PsychSIG
RadSIG
Reflections
Rock for Riley
SIGN
TimSIG
Daly Bulletin Boards
• Group privacy settings must not be 'open'
• Only current officers should be administrators
• All content posted must comply with IU and IUSM policies
on social media, professionalism, and copyright/
trademarks
• It is your responsibility to regulate the content of your
group
SIG Facebook Groups
Questions?