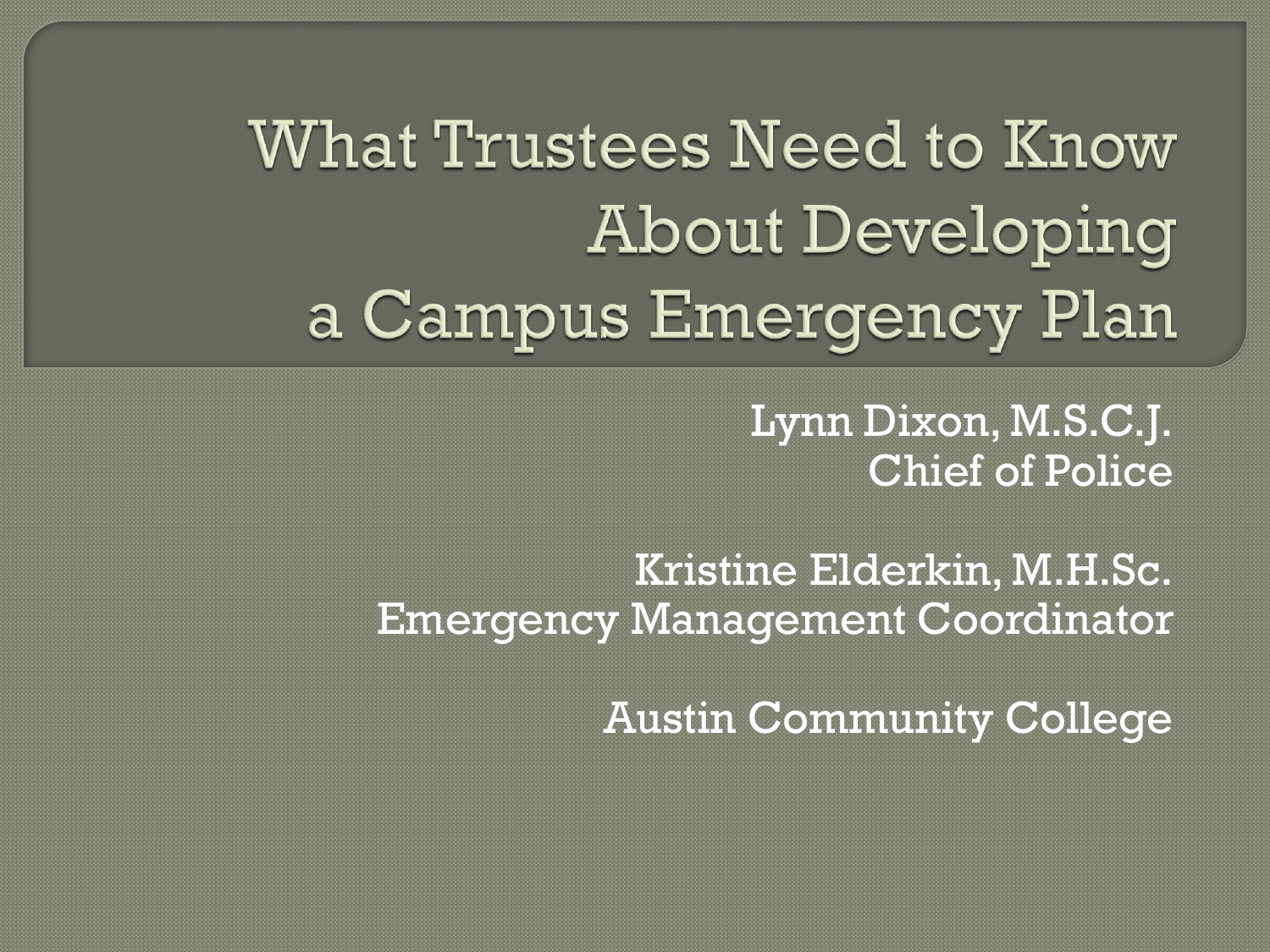 Lynn Dixon, M.S.C.J.
Chief of Police
Kristine Elderkin, M.H.Sc.
Emergency Management Coordinator
Austin Community College
Kristine Elderkin


Emergency Management Coordinator, Austin
Community College District
Health and Safety Coordinator; 15 years
experience with Samsung, Kodak, GE, Municipality
of Metro Toronto and Shell.

Master of Health Science, University of Toronto

Bachelors in Chemistry, McMaster University
[email protected]
Chester "Lynn" Dixon

Chief of Police, Austin Community College District

Adjunct Professor with Austin Community College – Criminal Justice

Master of Science Criminal Justice from Texas State University

Retired Lieutenant, Texas Department of Public Safety
• Specialized in Management and Fire Arms Training

Former DPS SWAT Team Leader

Commander of DPS Dive Recovery Team

Federal Bureau of Investigation National Academy Graduate

34 years of law enforcement experience
 Trustees
play a crucial role in developing
policy
A
policy that provides ongoing support
for emergency management helps to
ensure the success of planning efforts at
your college
 Effective
emergency management
begins with senior leadership on campus
 An
emergency management initiative
requires:
• Administration support
• Financial support
• Involvement of the college community
 The
purpose of this presentation is to
provide insight into emergency
management so that you can develop the
best policy for your college
By the end of this session, participants will
be able to answer these questions:
 What
is an Emergency Operations Plan?
 Is it required?
 What do trustees need to think about
when it comes to campus emergency
preparedness?
8 Counties
8 Campuses and 3
under construction
11 Learning Centers
100+ CE locations
2 Business Centers
5,000 Faculty & Staff
43,000 Students
 An
Emergency Operations Plan (EOP) is
a document that outlines how your
college will prevent/mitigate, prepare
for, respond to and recover from
emergencies associated with:
• Natural hazards,
• Technological hazards, and
• Adversarial or human-caused hazards
Prevention-Mitigation
Preparedness
Response
Recovery
 An
PreventMitigate
Prepare
Recover
Respond
IHE emergency
operations plan
should use the four
phases of emergency
management to
effectively prepare
and respond to
emergencies.
 Prevention
is the action taken to
decrease the likelihood that an event or
crisis will occur.
 Mitigation
is the action taken to
eliminate or reduce the loss of life and
property damage related to an event.
 In
order to properly prioritize
prevention-mitigation projects, a risk
assessment is essential
 All
the hazards that threaten your
college's jurisdiction must be considered
Access
 Preparedness
is the action taken to
design processes and protocols to
prepare for potential emergencies.
 Many
assessment tools are available.
 The "Texas
Public Junior College Safety
and Security Audit" must be completed
every three years (Texas Education Code 37.108)
 Licensed
peace officers empowered by
the State of Texas
 Operate 24/7/365
 Patrol campus
 Enforce laws
 Enforce policy

First point of contact for
campus emergencies

Functions:
• Dispatch of,
communication with and
tracking of Officers
• District-wide fire and
security alarm
monitoring
• Liaison between ACC
and 911, Police, Fire and
EMS
• Staffed 24/7/365
Police & EM
• Regulatory
required
training
• ICS, NIMS
• Active
Shooter
Response
• Professional
development
E-Teams
• Emergency
Team duties
• First Aid,
CPR, AED
• Fire
Extinguisher
Faculty & Staff
• New
Employee
Orientation
• Regulatory
required
training
• First Aid,
CPR, AED
Students
• New Student
Orientation
• In-class
orientation
For everyone: crime prevention, active shooter awareness, severe
weather awareness, on-going emergency procedures training
 Exercises
are used to test and improve
plans and procedures. Examples:
• Building evacuation drills
• Shelter-in-place drills
• Lock-down drills
• Emergency communication protocols
 Exercises
are an opportunity to
collaborate with community partners
AREA OF
RESCUE
ASSISTANCE
 Email, phone
and text message
 Emergency message boards and speakers
 HELP desk phone line
 Desk phones
 Social media
 Channel 19
 Local media
Raise awareness,
share information
Conduct drills
Third week of
every semester
Verify equipment
operation
Test emergency
procedures
 Response
involves taking action to
contain and resolve an emergency
effectively.
 Stay
away from campus
 Shelter
in place
 Reverse
evacuation
 Lockdown
 Full/partial
evacuation of building/campus
 Drop, cover
and hold
 Recovery
establishes procedures,
resources and policies to assist an
institution and its members to return to
functioning after an emergency.
A
Continuity of Operations Plan is preplanned. It documents the college's:
• Essential Functions
• Lines of Succession
• Delegation of Authority
• Continuity Facilities
• Continuity of Communications
• Vital Records Management
• and more…
 Physical
and structural recovery
 Business recovery
 Restoring the learning environment
 Psychological and emotional recovery
A
damage assessment determines the
extent of the effects of the incident on
campus and community physical assets
and identifies newly created
vulnerabilities.
 The
college can restore administrative
and business function using their
Continuity of Operations Plan.
 This
phase of restoration may involve:
• conducting classes in offsite locations,
• implementing online learning, and
• implementing temporary procedures re: grading,
attendance, graduation requirements, etc.
 Administrators
must make swift decisions
and communicate them effectively.
 It
is critical to identify the mental health
resources (both short - and long-term) in
collaboration with partners to promote
this part of the recovery.
The best things people can do: donate cash to
legitimate organizations and donate blood.
 The
PreventMitigate
Prepare
Recover
Respond
cycle as a whole
is an ongoing
process, just as the
EOP is a dynamic
document that
requires continual
updating.
 IHEs
have a commitment to ensure the
safety of those on their campuses
 Pre-planning
can prevent an emergency;
minimize it's effects; facilitate a rapid and
effective response; and quicken recovery
 Federal
& State authorities and mandates
require public colleges to have an EOP

Texas Education Code Chapter 37, Section 108

Robert T. Stafford Disaster Relief and Emergency
Assistance Act (Stafford Act)

The Higher Education Opportunity Act


The Jeanne Clery Disclosure of Campus Security
Policy and Campus Crime Statistics Act (Clery
Act)
Homeland Security Presidential Directive #5
(HSPD-5)
HSPD-5 (issued in
2003 in response to
9-11) mandates the
use of NIMS
Homeland
Security
Presidential
Directive #5
NIMS provides a
framework for
incident
management and
requires ICS
National
Incident
Management
System
ICS defines
incident response
organizational
concepts and
structures
Incident
Command
System
 DHS
and ED recommend all IHEs
implement NIMS and adopt ICS
 Compliance
is tied to eligibility for some
Federal funds and grants
 The
Incident Command System:
• Is based on proven incident management
practices
• Defines incident response organizational
concepts and structures
• Consists of procedures for managing personnel,
facilities, equipment and communications
• Is used through the lifecycle of an incident
 Resources
and training are available
through the Department of Education ,
FEMA, and many professional
associations (IAEM, IACLEA)
Goal of REMS:
To support schools and
IHEs in the development
of comprehensive allhazards emergency
management plans
 Action
Guide for Emergency Management
at Institutions of Higher Education
 Balancing
Student Privacy and School
Safety: A Guide to FERPA for Colleges and
Universities
A
Guide to Vulnerability Assessments: Key
Principles for Safe Schools
 Building
a Disaster-Resistant University

Multi-Hazard Emergency Planning for Higher
Education (L363)

Incident Command System Overview for
Executives/Senior Officials (G402)

Emergency Planning for Campus Executives

Introduction to the Incident Command System for
Higher Education (IS-100.HE)

National Incident Management System (IS-700)
(G367)
One of 23 executive
actions President Obama
announced :
"Develop model
emergency response
plans for schools, houses
of worship and institutions
of higher education"
January 26, 2013
 Prohibit
weapons on
campus
 Conduct awareness
seminars
 Provide emergency
procedures
 "See
Something, Say
Something"
 Patrol campuses and
interact frequently
with students
 Help assess
behavioral concerns
 Develop a Workplace
Violence program
 Use
ACC Emergency Alert to provide
initial warning and follow-up messages
 Students, faculty
and staff implement
emergency procedures for selfprotection
 ACC
Police Officers are trained to
respond immediately, even if alone
1.
Is emergency management a priority
for senior Campus Executives?
2.
What plans are in place to protect
students, faculty, staff and property?
3.
Has a comprehensive continuity of
operations plan been developed?
4.
What are the highest priority hazards
facing the college?
5.
How is compliance with State and
Federal laws managed?
By the end of this session, participants will
be able to answer these questions:
 What
is an Emergency Operations Plan?
 Is it required?
 What do trustees need to think about
when it comes to campus emergency
preparedness?