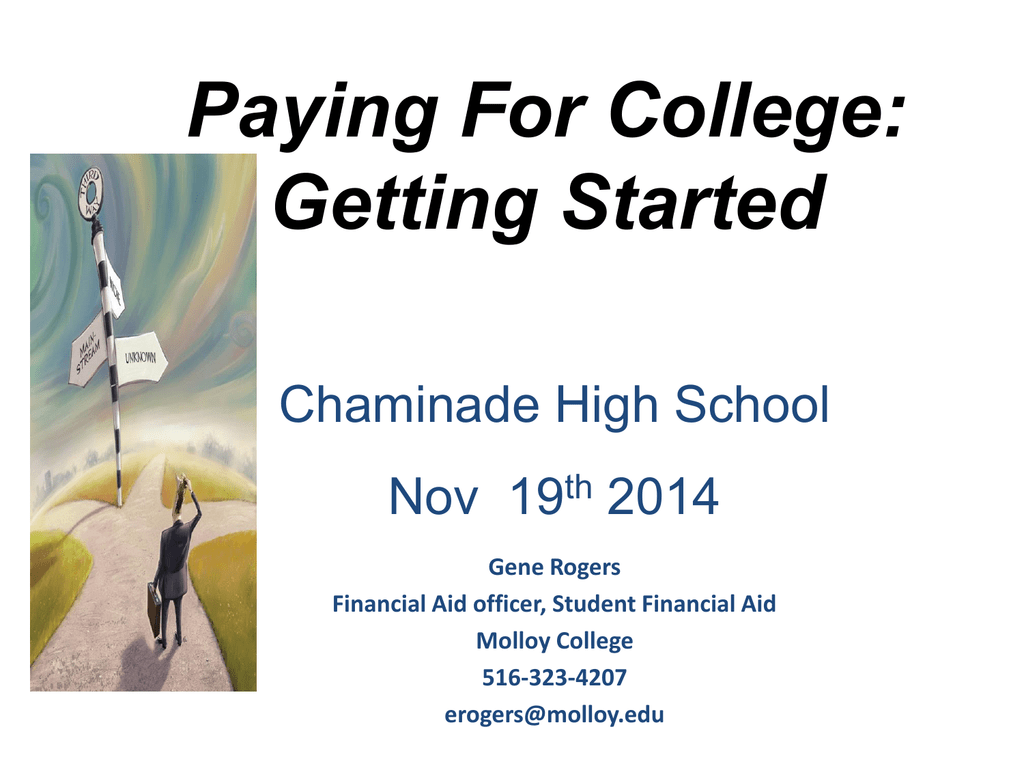 Paying For College:
Getting Started
Chaminade High School
Nov 19th 2014
Gene Rogers
Financial Aid officer, Student Financial Aid
Molloy College
516-323-4207
[email protected]
Molloy College
Molloy College
Fast Facts
• Undergraduate- 3200 (est)
• Graduate- 1100(est)
• Majors include
• Nursing, Education and
more than 50 others
• Located in Rockville Centre
• Res Halls opened in 2011.
• Student-athletes compete
in East Coast Conference
(D2)
• Molloy campus life includes
more than 40 student clubs
Equal Opportunity
In our democracy every
young person should
have an equal
opportunity to obtain a
higher education,
regardless of his station
in life or financial
means.
– President John F. Kennedy
4
Warren Buffett
• "Investing in
yourself is the
best thing you
can do"
Sources of Financial Assistance
Colleges
19%
States
6%
Federal
Loans
54%
Non-Fed
Loans
3%
Fed Campus
Based
4%
Other Fed
Programs
4%
Pell Grants
10%
6
College Graduation May 2019..
Will YOU be here as a Student or a Proud Parent?..Lets hope so!
Remember the saying
•"Save for a rainy day"?
Well..I have news for you…it's
POURING!
SO YOU THINK YOU DON'T
QUALIFY ?..THINK AGAIN!
2013-2014
• Avg Financial aid
package for incoming
freshman
• $18,018 (includes
loans, work study and
grants)
• $13,723 (includes
grant and scholarship
money only)
Free Application for Federal
Student Aid (FAFSA)
• Family's personal and financial information required
to perform need analysis is collected on FAFSA
• Paper versions of FAFSA
–
–
"Regular" FAFSA
Renewal FAFSA
• Electronic version of FAFSA
– WWW.FAFSA.GOV
• FAFSA can be processed after Jan 1st
11
Free Application for Federal
Student Aid (FAFSA)
• U.S. Department of Education form that collects
demographic and financial information
• Federal aid eligibility determined by FAFSA
• Must be filed annually
• Some schools may use the results to award their own
institutional aid
• File on-line at www.fafsa.gov .
– Available in English and Spanish
Federal Student Aid Personal
Identification Number (FSA PIN)
• Website: www.pin.ed.gov
• Sign FAFSA electronically
• Not required, but speeds
processing
• Coming Spring 2015..an
update to the Pin..Stay
tuned!
New for 2015-16: FSA ID
• In April 2015, students and parents who have
a FAFSA PIN or are applying for the first time
will be prompted to create a new FSA ID
– Self-created username and password
– Transitioning away from using Social Security
Numbers as a sign-on credential
– PINs will be needed to create the FSA ID for
current users
FAFSA on the Web
www.fafsa.gov
• Apply
• Reapply
• English and Spanish
options
• Access PIN Web site
• Check status of
application
• View SAR information
• Make corrections
Top 3 FAFSA ERRORS
• Name
• SS #
• Date of Birth
FAFSA on the Web
• Good reasons to file electronically:
– Built-in edits to prevent costly errors
– Skip-logic allows applicant to skip unnecessary
questions
– Option to utilize tax information directly
downloaded thru IRS Data Retrieval tool.
– Corrections to FAFSA application is quicker.
– Instant "help" online for common questions
available.
FAFSA continued…
• For the 2015-2016 academic year, the FAFSA may be
filed beginning January 1, 2015
• High School seniors would fill out FAFSA anytime
after January 1, 2015.
• You may list up to 10 colleges to receive the results
of your FAFSA
School Deadlines
Don't Drop the Ball
Check with colleges
directly!..March 1?April 1?..
19
Key elements to FA eligibility
•
•
•
•
•
Primary income
Savings (both)
Investments (both)
Real estate (Not your Home)
Household size (who lives with you )..if you
are lucky like me to have your in-laws living
with you..that could help FA eligibility.
Saving Vehicles, what impact do
they have to Fin Aid?
• Child assets are assessed at 20%
• Parent assets are assessed at 5.64%
21
Trust Funds
• If the trust fund is in the name of the student,
spouse, parent, then it should be reported as
that person's asset on the FAFSA
• If the trustee has the authority to change the
beneficiary, then the trust may be reported as
an asset of the trustee
• If a trust is dedicated to paying for the
beneficiary's education, it should be reported
as an asset of the beneficiary.
Trust funds (con't)
• If a trust does not pay its own taxes, follow
the money. The individual who pays taxes on
the trust's income is often the owner of the
trust.
• Owned by more than one person…report the
amount owned.
Parent's assets
• Parent's income reported
• Parent's assets reported (with exception of
home value, and retirements savings)
• Generally speaking, 1st 45K of parents savings
and investment value does not count in
formula
• Assessed at 5.64% (after the 1st 45K )
• Business value (less than 100
employees..business value does not count
24
How does Child support factor into
FAFSA??
• Child support paid is included on the FAFSA
If parent or step parent pays child support , info
is included on FAFSA
Child support rec'd (all children in household) is
included.
Pension income?.
• Pension income IS included on the FAFSA..if
it's untaxed it's listed on a special section of
the form.
26
Some schools may require
CSS/Profile Form
Check if College requires form
• https://profileonline.college
board.com
• Profile form digs deeper in
family's situation
• Form costs $ to file $25 for
1st college…$16 for every
additional college
CSS Profile Differences
• Non-custodial income
• Home value (but usually capped at 2-3 times
household income
• 529 plans owned by someone besides parent
or stuent..(i.e Aunt?..Uncle?..Grandparent?
What is the Expected Family
Contribution (EFC)?
• Amount family can reasonably be expected
to contribute
• Stays the same regardless of college
• Two components
– Parent contribution
– Student contribution
• Calculated using FAFSA data and a federal
formula
How Financial Need is Determined
Cost of Attendance
- Expected Family Contribution
= Financial Need
Tuition and Fees
Books and Supplies
Room and Board
Transportation
+ Miscellaneous Expenses
= Cost of Attendance
Expected
Family Contribution
Parent's Contribution from Income
Parent's Contribution from Assets
Student's Contribution from
Income
Student's Contribution from Assets
Sample award package
•
•
•
•
ABC university (private)
COA= 50,000
EFC = 25,000
FN= 25,000
• DEF university (public)
• COA = 25,000
EFC = 25,000
• FN=
0
• You could be eligible for
need based aid at one
college but not another
Sample EFC's
Family of 4..
• Mom and Dad have
combined incomes of
• $150K
• 60K in savings
• Own their home
• EFC = $33K
Family of 5
• Mom and Dad have
combined income of $200K
• No savings
• Own their home
• EFC 47K
Sample EFC's
Family of 3
• Single parent home
• Parent earns 70K
• No savings
• Rents
• EFC = 9K
Family of 6
• One income family = 65K
• 15K in savings
• Owns home
• EFC = 4K
Sample packages
Duke university
• Avg costs- 64,000
• Avg aid package= 40,561
• Avg grant = 35,951
• Net Price= 28,049
SUNY Albany
• Avg costs- 23,000
• Avg aid package= 9,960
• Avg grant = 7,190
• Net Price= 15,810
Principles of Need Analysis
• To the extent they are able, parents have primary
responsibility to pay for their dependent children's
education
• Students also have a responsibility to contribute to their
educational costs
• Families should be evaluated in their present financial
condition*****
• A family's ability to pay for educational costs must be
evaluated in an equitable and consistent manner,
recognizing that special circumstances can and do affect
its ability to pay
35
Special Circumstances
• Change in employment status
• Medical expenses not covered by
insurance
• Unusual dependent care expenses
• Natural Disaster
Grounds for an appeal
• Did an inheritance inflate last year's income?
• Any one time occurrence is worth letting the
college know about..(Had to pull out
retirement money to pay for a home
improvement…so income is inflated)
Affected by "Sandy"?
• Even though home
value is not factored
into the FAFSA formula,
there could be some
things adjusted based
on property damage
(out of pocket
expenses, etc) Write a
letter of explanation to
college
IRS-FSA Concept
• Federal Student Aid (FSA) and the Internal Revenue
Service (IRS) have developed a collaborative solution to
simplifies FAFSA completion.
• Tax filer Retrieves Their Own Data
– No Consent
– Voluntary
• Will allow some applicants that use FAFSA on the Web
to retrieve their income tax data from the IRS.
• IRS data can be automatically transferred to FOTW.
39
529 College Savings Plan
• www.nysaves.org
• www.savingforcollege.c
om
• A 529 college savings program is a
tax-advantaged savings plan that
enables you to invest for college
free of federal and, sometimes,
state income taxes. You can use
this investment to pay for tuition,
certain room-and-board
expenses, books, supplies, and
other qualified higher-education
expenses.
Saving for college gives you more
options
• Bottom line: If you save for your child's
college expenses you reap the benefit of more
attendance options for your child and your
child may borrow less while attending college .
• UG students who graduate with less debt have
greater employment options and more
opportunities for future education
Independent Student Definition
• At least 24 years old by December 31 of award
year covered by FAFSA;
• Graduate or professional student;
• Married;
• Has legal dependents other than a spouse;
• Orphan or ward/dependent of the court;
• Veteran of U.S. Armed Forces
42
Who's data on the FAFSA
•
•
•
•
• Scenario 2
• Student lives with Mom
( Mom is divorced from
Birth Father).
• Student and Mom only.
Scenario 1
Student
Mom
Dad
43
Who's data on FAFSA?
• Scenario 3
• Student lives with Dad
(dad is divorced from
birth Mom)
• Student and Dad
• Scenario 4
• Student lives with Mom
and Mom is remarried
• Student, Mom and
StepDad..
44
What should I expect after I file??
• Student files FAFSA
• Student and FA office rec'd
data
• FA office reviews data
• FA office sends student
"award" letter
• Student needs to respond
to accept or decline
• In certain instances,
colleges may require
financial documents to
Net Price Calculator
• COLLEGES ARE NOW
REQUIRED TO HAVE
ESTIMATING TOOLS ON
THEIR WEBSITE
ALLOWING FAMILES TO
GET A REASONABILE
ESTIMATE ON NET
COSTS.
Show me the Money
47
What Makes Up a Package
•
•
•
•
•
•
•
Federal Grants
State Grants
Intuitional Grants and Scholarships
Federal Loans
Federal Work-Study
Outside Scholarships
Private/Alternative Loans
Types of Scholarships
Consider all types of scholarships:
Academic merit
Athletic ability
Field of study
Ethnic background
Religious affiliation
Special interests
Private Sources
• Foundations, businesses, charitable
organizations
• Deadlines and application procedures vary
widely
• Begin researching private aid sources early
• The Internet www.fastweb.com to name one
Civic Organizations and Churches
• Research what is available in community
• To what organizations and churches do
student and family belong?
• Application process usually occurs during
spring of senior year
• Small scholarships add up!
Employers
• Companies may have scholarships available to
the children of employees
• Companies may have educational benefits for
their employees
Pell Grants
•
•
•
•
•
Pell is an entitlement
Based on need
Max award could be upwards of $5,000
Does not run out
Deadline June 30th or last day of enrollment
SEOG
•
•
•
•
Federal Grant
Based on need
Up to 4,000 per year
Limited Fund (it can run out)
Institutional Grants
• Academic Based Scholarships
• Talent Based Scholarships (Athletic, Music,
etc)
• Need Based Grants/Scholarship
TAP
•
•
•
•
State Grant
Based on net taxable income (less than 80k)
Full time/Part-Time enrollment status
Student can receive TAP for 8 semesters then
he or she could be considered TAPPed Out
(you like that one...I just made it up..)
• May 1st deadline (APPLY VIA LINK AFTER FAFSA
OR DIRECT AT WWW.TAPWEB.ORG
William D Ford Direct loans
Subsidized
• 4.66% fixed (20142015)
• Based on need
• Federal government
pays interest while
student is in school
• $3,500 for Freshman
Unsubsidized
• 4.66% fixed interest
• Not based on need
• Student is responsible for
interest while in school
• $5,500 for Freshman
Direct Plus Loan for Parents
For parents of dependent students
• Borrow up to entire cost of college less
financial aid
• No adverse credit (parent must pass credit
check)if you are denied…student can borrow
additional unsb direct loan for $4K
• Interest Rate 6.41%
This is my final slide!..YES!
• Encourage parent and
students to FILE EARLY!
• FAFSA can be filed
before taxes are
completed. Estimate!
• Advise parents and
students to AVOID
using websites,
consultants that charge
money to apply for
financial aid.
Questions?