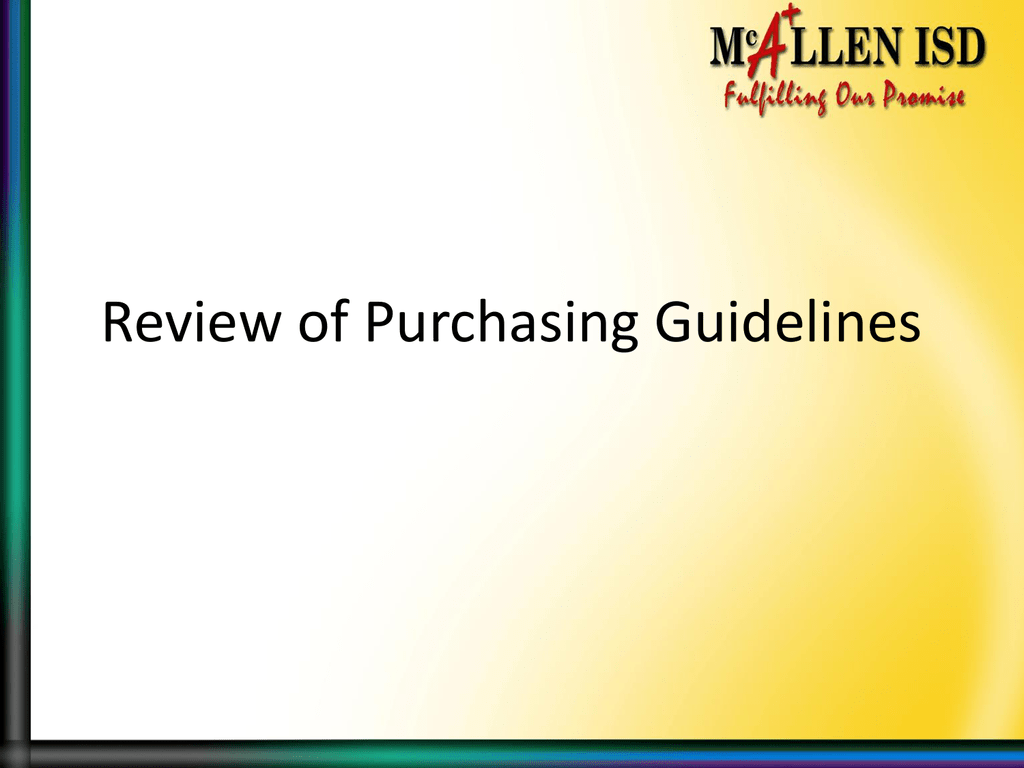 Review of Purchasing Guidelines
Purchasing Procedures
•
•
•
•
•
http://www.mcallenisd.org/
Click on District Departments
Click on Business Operations
Click on Purchasing
Click on Purchasing Manual
District Approved Vendors
• Available Online thru District Internet Page
– www.mcallenisd.org
– Click on "District"
– Click on "Business Operations"
– Click on "Purchasing Department"
– Click on "Awarded Vendors by Category" or
"Awarded Vendors by Alpha"
Purchase Order Required
• Do not order any goods or services without a
purchase order or authorization from Purchasing
• Board Policy CH(Local) states "…Persons making
unauthorized purchases shall assume full
responsibility for all such debts."
• "All purchase commitments shall be made by the
Superintendent or designee on a properly drawn and
issued purchase order, in accordance with
administrative procedures."
Purchase Order Process &
Thresholds
• Identify goods/services
• Obtain pricing in accordance with thresholds
– Under $5,000 purchase from primary vendor
– $5,000 - $49,999 obtain three quotes from bids,
interlocal agreements contracts
– $50,000 or greater requires competitive bidding
Open Market Purchases
• Purchase orders for goods or services where
the annual district aggregate does not exceed
$50,000 may be purchased on the open
market (one quote)
• Purchasing monitors expenditure levels
– Total for that category of goods or service
– Not total for vendor
• Quotes may be required if Purchasing
determines threshold may be reached
Sole Source
• Only one source
• An item for which competition is precluded
because of the existence of a patent,
copyright, secret process, or monopoly
• Sole source letter required from vendor as
backup
– Contact Purchasing for sample letter
Obtaining Quotes
• Contact at least 3 vendors
• Provide them the specification and quantities
– Brand
– Model #
– Description
– Use or equal
• Give them a deadline by when to submit
Obtaining Quotes continued
• Transfer quote information on Quotation
Tabulation Form
• Recommend awarded vendor
• Provide justification if you are not selecting low
quote
• Obtain signature approvals
• Attach documentation from vendors
• Submit with your requisition
• Scanned image uploaded to Sungard PO system
by person entering requisition
Catalog Bids
• Awarded on a Primary, Secondary, Qualified
Vendor basis for a category of goods/services
• Primary Vendor was evaluated to provide the
best overall pricing
• Secondary and Qualified Vendors used for
comparing pricing through quotes
• If Primary can't meet the needs, purchase
from Secondary or Qualified
Why Do We Ask For Quotes?
• Sampling of items used to determine Primary,
Secondary, Qualified Vendor status
• Quotes required for purchase orders over
$5,000
– To ensure vendors are consistent with bid awards
– To ensure pricing is still competitive
– Catalog bids are not all-inclusive
Cooperative Purchasing
•
•
•
•
•
•
BuyBoard
TCPN
TIPS
Region One
HGAC
DIR
Consultant Procedures
• Obtain proposal from consultant
– Ask for all-inclusive fee (to include all travel
expenses)
– If consultant insists on itemizing, they will be
bound by approved rates with Texas Comptroller
– http://fmx.cpa.state.tx.us/fm/travel/index.php
Consultant Procedures
• Enter requisition and process through workflow
obtaining approval from the person overseeing the
funding source.
• Purchasing reviews and processes into a purchase
order.
• Initiating department schedules consultant ONLY
after receiving approved purchase order.
• Procedure can also be found in the Purchasing
website
– http://mws.mcallenisd.net/purchasing/
Approval of Contract
• District Fund Contracts can only be Signed by:
– Superintendent
– Board of Trustees
• Activity Fund Contracts
– Signed by Principal
Senate Bill 9
• Criminal Background Check
• In September 2007, Senate Bill 9 went into effect, codified
as Section 22.0834 of the Texas Education Code.
• Affects both employees of districts and contractors of
districts
• Important date: January 1, 2008
– For contractors hired prior to this date criminal background
checks can be run by any law enforcement agency
– For contractors hired after this date, fingerprints are required to
be processed through the DPS criminal history clearinghouse
16
Criminal Background Checks
• Three Questions to Determine Whether a
• Criminal Background Check is Required:
– Is there a direct contractual relationship
• Subcontractors are exempt
– Are the duties to be performed by the contractor
continuing in nature?
• More than one day?
– Does, or will, the contractor have direct contact
with students?
17
Workflow Approval Process
• Approval Access Granted only to
Principals/Administrators
• Do Not Approve Requisitions on Behalf of
Principal/Administrator
• To request changes to Workflow, follow new process
in Accounting Manual
Blanket Purchase Orders
– What is the maximum amount allowable for blanket?
• Typically $500, but exceptions can be made given circumstances.
• Contact Purchasing if you need a larger amount approved.
– How long can Blanket POs stay Open?
• Maximum is six months
• Exception: Copiers, Leases, etc. – stay open until end of fiscal year or end of
contract term, whichever occurs first.
• Exception: HEB – maximum is one month since statements are received monthly.
– What vendors are approved for Blankets?
• HEB
• Copier companies
• Suppliers for Facilities, Transportation and Child Nutrition Departments
Item Descriptions
– Need to be specific and not too general
• Consultant PRs: Date of Event, Topic, Audience, Location
• Include item numbers and not just the description of the item
being purchased
– Item Number followed by a brief description of item
– Include pertinent information such as Board Approval
Date, if known
– If reimbursing an employee, state where items were
purchased even if purchased at different locations.
Length of Time to Pay
• Include a statement that the district is on a Net
30 payment basis after receipt or goods/services
or invoice, whichever occurs last!
• Texas Government Code Chapter 2251 Payment
for Goods and Services dictates when a penalty
can be assessed for late payment.
• Interest on late fees must be in accordance with
Texas Government Code Chapter 2251.025,
currently 1% plus prime rate.
21
Delinquent Taxpayer Vendors
• In accordance with law, the District shall not
enter into a contract or other transaction with
a person indebted to the District, nor shall the
District award a contract to or enter into a
transaction with an apparent low bidder or
successful proposer indebted to the District.
Separate, Sequential, or Component
Purchases
• Employee shall not make or authorize
separate, sequential, or component purchases
to avoid the purchasing requirements
• Violation of this provision is a Class B
misdemeanor and an offense involving moral
turpitude
• Conviction shall result in dismissal from
employment.
Personal Purchases
• District employees shall not be permitted to
purchase supplies or equipment for personal
use through the District's business office.
Ethics
• Avoid conflict of interest situations
– Accepting gifts, money, going out to lunch with
vendors, etc.
• Avoid preferential treatment of vendors
• Do not offer unfair advantage to any one
vendor
• Do not use your position to secure gifts,
discounts or special treatment from vendors
Ethics continued
• Do not use restrictive specifications that inhibit
competition
• Do not disclose a competitor's price
• Vendors may tell you that they will give you a
discount from the lowest price you get
– Do not allow that
– They should give you their best offer up front
– If a vendor is allowed to re-price then all vendors
should have a chance to re-price through a best and
final offer
Conflict of Interest
• Disclose to your immediate supervisor a
personal financial interest, a business interest,
or any other obligation or relationship that in
any way creates a potential conflict of interest
– Relatives working for a vendor that you deal with
regularly
– Buying from a company you have a financial
interest in
Gifts
• An employee shall not accept or solicit any
gift, favor, service, or other benefit that could
reasonably be construed to influence the
employee's discharge of assigned duties and
responsibilities.
Warehouse/Fixed Assets
Annual Division of Business Services
Training
Central Warehouse/Fixed Assets
District Operations Complex
4309 Warrior Drive Suite C
Central Warehouse/Fixed Assets Entrance
Functions
•
•
•
•
Central Receiving
Fixed Assets
Moving Crew
Warehouse Stores Issues
–
–
–
–
General Supplies
Maintenance Supplies
Transportation Supplies
Custodial Supplies
• Mailroom
Central Receiving
• Items to be shipped to Warehouse, use PE ID
S800 on purchase order.
– Fixed Assets
– High Pilferage
– Items that require the use of a forklift, pallet jack
or other materials handling equipment
• All other items can be shipped to your
site/campus.
Tracking Packages
Web page: http://arrival.mcallenisd.net/dems/
Login to Pitney Bowes
Once Logged in Click on Packages
Enter the Tracking # or PO #
Click on Details
Package Details
Events will indicate: Date/Time Received, Routed, Receivers Name, and Delivered packages.
Fixed Assets – Capitalized Items
• Capitalized items are those with a per unit cost of
$5,000 or more.
– Use 6639 Account for furniture and equipment
– Use 6641 for vehicles
• Ship to Central Receiving PEID S800
High Pilferage Items
• High-pilferage items are those that are likely
to be stolen if a break-in occurs, and are
generally of a "high tech" nature.
• Per-unit cost is not a factor in determining
high-pilferage status.
High Pilferage Items
Updated List
•
•
•
•
•
•
•
•
•
•
•
•
•
•
•
•
Computers (CPU, Monitor, laptops, servers)
Printers and Multi-function Printers
Fax Machines
Computer Scanners
TV's/Plasma Screens/LCD Panels
DVD/VCR/Blueray players
CD Players
Camcorders
Digital Cameras
Photographic Cameras
Scientific/Graphing Calculators
Video/Computer Projectors
Document Cameras
PDA's (iTouch, iPad, Palm Pilot, etc.)
eReaders (Nook, Kindle, etc.)
iPad's, iTouch, iPod's
For Add/Disposal, Vehicle, Transfer
• Go to
http://www.mcallenisd.org/
• Click on District
Departments and select
"Business Operations"
• Click on "Purchasing"
• Select "Central
Warehouse/Fixed Assets"
• Click on the form you need
To Submit a Work Order
• Log on to the MISD KACE
USER PORTAL
• https://kace.mcallenisd.n
et/userui/welcome.php
• Click on "Create a new
Request" and "Select
department area"
High Pilferage/Computer
Disposal Form
• Disposal Form must be typed or it will be
returned
• Attach form(s) to your KACE Work Order
• Retain copies for Campus/Department
Completing the
HP-C Disposal Form
1.
2.
3.
Enter the Campus or
Department name.
Enter the site code of your
Campus or Department.
Room number where the items
are located. Enter a description if
6.
- This number will be on the McAllen ISD
barcode.
- Some older items have a "metal tag" or
marked with a "permanent marker" with
either the item or AV number.
more appropriate, such as "Library",
"gym", etc.
4.
5.
Date in which the form is being
submitted.
Enter the work order number
that was generated.
Enter the item number if the
item is in the Fixed Assets
Inventory.
7.
Enter the purchase order
number.
- This number will be located in the
barcode label.
Completing the HP-C
Disposal Form
8.
9.
Enter an item description.
Check whether or not the
property was purchased with
Federal Funds.
10. Enter fund number.
11. Model/Brand name such as
Canon, Dell, Gateway, etc.
12. Serial number if there is one.
13. Reason For Disposal.
– Enter an explanation as to why the
items need to be disposed of.
 All items being disposed of will
need an explanation.
Completing the HP-C
Disposal Form
• Complete Section B:
• When requesting to dispose of property.
• In the "campus principal/central administrator" space, enter
the name of the person that is initiating the request for
disposal.
– This may be a teacher, coach or supervisor as in the services
department, i.e., Food Service, Plant Operations, etc.
• Forms need to be typed out. Hand writing at times is difficult
to understand.
• Form will be rejected if handwritten.
Capitalized- Add/Disposal/Transfer Form
• Please type out form
• Enter work order using the
Kace System https://kace.mcallenisd.net/userui/welcome.php
• Enter Transfer information "From-To".
• Fill out Qty, Asset Tag #, Model, Serial,
and Description of Equipment.
• Example: Marquee, Playground Eq. Equipment over $ 5,000.
• Obtain Administrators signature "Approval for Transfer".
• Attach form to work order.
• Fixed Assets will schedule transfer
Disposal Form-Vehicles
• Disposal Form must be
typed or it will be
returned
• Attach form(s) to your
KACE Work Order
• Retain copies for
Campus/Department
Completing the
Disposal Form-Vehicles
• Enter date
• Enter the Campus or Department name.
• Enter the site code of your Campus or
Department.
• Enter vehicle information. Answer each line
item.
• Enter reason for disposal. Answer each line
item.
Completing the
Disposal Form-Vehicles
• Answer Section C:
Was vehicle determined beyond repair/was cost
determined to repair.
• Can vehicle be used by another department?
• If "NO" write comments explaining why.
• Department Administrator signature of approval
for disposal.
• Fixed Assets "finalizes" by determining method of
disposal.
Other Disposals
• There is no disposal form required for the disposal of
broken or damaged furniture, scrap metal, and tires.
• Broken furniture is to be disposed by custodian in
dumpster.
• Simply submit a work order. On the work order give
a detail description of what is to be picked up,
"desks, chairs, file cabinets".
• For additional information contact Javier Gallegos at
956-661-4442.
Moving Crew Work Requests
• The following are steps for requesting the
assistance of the moving crew to transfer or
permanently remove furniture and
equipment.
• An Transfer form must also be completed and
submitted.
Moving Crew Work Requests
• Log on to the MISD KACE
USER PORTAL
• https://kace.mcallenisd.n
et/userui/welcome.php
• Click on "Create a new
Request" and "Select
department area"
Moving Crew Work Requests
• Click on "Summary" give a brief
summary of job to be perform.
• Click on "Category"
• Click on "Priority"
• In the "Comment Space" enter
a description of the work to be
done.
• For Disposal forms, Click on
"Browse" to attach Forms.
• Enter the work order number
on the top right of the
Add/Transfer/Disposal form.
Moving Crew Work Requests
Computers
• Request should be submitted
to the Technology Department
• Technology Department staff
will mark the computers for
disposal
• Technology Department will
forward Work Order to Fixed
Assets Department
– No need to enter two work orders
• Submit Add/Transfer/Disposal
form to the Fixed Assets
Department.
Warehouse Stores Issues
• To place a Stores Issue, use
SIOEUB
• Under SI – Stores Inventory,
select OE and then UB.
• Click on the Add Mode symbol.
• Order ID – Click ellipse button
to auto seed order number
Warehouse Stores Issues
•
•
•
•
•
•
•
•
•
Description – Enter a general description for the entire order.
Year – Will default
Status – Will default to NW for New Order
Primary Warehouse – Click the drop-down arrow and select WHS1 Central
Warehouse or WHS 2 Maintenance Warehouse or WHS3 Transportation
Warehouse
Secondary Warehouse – Will default to user's pre-defined security code.
Requested By – Will default to user's name.
Requested Date – Will default to current date.
Customer ID – Enter PEID for school or department.
When all required fields are entered, press Enter to save the record.
Warehouse Stores Issues
•
•
•
•
The items tab will automatically be selected.
Qty Ordered – Enter quantity for item being ordered.
Product ID – Use ellipse button to access lookup to find product code.
Account – GL will default, enter the entire account number.
Warehouse Stores Issues
• When all required fields are entered press enter to save the record. Make
sure you get the Record Accepted message.
New Classrooms
•
•
•
•
•
•
•
Furniture Needs
New Classroom additions requiring furniture.
You are to submit a work order using the
https://kace.mcallenisd.net/userui/welcome.php
Log on to the MISD KACE USER PORTAL
Click on "Create a new Request"
and "Select department area"
Attach the list of furniture to work order.
List must include classroom #, grade level,
and quantities.
Will Continue to Stock
•
•
•
•
Bond paper, white
Index paper
Neon paper
Receipt books
Receipt Books
•
•
•
As campus receipt books run out, we will not reorder.
Warehouse staff will start issuing receipt books from other campuses.
If your stock number is depleted on the system, you will need to use another
campus stock number to purchase receipt books for your campus.
Pitney Bowes
Mail Services Procedures
• District mailman services are conducted on
Monday, Wednesday and Friday's.
• All mail services are for school related
business only and are done through Central
Warehouse Department for proper postage
and billing.
• Code all envelopes on the top left-hand side
with your site number for proper billing.
Bulk Mail Insignia
*New Option
The mailroom will be able to print or pre-print
the insignia on your envelopes for your
campus/dept. for a fee of $0.10 cents per
envelope.
Purchasing Dept.
4309 Warrior Ave.
McAllen, TX. 78501
NON PROFIT ORG.
US POSTAGE
PAID
MCALLEN ,TX 78501
PERMIT NO. 275
Recipient's Name
1234 Street Address
City, State 1234
Standard Mail-Nonprofit Procedure
You must include PS form 3602-N with your
mail and provide Central Warehouse with a
"6299" account.
The following information MUST be filled:
 Name & Address of Campus/Department
 Exact number of pieces
 Signature of mailer and Telephone number
 To qualify for standard mail rates,
mail must contain the following type
of information:
 Newsletters
 Announcements
 Booklets
 Procedures
You must have 200 pieces or more.
Mail must be sealed and each piece
must be identical in weight.
Standard mail must be delivered no
later than 2:30pm.
If your mail qualifies for bulk rate,
you will be required to process it as
such.
Design a Message
Examples of what the mailroom can print on the front/
back of envelopes.
2000 N. 23rd St.
McAllen, TX. 78501
Recipient's Name
1002 Street Address
City, State 1002
Postage Rates
Description
Rates
1st Class mail up to 1oz. Automated Rate
(progress reports, report cards, etc.)
$ 0.42
Post Cards
$ 0.35
Standard Mail/Non-Profit Mail (Newsletters,
Announcements, etc.)
$ 0.26
Certified Mail with Return Receipt
$ 5.75
Federal Express Services
$ 10.00 & up
Lone Star Services ( Service Area: LouisianaNew Mexico, Oklahoma, and Texas ONLY
$ 6.99 & up
DHL International Services
$ 15.00 & up
For questions and assistance call
• (956) 632-3241
– Lorena Garcia, Director of Purchasing Services
– Ercy Garcia, Secretary to the Director
• (956) 971-4468
– Javier Gallegos, Coordinator for Warehouse/Fixed
Assets
Instructional Materials
and Student Records Department
4309 Warrior Drive, Bldg. C (Purchasing)
McAllen, TX 78501
Ph: 956/971-4466 Fax: 956/632-8848
Instructional Material
Changes in state funding have made it necessary to make the best use of funds
for instructional material and to place extra emphasis on reducing textbook
losses. To start off, we order instructional material according to district needs
(i.e. workbooks, consumable workbooks, and student textbooks).
2012-2013 IM Allotment $1,942,941
YTD Balance $1,266,132
•Campus orders are thoroughly reviewed. Eligibility is determined on both
student and teacher membership.
•Material is delivered either directly from our warehouse if in stock, or
transferred campuses that has a surplus.
•If availability is limited due to growth in student/teacher membership
supplemental material will be purchased with the IMA funds upon
approval from the Instructional Services Department. Campuses with
shortages due to losses will have to purchase with Campus funds.
•Surplus inventory will be collected from campuses and stored centrally
Campuses will be allowed to retain a surplus of 3% over their enrollment.
•All instructional material is bar-coded and added to TIPWeb, our district
inventory system. CAMPUSES ARE REQUIRED TO SCAN BOOKS WHEN
ISSUING TO STUDENTS OR TEACHERS.
•We highly encourage the use of "class-sets" rather then issuing one
textbook per child. Campuses do have the option to issue by class set or
per individual, BUT NOT BOTH.
•Digital resources be considered. Publishers now have most material
available online or that which is compatible to use with iPads.
•While students are financially responsible for any lost or damaged
textbooks, teachers still have a vital role in the care and custody of
textbooks. TEXTBOOK CHECKS SHOULD BE HELD PERIODICALLY TO
ENSURE THAT STUDENTS HAVE NOT LOST THEIR BOOKS. By doing this early
in the year, students have time to find books they have misplaced.
•
Every textbook that have been bar-coded is physically counted during our Annual
Audits, which are held towards the end of the school year. BOOKS THAT WERE
NOT AT SIGHT TO BE PHYSICALLY COUNTED REFLECT AS SHORTAGES.
•
Shortages are determined by comparing audit results to reconciled campus
inventory. That is, to the ending inventory of the previous year after all losses
have been recovered or paid for. Campuses are notified immediately of textbook
shortages, this allows them time to report inaccuracies by locating books that
were not at site to be counted.
•
Invoices for confirmed losses not sent until the end of the following school year.
Example: Losses for the audits held in summer of 2011-2012 will be invoiced in
April/May of 2013, giving campuses more than ample time to recover material or
to collect monies from students for confirmed losses. OUR GOAL IS TO RECOVER
AS MANY BOOKS RATHER THAN COLLECTING MONIES TO REPLACE THEM.
•
Refunds may be issued to students who have paid for a lost textbook and recover
it after the fact, providing that the campus has not reimbursed the Instructional
Materials Department. Textbook must also returned in usable condition and still
within use by the district.
Disposal of Instructional Material
IM Disposal Form
Removing material from your
campus inventory without
accounting for it will result in
shortages and reflect as a loss
to your campus.
Be sure complete all fields, get
authorized, and submit IM
Department so that removal
can be processed accordingly.
If we do not receive the
disposal form, we do not now
you have material to dispose
of.
• Books should be counted and stacked by grade level and title
on pallets (or in boxes): 5 Spine-IN & 5 Spine-OUT
• Fax form to 632-8848
Do not over-stack pallets. They should be no more
than 3 feet high for a safe transfer.
Student Records
The Student Records Department is responsible to store official Academic
Achievement Records (TEA form AAR-001 – High School Transcript) for former
McAllen ISD students who attended any MISD campus more than five (5) years
ago.
STUDENT RECORDS OFFICE HOURS
Monday - Friday
8:00 AM – 4:30 PM
(Closed from 12-1pm)
Inactive Perm folders are kept at the campus for (5) years, therefore, recent
graduates or withdrawals who attended MISD less than five (5) years should
contact the last school they attended. Please be sure to ask the last year they were
registered in MISD before referring to our office.
The new "Dream Act" which gives undocumented youths "deferred action" to stay
in the US and go to college or join the military has created high demands for
student records.
32 Immigration requests in 2011-2012 yr vs. 50 Requests this month alone
(8/27/12-9/27/12)
Changes in Student Record Retention
The recent updates made to the Texas State Library and Archives Commission
Retention Schedules (TSLAC) include:
Student Academic Records (PK-8) Date of withdrawal + 5 years, no longer 7
Enrollment/Registration Forms
Date of withdrawal + 5 years, no longer 7
Home Language Surveys
Date of withdrawal + 5 years, no longer 7
By state law, these records may be destroyed once they reach
their retention period.
The academic achievement record (TEA form AAR-001/High School Transcript)
or its former equivalent used to record academic achievement in grades 9-12
is required to be kept PERMANENTLY.
MISD Adopted Retention
Schedules
Retention Schedules used by McAllen ISD include:
•Local Schedule SD – Records for Public School Districts
•Local Schedule GR – Records Common to All Governments
•Local Schedule EL – Records of Elections and Voter Registration
•Local Schedule TX – Records of Property Taxation
Please contact our office for a full list of changes.
Storage of Records
•
Complete and submit Records Storage Request. Records sent for
storage must be neatly packed in approved storage boxes,
properly labeled.
•
Only send information in boxes that need to be stored; do not
store miscellaneous documents or unnecessary copies. Refer to
MISD Adopted Retention Schedules.
•
Records stored at the warehouse must be destroyed when they
reach the date of destruction in accordance with Federal and
State records laws.
Approved Storage Boxes
FEL-9750301
Size: 12x10x15 or smaller
Weight: Not to exceed 35 lbs
Retrieval of Records
and Inactive Perm Folders
Contact our office with at least 1-2 days in advance so that we can locate
box and allow you easy access. To speed up the process, have the following
information ready:
DEPARTMENTAL RECORDS
•Records School Year
•Content of Records (Series title, description, etc.)
•Box/Series Number (If applicable)
PERM FOLDERS
•Student Name
•Last School and year attended
(form available)
Destruction of
Records
Campuses or departments may have records destroyed at the McAllen
City Recycling Center. The facility has the appropriate shredding/recycling
equipment to destroy high volumes of expired records.
Designated person must remain at the location to ensure
all records containing sensitive information is destroyed
properly.
For business hours, you may contact:
McAllen City Recycling Center
4101 N Bentsen Rd, McAllen, TX 78504
(956) 688-3266
Note: If you need assistance in moving material Recycling Center,
submit a Work Order through Central Warehouse.