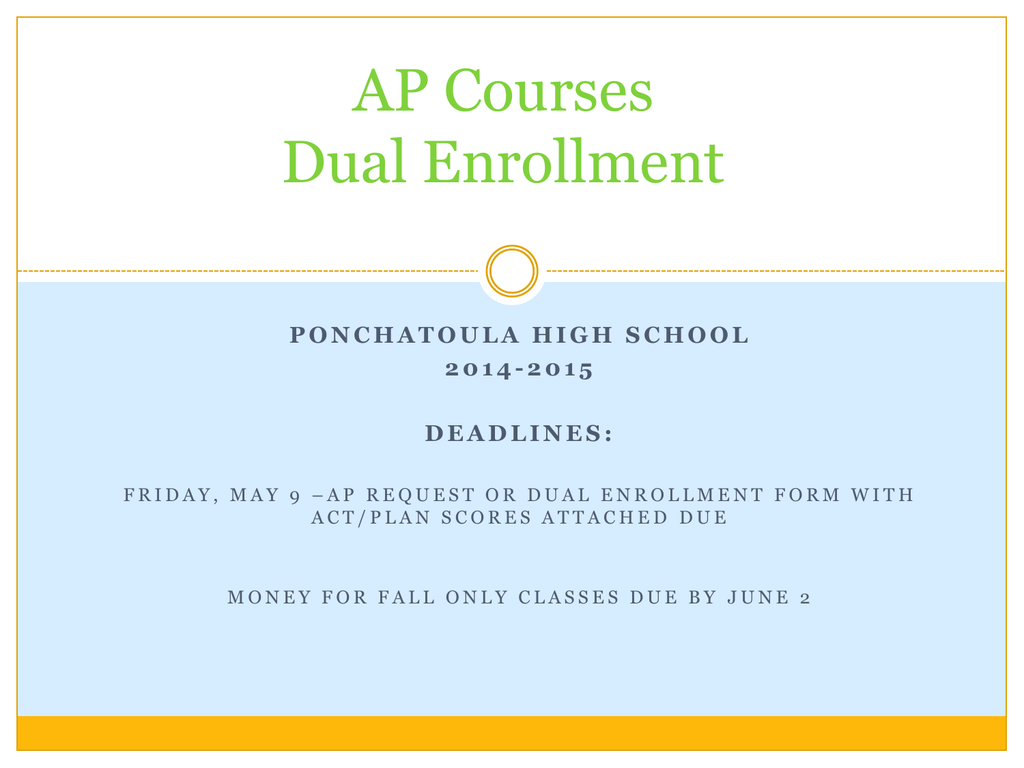 AP Courses
Dual Enrollment
PONCHATOULA HIGH SCHOOL
2014-2015
DEADLINES:
FRIDAY, MAY 9 –AP REQUEST OR DUAL ENROLLMENT FORM WITH
ACT/PLAN SCORES ATTACHED DUE
MONEY FOR FALL ONLY CLASSES DUE BY JUNE 2
Advanced Placement Courses
College Board
http://apcentral.collegeboard.com/apc/public/courses/index.html




AP English Literature and Composition
AP Environmental Science
AP Physics 1 Algebra-based
AP Physics 2 Algebra-based
 AP Exam

Exam Scores






AP SCORE QUALIFICATION
5 Extremely well qualified - equivalent to A grades in the corresponding college course
4 Well qualified - equivalent to grades of A–, B+ and B in corresponding college course
3 Qualified - equivalent to grades of B–, C+ and C in corresponding college course
2 Possibly qualified
1 No recommendation
Cost - $89 exam fee
SLU Courses Offered at PHS
Fall
ENGL 101
Freshman Comp
MATH 161
College Algebra
MATH 163
Business Calculus
SPAN 101
Elem Spanish I
Spring
MATH 162
Trigonometry
MATH 241
Elem Statistics
ENGL 102
Critical Reading &
Writing
SPAN 102
Elem Spanish II
Yearlong
HIST 202
American History
since 1877
HIST 101
Western Civilization
to 1500
MUS 151
Introduction to Music
GBIO 151
General Biology
CHEM 101
General Chemistry
PSYC 101
Psychology
Dual Enrollment & AP Class Hours
Course Limits
Dual Enrollment
9 classes
27 credit hours
These limits do not include hours earned via
AP courses
Southeastern Gifted and Talented Youth Program
ACT 22, GPA 3.0, regular part-time fees
Southeastern Scholars Program
ACT 24, GPA 3.0, scholarships
Enrollment Criteria
Minimum criteria:
• be on track to complete the LA Core 4 curriculum
• have completed all college-level developmental
coursework
• be in the 10th, 11th or 12th grade
• have an ACT or PLAN composite score of 18 or greater
Required ACT/PLAN sub-scores for specific courses
 Math or Chemistry
Math sub-score of 19 or higher
 English
English sub-score of 18 or higher
 Spanish, History, Music, or Psychology
English sub-score of 18 or Math sub-score of 19
 General Biology
English sub-score of 18 and Math sub-score of 19
Tuition and Additional Costs
• Textbooks are supplied at no cost. Damaged or nonreturned books will be charged to the student for the book
as books are individually assigned.
• Many courses require the use of a 3rd-party computer
program. Prices vary from $15-$30 dollars with this cost
being the responsibility of the student or high school.
• All courses, whether being taught as a single-semester or
year-long course, will be charged tuition at a discounted
rate of $150 per 3-credit hours. This discounted tuition is
NOT refundable should a student withdraw from a course.
Tuition Due Dates
 Fall semester tuition - June 2
 Yearlong tuition – Oct 1
 Spring Semester – Dec 1
Grades
 Students will receive a grade of A, B, C, D,
F or W at the college level.
 All grades will become part of a student's
permanent record at the college level.
W Grades
 Letters are sent home prior to withdraw
date requiring a parent signature.
 May be ineligible to participate in dual
enrollment the following semester.
 Does not impact a student's GPA
SLU Grades vs. PHS Grades
 PHS grade – parent command
 SLU grade – Math XL, moodle account or LEONET
SLU Transcript vs. PHS Transcript
Must request transcripts directly from SLU for college
level course work.
http://www.southeastern.edu/future_students/dual_enrollment/assets/Transcript_Request_Form.pdf
2012-2013 Grade Distributions
English 101 (50) A=58% B=26% C=6% D=0% F=0% W=0%
English 102 (53) A=45% B=47% C=8% D=0% F=0% W=0%
HIST 101 (87) A=30% B=43% C=16% D=0% F=0% W=8%
Math 161 (68) A=25% B=43% C=24% D=1% F=0% W=6%
Math 162 (50) A=46% B=30% C=16% D=6% F=2% W=0%
Math 241/Dahmer (12) A=42% B=25% C=33% D=0% F=0% W=0%
Spring 2012 Grade Distributions
English (84): A=30% B=50% C=14% D=0% F=0% W=6%
Gbio 151 (24): A=21% B=29% C=50% D=0% F=0% W=0%
Hist 101 (64): A=9% B=45% C=42% D=0% F=0% W=4
Hist 202 (33): A=9% B=33% C=45% D=3% F=0% W=3%
Math 162 (68): A=31% B=43% C=16% D=0% F=0% W=10%
Math 241 CD (20): A=50% B=40% C=10% D=0% F=0% W=0%
Math 241 HT (21): A=43% B=47% C=10% D=0% F=0% W=0%
Music 151 (15): A=60% B=7% C=0% D=0% F=0% W=33%
Span 102 (22): A=41% B=36% C=23% D=0% F=0% W=0%
Make your course selection relevant!
Nursing Degree
(24 hours offered)
Industrial Technology
(27-30 hours offered)
 Math 161/241
 Math 161/162
 English 101/102
 English 101/102
 General Biology 151
 Biological Science
 Psychology 101
 Psychology 101
 Arts elective
 Chemistry 101
 History elective
 Arts Elective
 History 101 or 102
 (AP Physics)
Check General Catalogs for Required Courses
 Southeastern Louisiana University
http://www.selu.edu/admin/rec_reg/university_catalogue/
 LSU General Catalog
http://www.lsu.edu/catalogs/
Curriculum in Nursing
Transfer Credit
 Most courses will transfer to other colleges and
universities. (including LSU)
 LSU Tiger Transfer Tables
http://sites01.lsu.edu/wp/admissions/become-a-tiger-2/transfer-students/tigertransfer-tables/
 Board of Regents Articulation Matrix
http://regents.louisiana.gov/master-course-articulation-matrix-ay-2013-2014/
Board of Regents
Articulation Matrix
Course #
College
Benefits of AP & Dual Enrollment
 Be better prepared for the rigor of college.
 Potentially decrease the cost of a college
education by earning college credit in high
school .
 Use TOPS for graduate school by completing
an undergraduate degree in less than 8
semesters.