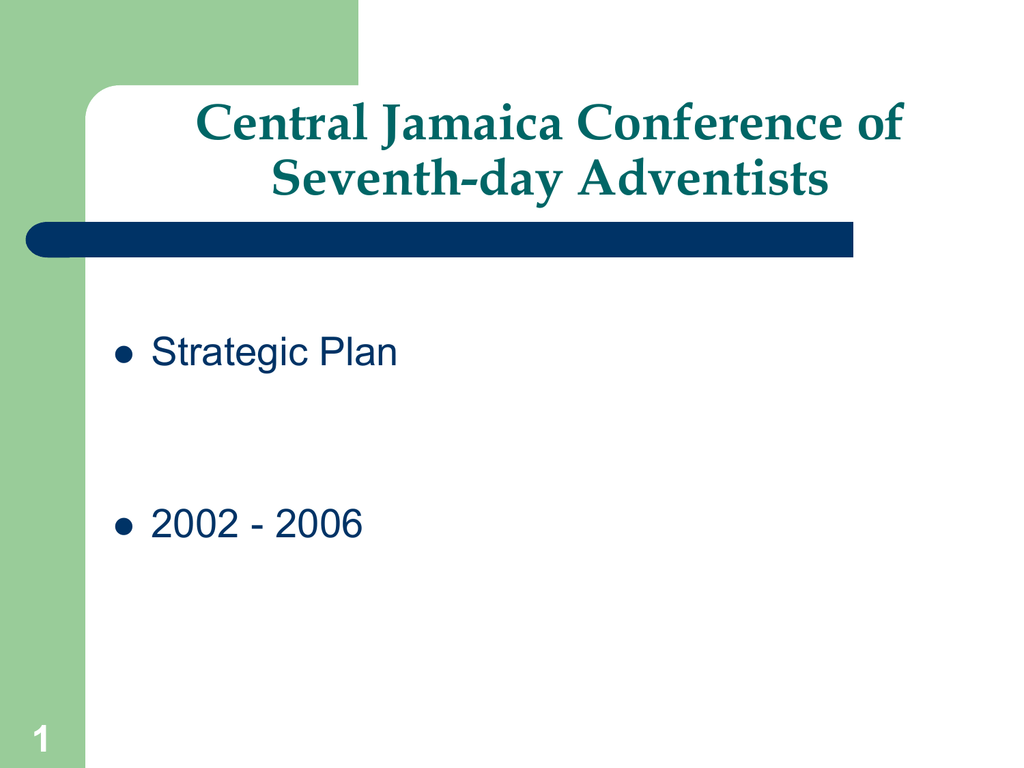 Central Jamaica Conference of
Seventh-day Adventists
1

Strategic Plan

2002 - 2006
Strategic Planning

2
Planning + Strategic Thinking = Strategic
Planning
Mission Statement

3
Central Jamaica Conference of Seventh-day
Adventists is following the Lord Jesus Christ in
proclaiming the Everlasting Gospel as
highlighted in the Three Angels' Messages of
Revelation 14, working through its many
agencies to impact communities in preparing
for His imminent return.
Vision Statement

4
Infused by the Holy Spirit, every member
transformed and anchored in the body of
Christ, in readiness for His return.
Strategic Issues
5

Growth and Consolidation

Unity

Quality of Life

Education
Growth and Consolidation

6
To effect continuous growth and consolidation
in membership, establishing new
congregations, and increasing financial
resources.
Unity

7
To foster harmony among believers in church
life, standards and practice, doctrine, and
organization.
Quality of Life

8
To create an atmosphere in which members
will demonstrate the character of Christ in
lifestyle values and wholistic living.
Education

9
To restore God's image in humanity, nurturing
and developing practical preparation and
commitment for sacrificial service.
Growth and Consolidation





10
Evangelism
Nurturing Activities
Increase Financial Resources
Positive Impact on Community
Tenure of Pastoral Service
Unity






11
Doctrine
Believers
Organization
Worship
Church Standards
Gender Equality
Quality of Life







12
Physical and Mental Well-being
Emotional and Spiritual Well-being
Environmental
Model Citizenship
Economic
Faithfulness
Participation
Education





13
Accessing Funding
Recruitment and Enrollment
Training
Communication and Technology
Promotion
Education (cont'd)




14
Continuing Education
Transmission of Heritage
Mentoring
Tutorial
Modeling Jesus in Ministry




15
Follow more the model found in the teaching of
Jesus.
Example: One-to-One – Nicodemus, Woman
at the Well
Small Group – twelve disciples
Family Friend – friend of Lazarus
and his 2 sisters- Mary & Martha
Modeling Jesus (cont'd)




16
Sending out disciples two by two
Luke 9: 1-2, Luke 10: 1
Find practical ways for each member to preach
the gospel by showing his/her religion in real
life.
Take time to learn from one another and help
one another
Practical Areas






17
Community Service
Feed and clothe the poor among us
Encourage and affirm
Help provide housing for the homeless
Prayer Ministry
Praise Ministry
Practical Areas (cont'd)





18
Prison Ministry
AIDS Support Ministry
Tutorial Programme – Help for student, adult
literacy, Bible Study etc.
Mentoring programme
NB: Every aspect of the church's spiritual
ministry is tied directly to an activity that meets
the temporal needs of its members.
Measure the Church's Real
Success
19

Not in numbers, but in lives.

Our Inspiration: The way Christ focused His
attention on the downtrodden, the social
outcast, the powerless. Christ was known for
His commitment to social action.
The Results





20
The Church will be a filling station
Regular (monthly/quarterly) additions of new
members by baptism.
Always a full church of every category of
people.
All together, members will keep on serving one
another.
Readiness for the coming of Jesus.